Before the coronavirus, Spain was one of the countries that used teleworking the least. The culture of presenteeism, that of "warming up the chair" to be visible in the company, was predominant. But then came the pandemic, forced teleworking and an accelerated digital transformation to which no productive sector has been immune. But what happens today? Only 21% of the active population currently practices some form of remote work (compared to 31% in February 2021), according to a survey carried out by Infojobs; a trend that coincides with what was recorded by the Active Population Survey, according to which the number of employed people who telework (even partially) fell from 3.5 to 2.7 million between the second quarter of 2020 and the same period of 2022 Of course, both data contrast with job offers on portals such as Infojobs, where vacancies that include some teleworking option went from 15,771 in 2018 to 556,088 at the end of 2021. And they continue to rise, although more steadily.
So far this year, the sectors where the most positions with telecommuting options have been offered have been Commercial and Sales (285,394 vacancies), IT and Telecommunications (95,791) and Customer Service (35,947). With one caveat: Infojobs offers are digitized, which means they come from sectors more likely to have remote or hybrid jobs. "I believe that the pandemic has served to prove that, in a very wide range, teams can be kept working remotely and operating with a very high level of productivity," says Mónica Pérez, Director of Communication and Studies of said platform. But maintaining this evolution necessarily involves making "a change in culture, a transition from that model based on attendance to another focused on objectives, results and flexible ways of working." When those surveyed are asked about the advantages of teleworking, a majority points to the increase in personal conciliation and a considerable reduction in work absenteeism, while those in favor of face-to-face work point to greater productivity in meetings and at work in general.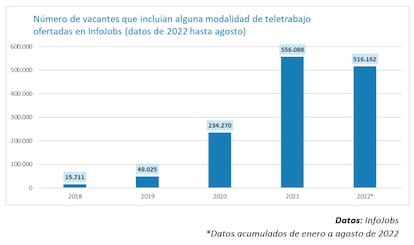 Evolution of offers with the option of telecommuting on the Infojobs platform.
But does this modality really impact the level of productivity? "It is necessary that there is, in addition to the legislative framework, another between the company and its workers that specifies a series of objectives. Productivity is important because, if value is not delivered, in the medium and long term this will go against the company. A company that is not achieving its results will not be able to continue supporting the development of these professionals," says Pérez. Although there is no unanimity, several of the experts consulted for this report point out how this has not only not been affected, but has even increased in certain sectors, due to factors such as the absence of interruptions or avoiding travel (with its consequent exhaustion physical and emotional).
"It is clear that telecommuting does not negatively affect productivity. It is difficult to measure whether this increases or decreases when employees are at home or in the office, but we know that having employees teleworking has not caused any company to go bankrupt (…) and, in addition, it multiplies the pool of talent that companies have access to ", says Isabel Sagastizábal, head of People Management at Capchase. The latest studies, she adds, indicate that sick leave has decreased by 16% compared to before the pandemic, something that is explained simply because the possibility of teleworking favors that, with minor illnesses, employees do not need to leave their position. And we must not forget the preferences of the market: "Today, 84% of Spaniards prefer to have a hybrid system with teleworking options; not offering it means a delay for companies (…), and the new generations are reluctant to accept job offers if they are not offered that option".
An option with advantages and challenges
The benefits that relocation brings are, precisely, one of the aspects that Ángel Largo, first vice-president of the National Association for the Rationalization of Spanish Timetables (ARHOE), also stresses: "Being able to carry out our work from anywhere in Spain is one of the greatest opportunities that have arisen in the labor market, and it gives companies the competitive advantage of being able to have the best talent, without having to have geographical connotations of proximity to the company". A mobility that more and more workers benefit from, and that goes beyond the first residence: if in 2021, 71% of those who teleworked did so at their usual address, in 2022 the figure has been reduced to 64% , according to the survey carried out by Infojobs. Among those 36% who work elsewhere, 15% work in their home city or town, 13% work at other people's homes, and 12% travel while working.
The flexibility of this model also leads to an improvement in work-life balance that not only benefits workers: on the one hand, they can adapt work obligations and hours to the personal circumstances of each one; but the increase in well-being will in turn affect the retention of talent and loyalty to the company. However, several experts who participated in a conference organized on March 29 by ARHOE warn of the risk that the performance of teleworking could end up causing an increase in the workload of women, who already assumed a greater burden during the pandemic. family, care and support, and their invisibility in the company. "That is to say: well-established teleworking can be one more tool that helps with conciliation (…); however, if poorly implemented, it can have just the opposite effect", they concluded.
This is not the only challenge. One of the greatest difficulties of this modality lies in combining the aforementioned flexibility with the right to digital disconnection, so that workers do not end up answering calls or emails outside of working hours. "All companies are required to develop a digital disconnection protocol, and yet it is one of the most unfulfilled labor obligations. The right to rest is evidenced as a measure of physical and mental health necessary for the fulfillment of both personal and professional objectives", they affirm from ARHOE, while mentioning the need for training in team management, collaborative digital tools and measurement of productivity, without forgetting other aspects such as the requalification of workers, the promotion of critical and creative thinking and the relational aspect.
"Of course, there are jobs that cannot be carried out remotely, and even those that have 100% teleworking must maintain certain face-to-face moments or routines," Pérez recalls. "In the teams themselves, there are certain dynamics that are more of a creative or discussion scope and that only arise with direct contact. We must not stop promoting face-to-face and the most human, because in the end it is also what will provide a differential value that must be preserved". Not in vain, he concludes, the greatest challenge facing companies that implement these formulas is to avoid losing their connection with the team, the project or the company. For this reason, Largo emphasizes, it is essential "to develop a culture of trust between the company and the worker; a leadership that allows people to trust that they are responsible for getting their work done effectively, even if they are not being watched and controlled".
The rule that regulates remote work (Law 10/2021, of July 9) was carried out in the midst of a pandemic and, according to Largo, without the necessary social consensus, so the day held by ARHOE served so that both business representatives as trade unionists they demanded various modifications and improvements, such as the inclusion of this point in all collective bargaining; the inclusion of a minimum amount for compensation of expenses of the remote worker; or the modification of the threshold of 30% of the working day to formalize remote work agreements. "Spain is falling in the ranking of countries that use teleworking, and this is partly because the legislation must adapt to the current post-pandemic circumstances," he adds.
EL PAÍS TRAINING in Twitter and Facebook
Subscribe to the EL PAÍS Training newsletter
recommended formations
#pandemic #telecommuting

Source