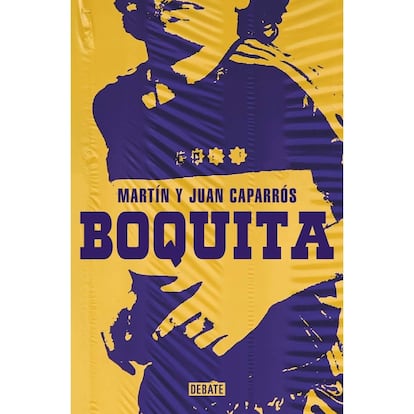 Cover of 'Boquita'.
Club Atlético Boca Juniors is an immense whole that millions of parts have been building since the foundation of the entity, back in April 1905. It is the part of Juan Brichetto, operator of the drawbridge of the port who devised that of choosing the colors of the team according to the flag of the first boat that passed -it was Sweden-. It is the part of Victoriano Caffarena, el Toto, the only fan who traveled with the team on the 1925 European tour and whom the players, to make him happy, called Player Number 12. It is the story of Ernesto Secchi, who was a journalist and for years he went to the field with a blue suit that, he said, gave him luck. His father teased him with that superstition. Until that match against River, in which with five minutes to go the referee awarded a penalty. And then yes, he asked her to put it on. The goalie stopped the shot. And Ernesto received the first paternal kiss in 24 years of life.
It is also the part of the players giving away club shirts to children in the parks, along with a card that read "member for life". The card had only sentimental value, but it immediately turned its recipient into a fan through pride. It is the part of the newspaper surveys to find out which team had more followers, and Boca doubling the rest in some -you know, half plus one-. Even that of the beginnings of the rivalry with River Plate, original neighbors whom the facts and the story -with Mauricio Macri as a permanent example of exception- were moving away more and more. It is the tremor of the cement of the Bombonera since the very day of its inauguration, in 1940, when marketing did not imagine that it could change trembling for beating.
In Boquita (Debate), Martín and Juan Caparrós go through, in an updated edition of the 2005 original, the history of the legendary Argentine club. It is a compendium of big and small stories; from testimonials from idols and anonymous fans; of the changes that have been coming to football and society; of ways to try to approach the way of being of a country. Written from the peculiar passion that encompasses that emotionally immense diminutive: "calling him Boquita is endearing, sweet, kitsch, candid, affectionate, naive, paternal, asshole, bolero. Boquita is an embarrassment and we all say it: with the best pride, we say it. Boquita is-I guess- what makes us unique".
PS: In his overwhelming Ñamérica (Debate), Martín Caparrós includes a brief and brilliant reflection on soccer in Latin America.
You can follow EL PAÍS Deportes on Facebook and Twitteror sign up here to receive our weekly newsletter.