The Spanish Agency for Food Safety and Nutrition (Aesan), dependent on the Ministry of Consumption, has reported this Wednesday of the withdrawal of several batches of ice cream from Aldi, Lidl and Mercadona due to the presence of "foreign bodies", specifically, pieces of stick. The AESAN recommends that people who have the products included in this alert at home "refrain from consuming them and return them to the point of purchase".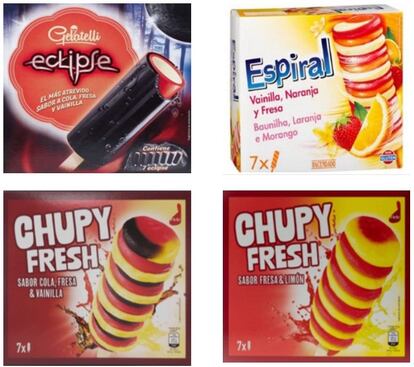 The packaging of the withdrawn products in Aldi, Lidl and MercadonaAESAN (AESAN)
Specifically, the affected products are Gelatelli 7×75 Eclipse from Lidl, Espiral 7×75 from Hacendado, and Chupy Fresh from Aldi. The batches and expiration dates of the affected ice cream range from 4/30/2024 to 7/20/2024 in the case of Hacendado products, from 4/31/2024 to 7/30/2024 in those of Lidl and from 31 /5/2024 to 7/31/2024 at Aldi. You can check all the games affected at this link.
Aldi has reported the withdrawal of all Chupy Fresh ice creams in its two flavor varieties (strawberry and lemon, and cola, strawberry and vanilla) due to the possible presence of pieces of stick. And it has made a phone number (900 902 466) and an email ([email protected]) available to consumers who have any of the affected products.
From Lidl they report on their website that the manufacturer Lacrem has requested that some batches of Gelatelli Eclipse not be consumed, since they may also contain pieces of stick. "If you have purchased the product in our supermarkets, you can return it to any Lidl store where the purchase price will be refunded, even without presenting the purchase receipt," they assure from Lidl, which also points out that no other product sold by Lidl Spain of the Gelatelli brand nor the manufacturer Lacrem is affected by this alert.
Mercadona speaks in the same vein, which also explains that the supplier Lacrem informed it on July 29 that it proceeded to voluntarily withdraw the Espiral de Hacendado ice cream, due to the possible presence of visible pieces of the stick. Mercadona proceeded that same day to withdraw all batches of this product from its supermarkets. In accordance with its policy, if the customer has the aforementioned product and wants to return it, the amount will be refunded at the nearest store.
The Ministry of Consumer Affairs has transferred this information to the autonomous communities through the Coordinated System for the Rapid Exchange of Information (SCIRI), in order to verify the withdrawal of the affected products from the marketing channels.
It is the second food alert related to ice cream that occurs this week in Spain. On Monday, Aesan reported the withdrawal from Spanish marketing channels of batches of Häagen-Dazs brand vanilla ice cream from France in which the presence of 2-Chloroethanol, a substance that may be associated to ethylene oxide, banned in food in the European Union.
#Aldi #Lidl #Mercadona #withdraw #batches #ice #cream #due #presence #foreign #bodies

Source