Louise Fletcher, the actress who played the tyrannical nurse Mildred Ratched in Milos Forman's One Flew Over the Cuckoo's Nest, died Friday at her home in Montdurausse, France, at the age of 88, a representative said. of the family. It must be recognized that Fletcher knew how to be in the film of the moment: One Flew Over the Cuckoo's Nest won the awards for best picture, direction, screenplay, actor (Jack Nicholson) and actress, and had immense commercial success. That night of March 24, 1976, he used English sign language in his acceptance speech to remember his deaf-mute parents ("They taught me to have a dream, which has come true," he said) and to thank the members of the Academy who would have hated her enough to win the award.
More information
Nurse Ratched was much more sour and terrible in the original novel by Ken Kesey, who never liked the movie. Fletcher made her more human, without abandoning the negative antagonist facet, but she understood that she could not be a stone character. Still, as Forman kept the cameras rolling even when the sequence was over, while the rest of the cast laughed and played, staying in character, while the actress remained circumspect, something she complained about in promo interviews. In 1975 she told The New York Times: "They were tremendously free, and I had to control myself." All in all, she was worth it. The American Film Institute called her role as Ratched the fifth most notable villain in film history and the second most notable female villain, second only to the Witch of the West in The Wizard of Oz. The character would come back to life thanks to the Netflix platform, which dedicated a series to him in 2020 titled Ratched.
Born in Birmingham, Alabama, in 1934, the second of four children, Fletcher's parents — he, an Episcopalian reverend who founded more than 40 parishes, and both specialized in working with the hearing impaired — were deaf, so he was an aunt who taught her to speak at the age of eight. When she finished her studies, she studied at the University of North Carolina, she traveled throughout the United States and when she arrived in Los Angeles, she decided to become an actress. She began working in film and television at the end of the fifties, in series such as Perry Mason or Maverick. She was very tall at that time, 1.78 meters, and for this reason she specialized in westerns, because in this genre the actors were taller than in other audiovisual or theatrical productions. She married producer Jerry Bick, and after appearing in Eagles' Nest (1963), she retired for a decade to care for her children.
In 1974 he returned to acting with Robert Altman's Thieves Like Us, produced by Bick, whom he would divorce three years later. Fletcher's life story served as the inspiration for one of the main characters in Robert Altman's classic Nashville (1975). She was set to play her role, but her husband and Altman had a falling out and the actress was replaced by Lily Tomlin. Forman saw her in Thieves Like Us and decided to audition her. Still, she had doubts. "But I asked him to read the script with me and suddenly, beneath the velvety exterior, I discovered a toughness and willpower that seemed tailor-made for the role," the director wrote in his memoir.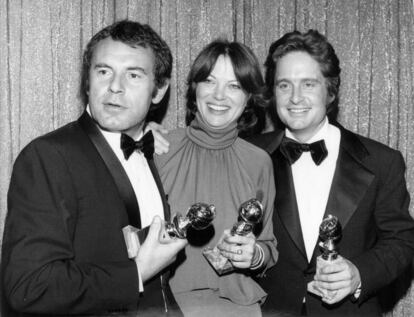 Milos Forman with his Golden Globe for best direction, Louise Fletcher, for best actress; and Michael Douglas, as producer of 'One Flew Over the Cuckoo's Nest' in 1976.hfpa archives
In an interview in the 1980s, the actress recalled the Czech director's feeling after winning the Oscar. "Milos said: 'From now on we are only going to reap failures. And it was true. I shot The Heretic – the second part of The Exorcist – and it was a huge failure. Milos shot Ragtime and Jack [Nicholson] Missouri. That was the Czech prophecy." It wasn't accurate, either: Fletcher would never be an Oscar nominee again, but she didn't stop working on quality products, which she effectively mixed with weak roles. She acted in the stupendous Natural Enemies (1979) and there she chained bad commercial movies like Project Brainstorm, Strange Invaders, Eyes of Fire, Invaders from Mars or Flowers in the Attic. She only stands out on that list Cruel Intentions (1999), and for this reason at the end of the nineties and the beginning of this century, the actress returned to have a certain notoriety for her television roles in Star Trek: Deep Space Nine, Picket Fences and Joan of Arcadia. Her last character with her weight was in A Perfect Husband, in 2013.
All the culture that goes with you awaits you here.
subscribe
Babelia
The literary news analyzed by our best critics in our weekly newsletter
RECEIVE IT


Source