Ezinna Shedrack walks through the center of her new city, Badajoz, carefully observing her surroundings. Suddenly, a building catches her eye and she stands in front of it as if something is familiar. Nothing had caught his attention so much from her during today's walk. Perhaps it is because she had never before noticed to observe with so much attention what is around her. It is a building inspired by Arab architecture with an air very similar to the ones she saw every day in Morocco. She then unsheaths her camera, starts framing, focuses and takes a picture.
In the same square, his partner Emmanuel Ihitegbulem is fascinated by the yellow color of the leaves of a tree. Following the same process as his friend, he freezes the scene with his small digital camera. Back in their new home, the Red Cross Refugee Center, they copy the contents of the memory cards into the computer, chat about how the day went and plan the next day of the photography workshop they are doing.
"Before, I only looked in one direction. Photography has helped me see things from other points of view and discover myself," replies Ihitegbulem, 31, a computer scientist by profession, when asked if this project has been useful to him.
For three months, thanks to donated cameras and support from the Red Cross, Ihitegbulem and Shedrack, both from Nigeria, have broken their boring routine. Sessions to learn how to use the cameras. Walks to photograph the city. Selection of images. reflections. Writing texts. Translations. A series of new skills and tools to end up creating a personal diary with a selection of 15 photographs to which, in addition, they have added a text. An idea, the latter, that arose during one of the workshop sessions in order to also complement the classes they receive in Spanish.
Emmanuel Ihitegbulem takes a picture of a mural in the streets of the old town of Badajoz during the photography workshop.ROBERTO PALOMO
"I used to think that photography was nothing more than standing in front of something and photographing it, but in reality it goes much further. It is thinking, looking for reasons, concentrating on what I want to explain", reflects Shedrack, 28, a native of Biafra, a region of Nigeria that between 1967 and 1970 was an independent state.
The first page of his diary shows a self-portrait in front of a mirror accompanied by a few words telling who he is, where he is and what he is doing here. The pages advance with images that reflect on the importance of family, his effort to learn a new language or the views from his bedroom window. In one of her walks around the neighborhood she has photographed a mural where a girl appears swinging. With words, she explains that this image reminds her of her childhood and the swing in which she used to play with her friends from her town. She has also decided to include a photograph of a radiator. He explains that in Spain it was the first time that she had to use the heating because in her country it is always very hot. In the last image a red traffic light appears. A metaphor about how she feels about the difficulties she faces to legalize her situation in our country.
Image from Ezinna Shedrack's diary where she remembers her childhood. ROBERTO PALOMO
Emmanuel Ihitegbulem and Ezinna Shedrack share a very similar story. Both decided to flee their country for fear of the violence unleashed against their ethnic group, the Igbo people, whose religion is mostly Christian. "The president sent the military to minimize our ethnicity and deny us rights. As there were many killings, I spoke with my mother, we agreed and I decided to flee the country", says the young man.
Since then, their lives have become a continual restart. Get to know a country again. A new city. A new language. A new home. Making new friends. New contacts. Legal processes. Formalities. routines. Courses. A long etcetera of obstacles to integrate into society and rebuild their lives. That's why they decided to call the project Start Over.
Shedrack traveled through Niger and Algeria before arriving in Morocco, where he worked for a year and seven months on construction. Later he embarked on a small boat that took him to Tenerife, where he began the asylum application process that has already taken him to Malaga and Badajoz. Ihitegbulem followed a similar route, but remained in Morocco for two years, surviving by moving and begging outside mosques. His small boat arrived in Las Palmas de Gran Canaria and our country's reception system has transferred him to Seville, Cáceres and Badajoz.
The photographic project was born with the idea of ​​generating self-esteem, motivating them to get to know their new environment and raising awareness about their situation.
They arrived at the Red Cross center in Badajoz last summer and they are given a home there while they accompany them on the long and tedious road to obtain their refugee status. In addition, they guide them to get a decent job placement and give them Spanish classes.
This photographic project was born with the idea of ​​generating self-esteem, motivating them to get to know their new environment and raising awareness about their situation. However, it has also become a tool for them to tell their life stories. Ihitegbulem is convinced that these pages tell his past, his present and his future. "If someone asks me what my life is like, I would just have to show them the diary."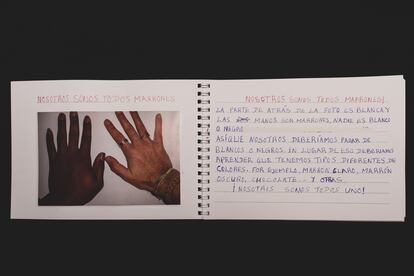 Diary of Emmanuel Ihitegbulem where he reflects on racism. ROBERTO PALOMO
He has preferred to start by telling how his new diet is. He continues to show us his Spanish notes and his bedroom. He has also photographed a computer that he uses together with some words to call for unity between people and against discrimination. He is clear that one of his favorite photos came to him spontaneously. In it appears his hand and that of a volunteer on a white wall. The text that follows the scene relates: "Hands are brown, no one is black or white. We should learn that we have different color types. We are all one!"
To give continuity to the project they are trying to organize talks and exhibitions around the city. They are sure that it can be a good way to raise public awareness about the situation of refugees and contribute to their integration into society. The project can be seen on the internet and they have turned some of the images into postcards with which they intend to raise funds to help them continue their path towards a safe and dignified life. If they do get it.
#diary #photographs #story #Emmanuel #Ezinna #asylum #seekers

Source