is approaching the back to school and with her all preparations, details and purchases so that your sons and daughters return to the classroom with everything they need. touch renew school supplies, buy new books, backpack and maybe a uniform. As they grow older, boys and girls are more responsible and begin to become more aware of the importance of taking care of their belongings and not losing them. However, this does not usually happen with the smallest of the house, so it is essential Mark all your personal belongings.
In the past, name stickers were used or simply embroidered on garments. Now, technology has advanced and custom stamps They have arrived to make the life of fathers and mothers much easier. It is a marker, similar to the one that can be used by any company, to stamp the name of the boy or girl in question on any surface.
The stamp includes a indelible ink pad, that is, it does not fade and resists a large number of washes. If after going through the washing machine many times the stamp loses color, nothing happens! These seals hold up to 2000 impressionsso it is perfect to use even during several courses.
Before making the purchase, the platform allows you to choose between different designs, fonts and emoticons to have a unique bookmark. It is one of the best-selling back-to-school products in recent years, especially because of the infinity of advantages and facilities it offers.
Mine Stamp Compact Book and Clothing Marker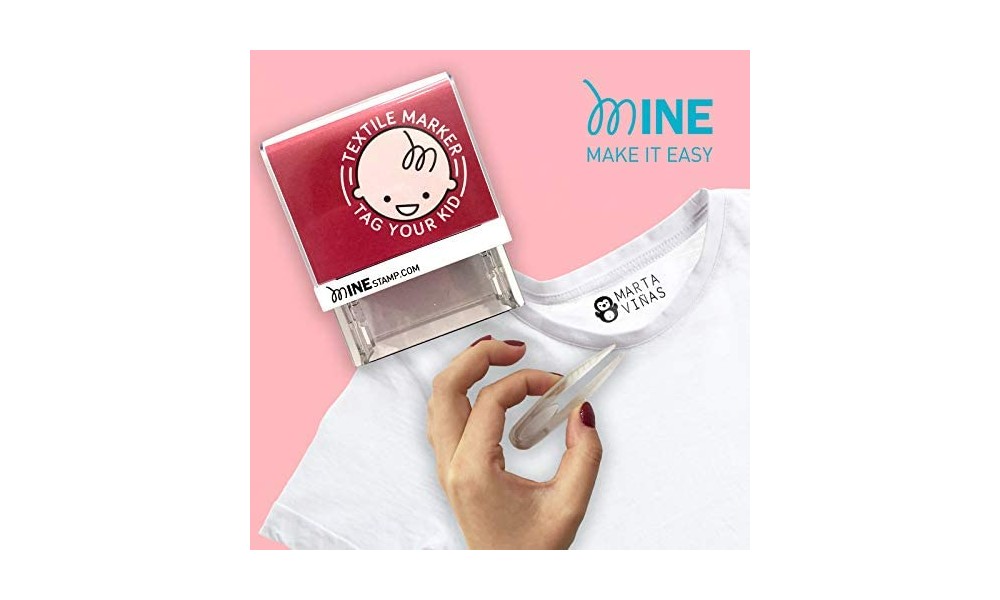 This stamp from Mine Stamp is perfect for mark books, clothing, footwear, backpacks or any of the smallest objects in the house. In addition to the seal, the product includes a ink cartridge, a 256-character printing press —with letters, numbers and punctuation marks— and a clamp to place the characters. In this way, you can personalize stamp with the name or surnames you want. It's also really useful if you have several children or want to mark each item of clothing in a different way.
It can be completely personalized thanks to the entire alphabet with repeated letters. The text can be modified by adding and removing the desired characters. The black ink is very resistant and indelible. This makes the stamp mark perfectly last more than 1000 applications and that the letters remain visible on the clothes for many washes.
Buy on Amazon
Custom Marker with Permanent Ink from Stamp by Me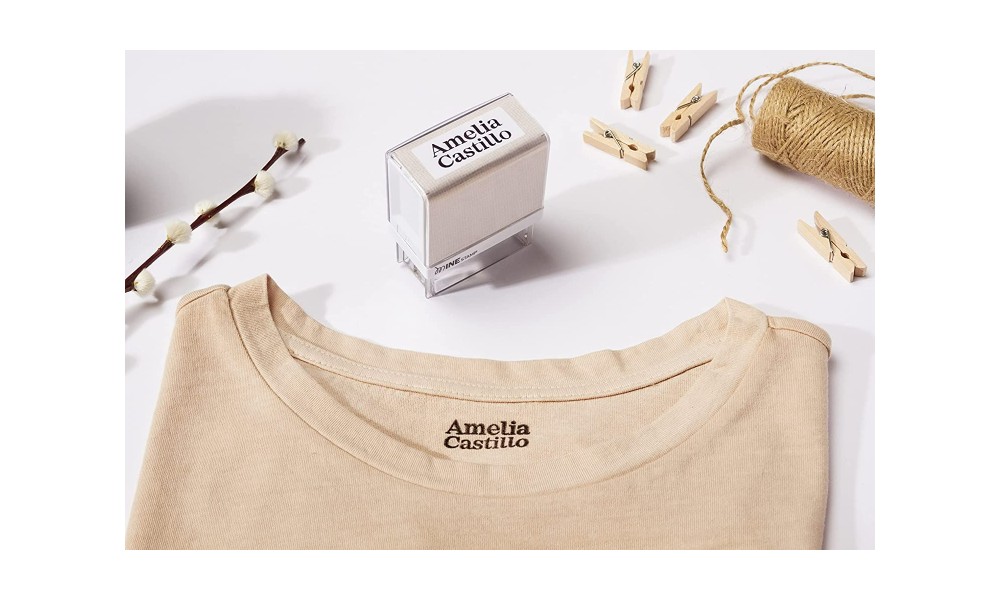 This stamp from Stamp by Me will allow you mark any personal items to always have it identified. It also includes an ink cartridge and a rubber that can be customized at the time of purchase. You can choose between 12 designs availablewith different fonts and drawings, to later add the name of your son or daughter.
You will receive the custom stamp and then using it on clothes or books will be really easy. This way, you won't have to re-ironing or sticking stickers. The ink it contains is black, resistant and indelible. In addition to being able to use the stamp for more than 1,000 applications, it also remains visible on clothing through a large number of washes.
Buy on Amazon
Personalized stamp with name and icon from Haberdashery Online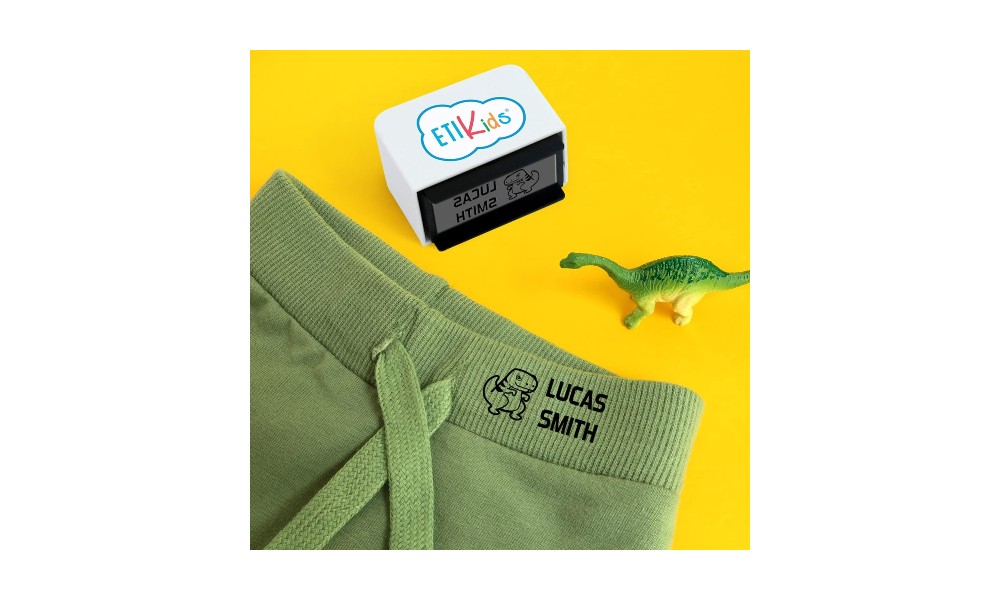 This pack includes a white, green or fuchsia seal, a cartridge already inserted inside the stamp and a two-meter roll of iron-on tape to apply the stamp perfectly on dark garments. It can personalize with name or text you choose, to choose between four icons and fonts. You can mark from clothes, to envelopes, school supplies, cloth bags, paper bags, etc.
The marker is really resistant to washing machine and dryer, although the brand recommends not using it on plasticized surfaces. The ink is indelible and perfect for any type of surface. In addition, its formula makes the seal remain visible despite washing. This dermatologically tested and listed as non-toxic.
To use the stamp on light objects and fabrics, the brand recommends applying it directly to the surface and letting it dry. In the case of dark and more delicate garments, it must be applied previously on the thermoadhesive cloth and cut to size, iron it on the garment at maximum temperature, exerting pressure for about 20 seconds and without using steam. Wait a day before washing the object in question to guarantee the best result.
Buy on Amazon
Sello personalizado de Stikets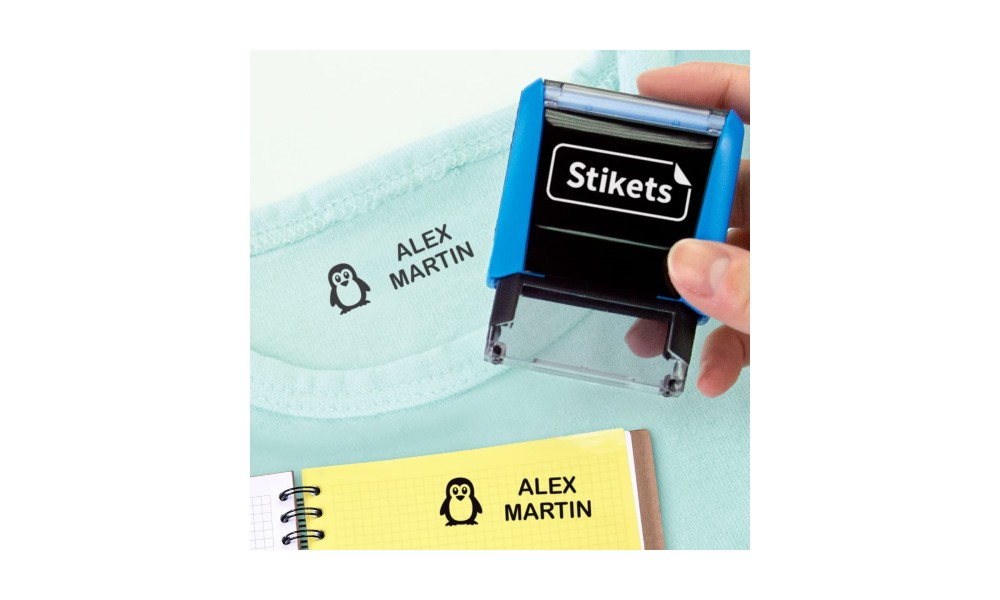 Stikets custom stamp is perfect for marking light colored clothing, uniforms, sportswear or any other desired garment. It can be fully customized before purchase: in each line you can insert up to 11 characters —including spaces— and also an icon to choose to the right of the text.
It remains visible up to 30 washes at a temperature of 90 degrees. In addition, the same seal can be used up to 1000 times. Afterwards, it will be enough to replace the ink pad and buy a new one to continue marking your clothes.
Buy on Amazon
Children's stamp with drawings of Pomman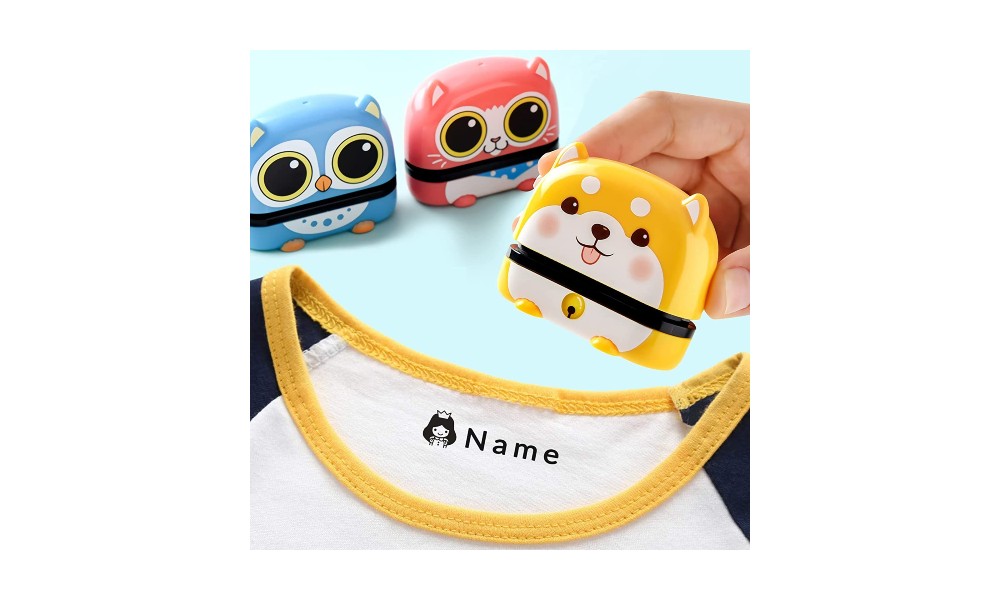 This Pomman seal stands out for a fun and original design that will fascinate the little ones. Is very easy to handle and saves a lot of time as it can be used on light colored fabrics such as socks, underwear, t-shirts, pants, sweatshirts or backpacks. On the other hand, the brand does not recommend using it on silk, nylon or dark colored threads.
The name of the seal can be personalized and it is also available in four fun designs of animals. The marker is very durable as it can be used up to 2500 times without losing its effectiveness. It also withstands multiple machine washing and drying cycles, without fading the fabric. Of course, you must wait for the ink to dry completely before putting the garment in the washing machine.
For darker garments or certain complicated fabrics, it is recommended to use the print ribbon included in the product. It will be enough to put the stamp on the tape and then stick it on the clothes with the iron. In all cases, the stamp has an impression size of 50 x 15 millimeters.
Buy on Amazon
okshopping commercial policy