The A2 driver's license is in your pocket? Now you want an A2-compatible motorcycle with 48 hp and Euro 5? We have put together an overview for you of 48 PS bikes that come into question for the A2 driver's license ex works or throttled.
Slawomir Niewrzol,
Dina Dervisevic
07.06.2022
Since December 28, 2016, the following regulation has applied to A2 driving license holders in Germany: Since then, newcomers to the category driving license are only allowed to drive motorcycles with 48 hp (35 kW) that have a maximum of 95 hp (70 kW) unthrottled.
Motorcycles with more than 95 hp
For A2 driver's license holders who received their driver's license before December 28, 2016, grandfathering applies: Anyone who received their A2 driver's license between January 19, 2013 and December 27, 2016 may also throttled to 48 hp Ride motorcycles with an unthrottled output of more than 95 hp.
However, some suppliers also have special A2 variants on offer for models with over 95 hp, so that owners of the A2 driving license do not have to do without their favorite bike, for example a BMW F 900 R, BMW F 900 XR, a Ducati Monster , Indian FTR 1200, Kawasaki Z 900 or MV Agusta Brutale 800.
A2-compliant motorcycles with Euro 5
For those who have had their driving license since the law change and for all A2 newcomers, we have put together a wide range of many A2 motorcycles available – limited to models that meet the Euro 5 standard. Some motorcycles, such as the Honda CBR 500 R or the Triumph Street Triple S, can be purchased directly from the manufacturer or dealer as an A2 variant. We have put together an overview of A2-compatible travel enduro bikes for you in this article.
With a throttle kit to 48 hp?
Other bikes can still be throttled down to 48 hp using throttle kits from independent suppliers – however, they must be approved beforehand, which means that they become the responsibility of national legislation, i.e. the StVZO. After the throttling, an officially recognized expert must carry out a change acceptance and enter it in the papers.
The models listed are motorcycles that meet the current legal A2 regulations, although we cannot guarantee that there is a suitable throttle kit for every Euro 5 bike with a maximum of 70 kW. How sensible it is to throttle an Indian Chieftain, for example, is another matter.
Large selection on the used market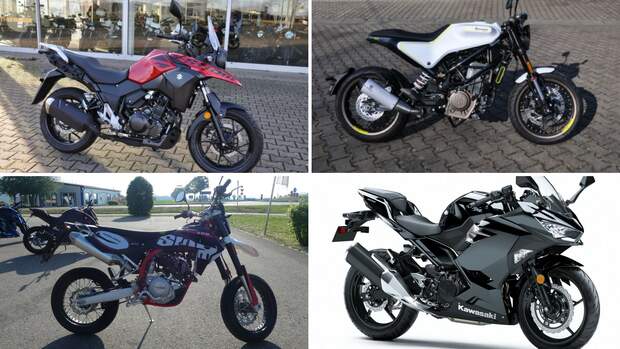 1000hp marketplace app
Great diversity in the A2 class
The selection is now very large in the A2 class. On the one hand, there are a large number of motorcycles with less than 48 hp on the used market. On the other hand, there has also been a generous offer of new vehicles for several years.
Conclusion
The A2 driving license is very popular. Accordingly, there are plenty of motorcycles with a maximum of 48 hp or 95 hp on offer from BMW, Ducati, Honda, Yamaha & Co. Buyers are spoiled for choice.
#motorcycles #Euro #Bikes #holders #driving #license

Source