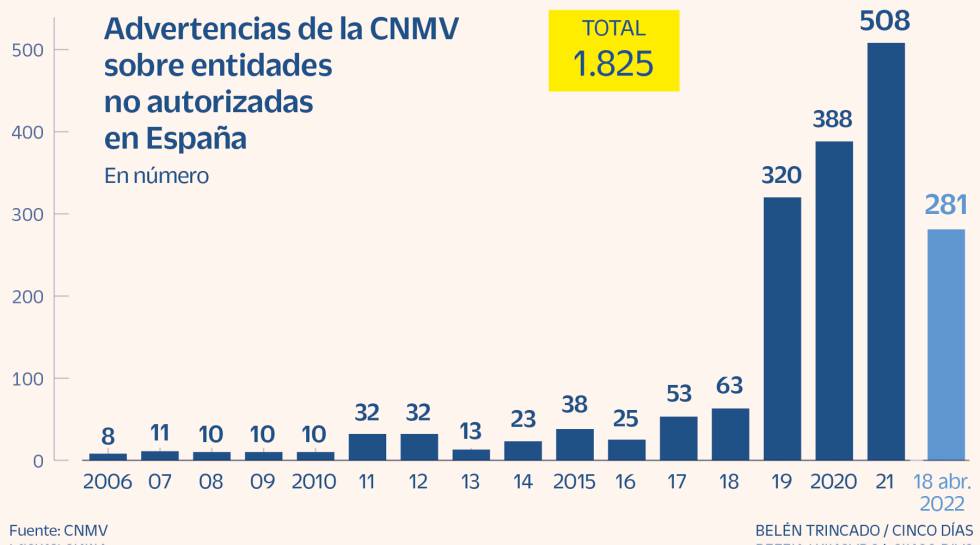 Cryptocurrencies have become one of the star investment assets of the moment, despite their lack of regulation and the sharp falls they have accumulated since the highs recorded in November of last year. The rise of the retail investor as a result of the pandemic and the boost of social networks has favored investment in this type of asset and the appearance of a battalion of new financial beach bars that lack authorization to provide investment services in Spain.
Digital assets have become the most offered investment product so far this year by financial beach bars in Spain, according to the list of "entities warned" by the market supervisor, the CNMV, which includes all the firms without permission to provide investment services. Of the 281 firms included in the list of the regulator chaired by Rodrigo Buenaventura so far this year, 113 have among their activities the commercialization of crypto assets, 40% of the total. And 73 of them have them as a central product.
The second most popular product offered by these platforms is the foreign exchange market (forex), followed by platforms that offer derivatives such as contracts for differences (CFDs).
In recent years, the CNMV has intensified its fight against financial bars and has increased its warnings about the risks of crypto assets. In fact, just a week ago he warned about the holding of a cryptocurrency macro-event in Madrid, Mundo Crypto, which had several financial beach bars among its organizers.
Some warnings that began in 2018 when, together with the Bank of Spain, he warned of the extreme volatility, complexity and lack of transparency that make this type of asset a high-risk bet. In March of this year, the European supervisory authorities –EBA, ESMA and Eiopa– warned consumers about the "very risky and speculative" nature of digital assets, which they assured, "are not suitable as an investment nor as a means of payment or exchange for most retail consumers".
Sources from the regulator have indicated to this newspaper that the high turnover of cryptocurrencies on the list probably responds to the popularity they have gained in recent years. However, they emphasize that the entity does not currently have detailed official figures on the type of products offered by the entities.
Among the entities that the regulator has warned about so far this year, there are some that offer potential revaluations of up to 60% in 24 hours. This is the case of Trust-Finance Limited, a firm that offers "professional brokerage advice" to invest with bitcoin through investment plans ranging from $15 to $500,000. On its website, it acknowledges that profits are not guaranteed and that it will not assume any responsibility for losses, and that by contracting with them, the client waives legal action or request refunds from the company or any of its members. In fact, they emphasize that "they are not an authorized bank or a securities company", that their services qualify as "private transactions" exempt from any regulation or insurance, and that the commissions can change at any time without prior warning.
Most of the financial bars included in the supervisor's list offer more than one product. For example, they give the possibility of investing in cryptocurrencies, along with other high-voltage vehicles such as forex, CFDs and commodities. Many of them also present themselves as low-cost or free investment platforms or even mimic well-known investment brands, causing investor confusion.
The most opaque services usually have exotic web addresses, which do not end in the classic .com domain but, for example, in ".io". The national police has already warned that these types of domains can be used to detect possible scams, since they are also used for computer fraud, phishing. It is true that many of the web pages warned by the CNMV cease to be operational after the warning is issued, since their owners create similar addresses to continue offering their services.
The most striking examples
bots. It is an application that claims to have up to 300 bots –automated accounts– that operate "better than real people" and that claims to offer monthly returns of up to 49% of the investment. However, most of its users in the Google and Apple app stores give it the lowest rating, arguing that the promised earnings are never achieved, that you often end up losing money and that the withdrawal fees are very high.
MagicDAO. It is an organization that seeks to raise money through tokens or NFTs to buy Cádiz FC and "give it back to the fans". According to their social media accounts, they have met with investors to make the project possible.
Tradeblox. It is a presumed artificial intelligence company that has "educated" its neural networks with historical market information to anticipate stock market movements. It promises 100% profit in 96 hours with a deposit of $30,000.
#financial #bars #warned #CNMV #year #offer #cryptos

Source