The two crutches that Dinah Bromberg, 63, bought after her left knee injury were ideal. Especially since she paid half of her original price for them. She saw them in an online thrift store and within 10 minutes she closed a deal with her former owner. The purchase of reused products is making great strides and is beginning to gain followers in a context of high prices that, although they have moderated throughout the year, continue to keep household consumption at bay.
Offering what is not needed has become a large market. The Humana clothing chain went from selling 4.2 million items of clothing in 2020 to 6.2 million in 2022 and Wallapop, the largest digital shopping center for this type of items, increased its turnover by 260% from 2019 to the previous year.
Just one step away from Black Friday kicking off the Christmas shopping season, more and more consumers see this market as an opportunity to alleviate the considerable spending that is normally budgeted during these dates. A study by the Dutch consulting firm KPMG predicts that 54% of buyers will purchase second-hand products during the next Black Friday. Above all, they will look for household items, for children and babies, clothing and footwear, according to a survey by the Wallapop platform.
From a Humana store located in the center of Madrid, incessant customers come and go, seduced by the ridiculous prices that hang on the colorful and varied garments. Up to one and a half euros for a sports shirt in good condition, eight for a jacket with no apparent use. The company, which is a spin-off from the Pueblo para Pueblo Foundation, has opened 15 stores in the last eight years, mainly in the capital and Barcelona, ​​and already has 51 establishments throughout Spain.
Irish Ríos, 23, who is on the hunt for a scarf among the shelves with various accessories, says that since confinement he stopped buying new items and now most of his purchases are made in stores like Humana or Wallapop. "Mainly sneakers," she admits, "which can be up to 40% cheaper." He also shares that most items she purchases usually arrive in perfect condition and that the savings can be significant. A study by the consulting firm Deloitte points out that this type of merchandise is on average 44% cheaper than new items.
José Luis Nueno, professor of Marketing at IESE and holder of the Intend HQ Chair of changes in consumer behavior, points out that "buyers have lost their attachment to goods." The retail expert asserts that even before buying (especially clothing) consumers are already thinking about selling it, "for the same reason, they try to spend it as little as possible." The Wallapop platform, which already brings together 17 million buyers in Spain, carried out a survey that reveals that at least 70% of users plan to buy second-hand products as Christmas gifts.
"Reused fashion has removed the poor label," declares Rafael Más, director of Projects and External Relations at Humana, who explains that Spain is becoming imbued with the consumer consciousness of the Nordic countries, England or Germany, which is why These types of garments are increasingly perceived as a prestigious alternative. He also explains that it is a seductive option, especially for the new generations, who "have less purchasing power." Edurne de Oteiza, director of management and innovation at Wallapop, also adds that each purchase of this type has a positive impact on the environment. In Spain, around 900,000 tons of clothing are thrown away every year, and 88% end up in landfills, according to the Moda RE report.
Segregated by age, generation Z is the one who initially shaped this way of consumption, however, from the buying and selling platform Vinted they warn that the trend already covers a wider range of ages. The CEO of the online store, Adam Jay, explains that when Vinted was born in 2008 they mainly had a younger female demographic (between 18 and 25 years old), but that in more recent years, this has expanded and the demographic The largest now are women approximately 18 to 45 years old. Vinted's revenue also increased in 2022, increasing by 51% to €370.2 million compared to €245.1 million in 2021.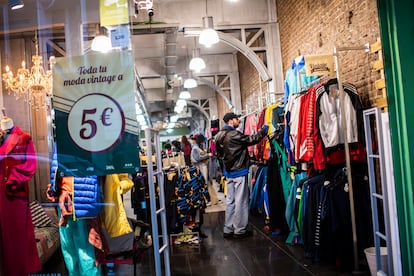 Report on second-hand purchasing. People looking at clothes and shopping at the Humana Vintage store on Hortaleza Street. INMA FLORES
Lourdes Ferrer, executive director of Percentil, a company that manages the sale of second-hand clothing, points out that it was not until the pandemic that people began to see this type of consumption as something more normal. She blames the change on the regulations promoted by Brussels that seek to reduce waste production by 30% until 2030. Ferrer interprets that the legislation has pushed companies to place this objective among their priorities. "That the big textile companies talk about it has generated awareness in consumers of all ages," she explains. The mastodons of fast fashion also want to get on the bandwagon of this type of consumption. At the end of 2022, H&M and Inditex announced that they were working on opening a line of reused clothing.
The founder of Percentil also comments that thanks to this change in mentality they have been able to sell clothing at higher prices. "If we are able to put reused goods on the market at a sufficiently high level, fashion companies will be able to incorporate this segment as part of their growth strategy and it will no longer be insignificant for the fashion sector." Ferrer adds that no narrative in favor of greater consumption will be promoted on their platform – as is usual on Black Friday – since the brand is in favor of reducing the carbon footprint with the purchase of each garment. "If they are going to buy a lot, it is better to buy second-hand," she says. The company, based in Madrid, already boasts of managing 50 tons of clothing for a number of large fast fashion companies, when in 2020 this figure was zero.
Bromberg, who walks through the Humana store on Alcalá Street in the capital, says that in addition to the relief for his finances, online second-hand shopping gives him an excuse to talk to new people: "Sometimes it's very nice. "You don't know who you're going to meet." He refers to the purchase of these types of items as the best way to contribute to the circular economy. "You also save money that can be used for other things," he emphasizes and admits with a laugh that he has never minded buying reused or even "third-party" items. If the doctor ultimately rules out surgery, he will be reselling the crutches the next day.
Follow all the information about Economy and Business on Facebook and Xor in our weekly newsletter
The Five Day agenda
The most important economic quotes of the day, with the keys and context to understand their scope.
RECEIVE IT IN YOUR MAIL
#hand #Black #Friday #train