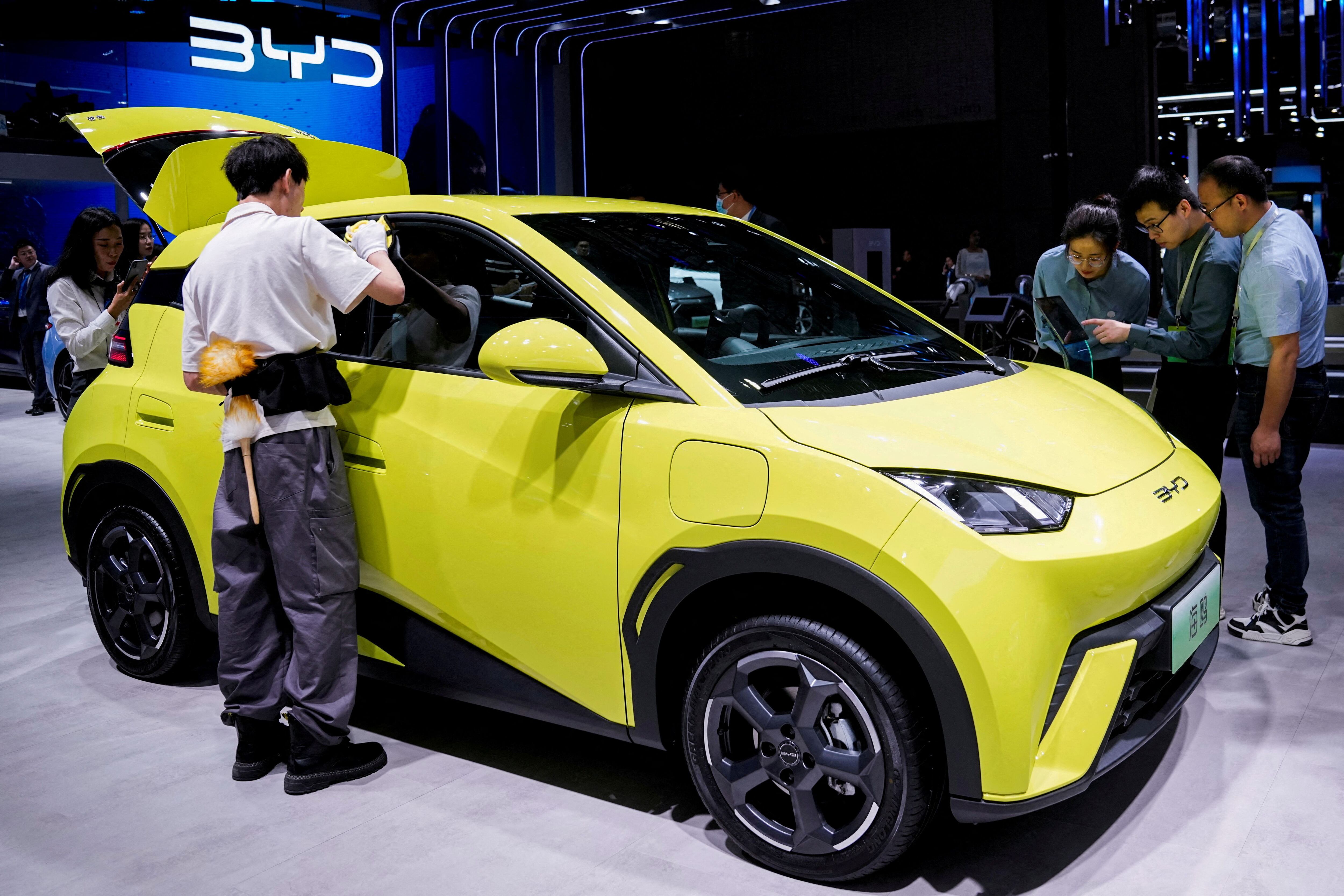 Last October, the automobile manufacturer BYD achieved an unprecedented feat for the Chinese company: for the first time it managed to sell more than 300,000 plug-in vehicles in one month around the world. The final figure, which includes pure electric and plug-in hybrids, was 301,833 units, 38.4% more than in the same month of 2022, according to data provided by the company. In the first ten months of the year, BYD sold 2.37 million plug-in passenger cars, which represents 41% of all the cars of this type that it has sold throughout its history (it was founded in 1995, although it was much longer. late when the manufacturing of electric vehicles began), about 5.7 million units.
This record, the Chinese automobile company has highlighted, adds to the six months that it has been exceeding its maximum monthly volumes. "The good results obtained and the increase in the brand's global market share have been fundamental for BYD to become the world number one in sales of plug-in cars and the fifth best-selling car brand in the world with a presence in 59 countries, including China, the European Union, the United Kingdom, Japan and Korea," the company said in a statement in which it did not specify the proportion of electric and plug-in hybrids in its sales.
Among those countries in which it is present is Spain, where the company landed this year and today has an offer of five models: the BYD Han, the Tang, the Atto 3, the Seal and, finally, the Dolphin. , its most affordable model. For the first quarter of 2024, the Seal U, an SUV, has already been confirmed, and it is expected that three more models may arrive on the Spanish market. Unlike China, its main market, in Spain BYD is only offering 100% electric vehicles and does not have any plug-in hybrids for sale.
While Tesla continues to be the world leader in electric vehicles (its Model Y may even end 2023 as the best-selling model in Europe), BYD emerges as a rival to take into account in the race to be the largest seller of electric cars in the world. The company of tycoon Elon Musk, which has launched an aggressive price reduction to gain market share, increased its registrations by 27% in the third quarter of the year, to 435,059 units. In the first three quarters of 2023, the automobile company sold 1.32 million cars, thus exceeding the 1.31 million vehicles it sold in all of 2022.
Follow all the information about Cinco Días on Facebook, X and Linkedin, or in our Five Day Agenda newsletter
The Five Day agenda
The most important economic quotes of the day, with the keys and context to understand their scope
receive it
#Chinese #BYD #threatens #Teslas #throne #time #exceeds #sales #plugin #cars #month