The Al Shifa hospital, in Gaza, which has generated so much controversy since Israel's ground operation began in the territory of the Strip, has once again been the protagonist in the latest video released by the Israeli military authorities this Monday. In it you can see how Hamas terrorists carry what appear to be some of their hostages down a hallway, given that they are handcuffed.
In another video you can see how Hamas terrorists carry another wounded hostage on a stretcher, supposedly to be treated by doctors at Al Shifa Hospital.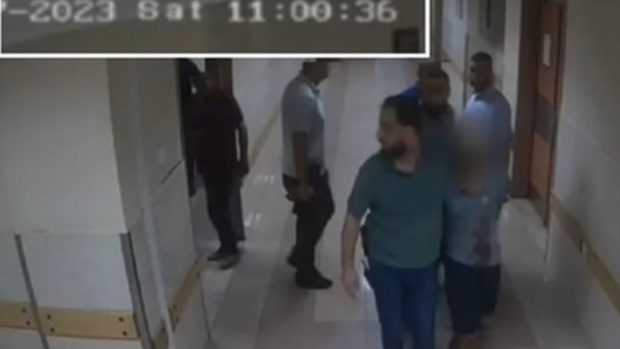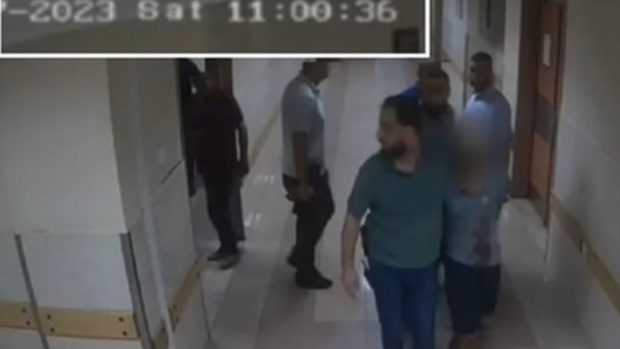 Hamas terrorists transport hostages through the Gazan Al Shifa hospital.
The Israeli Army has also released images of vehicles near the hospital. The Jewish military has assured that, indeed, they are from their troops, but they have explained that they were stolen by Hamas. After the videos were released, the Israeli Army said that "these findings prove that the Hamas terrorist organization used the Al Shifa hospital complex on the day of the massacre as a terrorist infrastructure." That is precisely the complaint that Israel has been making for years, as it claims that part of the complex system of Hamas tunnels ran under the largest hospital in Gaza.
"New findings revealed by the Israel Defense Forces and Security Agency prove that Al Shifa Hospital was used as a terrorist infrastructure to which Hamas terrorists took hostages," the IDF said in a statement. They include images allegedly taken on October 7 inside Al Shifa Hospital showing Hamas terrorists carrying two civilian hostages, a Nepali and a Thai. One of them is walking and another is on a stretcher, bleeding and with his hands tied behind his back.
Al Shifa Hospital
On November 15, the Israeli Army began attacks on the Al Shifa hospital – the largest in the Gaza Strip – in a "precise and selective operation." According to reports from the Israeli army, this hospital is being used by the terrorist group Hamas and Islamic Jihad for their military operations, thus converting the medical center into a military base.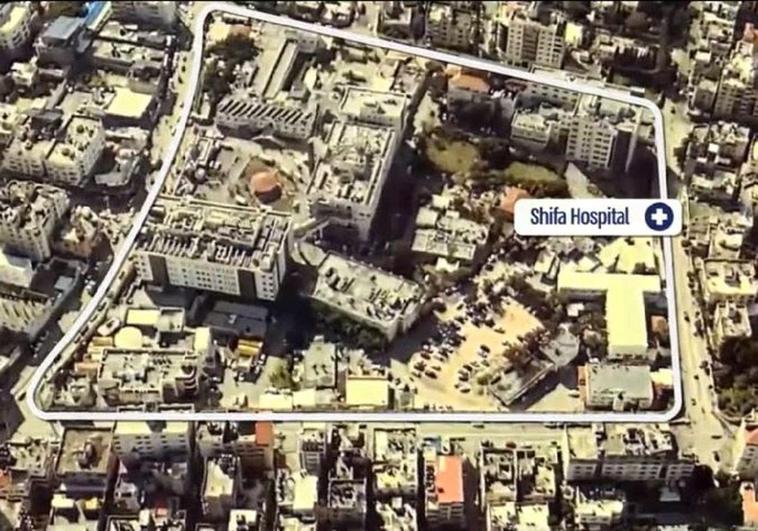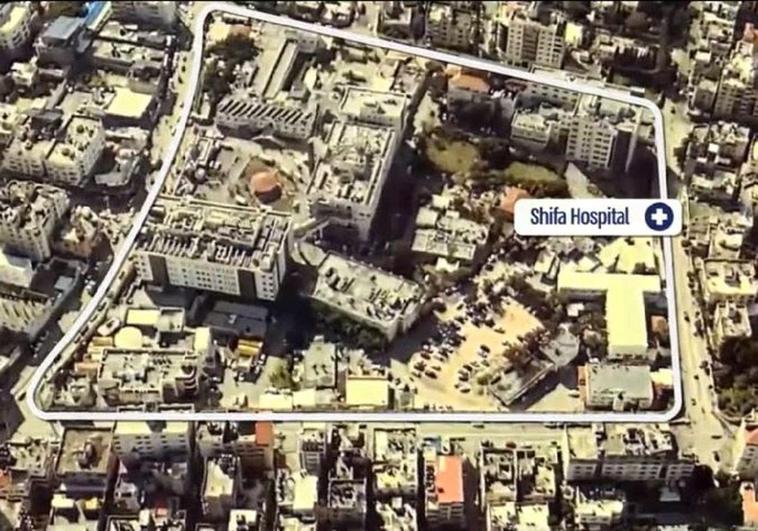 Aerial view of the place where the Hamas headquarters would be located, under the Al Shifa hospital. (Israel Defense Forces)
"The Israel Defense Forces (IDF) are carrying out a precise and targeted operation against Hamas in a specific area of ​​the Shifa hospital, based on intelligence information and an operational need. The hospital management was informed in advance of the entry to the complex," the Israeli Army reported in a statement.
Last Sunday, the Israeli Army claimed to have found a "fortified tunnel" 55 meters long and 10 meters deep under the Al Shifa hospital.
Al-Shifa hospital basement in Gaza.https://t.co/Ba3O2qmV64 pic.twitter.com/SInRf03cL3
— Daniel Lacalle (@dlacalle) November 17, 2023
He also released aerial images in which, supposedly, the "Hamas terrorist infrastructure" can be seen under the hospital. The Jewish Army detailed that there were "explosives in the physiotherapy rooms, an interrogation room in the cardiology area, weapons and intelligence in the MRI center and a tunnel shaft that was located near the Qatari hospital building."

#Israel #releases #videos #Hamas #hostages #Shifa #hospital