Podcasts are on the crest of the wave, consolidated as a versatile and attractive medium due to their wide variety of topics that satisfy all tastes. According to the marketing company DemandSage, more than 464.7 million listeners around the planet tune in to this listening content. Experts predict that this trend will increase in the coming years. Currently, the podcast industry generates more than 23.56 billion dollars worldwide.
It is not surprising that more and more young people aspire to become professional content creators. This is confirmed by a study by the Reina Sofía Center on Adolescence and Youth of the FAD Juventud Foundation: one in three Spaniards between 15 and 29 years old dreams of being an influencer and ten percent are already taking their first steps in that direction. Although Instagram is the favorite platform, podcasts are gaining ground among this group.
Creating a podcast requires more than just enthusiasm. It involves investing time in planning and execution, having the right technology to achieve optimal sound quality, and finding a suitable space for recording. The next step, of course, is to trust that someone will listen to the other side. Podimo's Talent Hub helps overcome all these obstacles. With the collaboration of PRISA Audio, this innovative program seeks to make the dreams of future podcasting stars come true.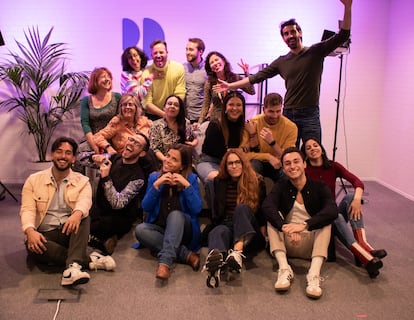 Podimo's Talent Hub emerges as the evolution of a support program for creators that Podimo launched two years ago.Pablo Román
Drive to create a successful podcast
During the summer and until September, Podimo welcomed all proposals from people interested in creating content but who lacked the necessary resources to carry it out. Around 200 podcast pilots were received, from which eight shows were chosen.
Those selected are already immersed in their projects. Over the next six months, they will receive guidance in production and will have free access to a recording studio in Madrid to create their content. In addition, they will exclusively enjoy several Master Classes, where industry experts will share their experience in script writing, cover design and sound design. Some of the podcasters will receive a scholarship of 2,000 euros.
Objective, monetize the audience
The Talent Hub emerges as the evolution of a creator support program that Podimo launched two years ago, in which it gave small podcasters the opportunity to publish their content on the platform and monetize their audience. On several occasions, the experience allowed new and unknown shows to grow in listeners and become the flagship of the platform. This is what happened with The Secret Life of Mothers, directed by Andrea Ros, actress and perinatal communicator, and Paola Roig, perinatal psychologist.
All that she wants, presented by stylist Elena Louro, was another of the podcasts that had the support of Podimo in its beginnings. The creator confesses that the most difficult thing about a podcast "is getting started, knowing how things are managed at a technical level, support and so on. Having this entire part managed by Podimo makes our lives easier. In addition, of course also having the audience of the platform with which we can reach many people beyond the audience we already had."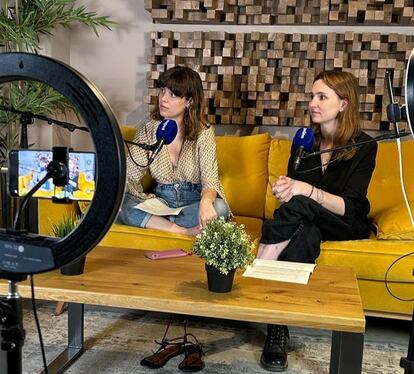 With the collaboration of PRISA Audio, Podimo's Talent Hub seeks to make the dreams of future podcasting stars come true. In the photo, Andrea Ros, actress and perinatal popularizer, and Paola Roig, perinatal psychologist, directors of 'The Secret Life of Mothers'. Pablo Román
These are the podcasts selected in this year's The Talent Hub, new talents that will surely conquer thousands of listeners in the coming months.
Shippeo
In the pop wave, shipping is like adding fuel to the fire of romantic fantasy between two (or more) people. In this blind dating podcast (literally), each week we will witness exciting encounters and discover how they end, all while Sendy Palomino and Patricia Castillo, the creators, tell their side of the story. Laughter, surprises and, of course, a touch of old-fashioned romance.
In Babia
In this peculiar space for debate, Cristina and Rubén, two people who seem to live in ignorance, explore the most absurd topics. With a touch of humor, they chat about all current topics, revealing some anecdotes between witticisms and lots of laughter.
Night group
This podcast is like that chat between friends that saves your day, a casual encounter where three opposite vertices of the same triangle intersect to explore a common path. Andrea Montero, Dany Blázquez and Alberto García sit "at the next table" to demystify and give a somewhat lighter spin to the less transcendental issues in life. Rule number one is not to take themselves seriously.
I need a street
Sergio Macía, a young content creator, openly shares all his misfortunes in this podcast. Because, honestly, who said that being a loser can't be a source of pride? It is clear that sometimes in life the most fun thing is to laugh at yourself.
Public Falsehoods
Conventions do not exist when it comes to addressing issues of the LGTBIQ+ community and it should always be done with a distinctive touch of salt, pepper and total involvement. At the table, Oscar Repo and Pablo Polo chat with guests about love, sex, life, rights achieved and goals to achieve. Humor is the key, but if the occasion requires it, they do not hesitate to provide a serious touch to deal with any delicate matter that has been left pending.
The dark side
Hosted by YouTuber Danny McFly, this podcast reveals the worst perversions, inappropriate behaviors, abuses of power and even crimes that some artists have tried to hide. Shocking stories never told before from very, very famous people.
Hot flushes
Raquel, Su, Carmen and Charo, four women over 50 years old, embark on the adventure of sharing that wonderful moment that is menopause and all its "little things," as they say. A trip full of occurrences and humor without restrictions.
brand gossip
Rubén Galgo undertakes the fascinating mission of revealing to his listeners the most curious and unknown stories hidden behind famous brands. Did anyone know that the birth of Kellogg's was related to the colorful intention of curing masturbation? Incredible anecdotes to liven up any time of the day, memorize them and act as brothers-in-law at the next family gathering.
#podcasts #shouldnt #season