DirectChronicle
Almost 50 years later, Atlético had to resist again and defend a draw in Glasgow outnumbered. This time for the expulsion of De Paul with a quarter of an hour left, after a match soaked in the mystique of Celtic Park, with more viscera than precision, but with the aroma of a lifelong European Cup. With Atlético wearing red and blue, as in the '74 duel, and with the local coliseum lit up and even protesting, filled with Palestinian flags, one of them formed in a corner with a mosaic of shirts with the colors green, black and red. The tie places Atlético second in the group after Feyenoord, so they will have to work on the three games of the second round to be in the round of 16.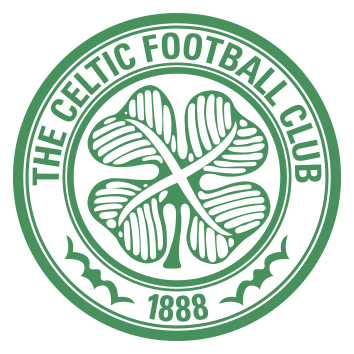 2
Hart, Greg Taylor, Carter-Vickers, Alistair Johnston, Liam Scales, Reo Hatate (7 mins), Matt O'Riley, McGregor, Luis Palma, Daizen Maeda and Kyogo Furuhashi (Forrest (79 mins))
2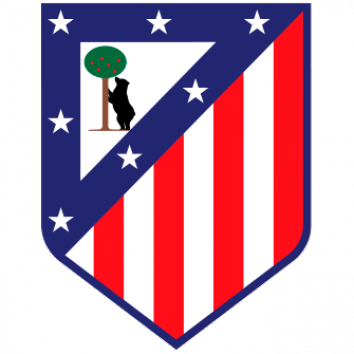 Oblak, Mario Hermoso, Witsel, Savic, Saúl (Rodrigo Riquelme, min. 45), De Paul, Javi Galán (Marcos Llorente, min. 45), Nahuel Molina, Koke, Morata (Correa, min. 72) and Griezmann
Goles 1-0 min. 3: Kyogo Furuhashi. 1-1 min. 24: Griezmann. 2-1 min. 28: Luis Palma. 2-2 min. 53: Morata.
Referee Felix Zwayer
Yellow cards Carter-Vickers (min. 30), De Paul (min. 34), Javi Galán (min. 37), Nahuel Molina (min. 48), Luis Palma (min. 50), Greg Taylor (min. 58) and Savic (min. 82)
Without Lino injured and sensing that volcanic match, Simeone gave flight to Javi Galán, before the sparkling Riquelme. Celtic smelled blood on that side because from the first ball they wanted to measure the Japanese Maeda with Galán's skills. And it didn't take him long to make Atlético's seams jump out there, although the entire defensive system was portrayed. Galán was not aware of Furuhashi's unmarking inwards after giving a pass that crossed the edge of the area without crossing the boot of an Atlético player. Nor did De Paul and Hermoso find out about the inside touch that O'Riley gave him so that the Japanese surpassed Oblak with a smooth and accurate shot. Barely four minutes into the game and Celtic Park was abuzz.
Free market football has led to up to eight Asian players being part of the Scottish champion's squad, but what modernity has not yet been able to deal with is history. Celtic is a great team that has fallen into disrepair. A 1967 European Cup winner formed at that time by boys raised in the suburbs on the outskirts of Glasgow. There are hardly any reminiscences of that localism in the squad, but what does still exist are those 60,000 souls that fill the stands to keep the flame of greatness alive and sustain the heraldry.
Celtic Park roared in every pressure from its team and in every dispute won. Atlético had a hard time detecting the departures of midfielder McGregor and the dynamite movements of O'Riley and Furuhashi, who had become a kind of lying nine who tried to poke between Witsel and the backs of Koke, Saúl and De Paul. It was he who slammed the table to try to get his team out of trouble with the ball. Again, a stream of minutes without a decent pass until De Paul began to want to combine with Griezmann and Nahuel Molina. These three already form a trio that is easily sought and found. They have formed one of those partnerships that kneads the fabric of a team. There emerged a drinkable Atlético who managed to tie. De Paul filtered a pass to Molina and he was hit on the heel by Taylor. Griezmann took the shot, and the veteran Hart guessed the intention and tapped the ball against the post. The rebound went to the Frenchman, who with relief finished off the stroke of fortune with an empty goal.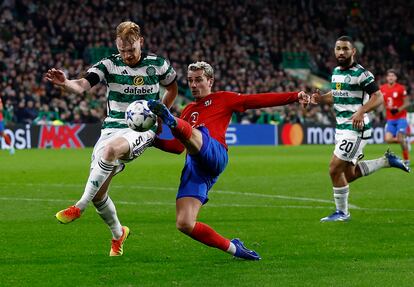 Antoine Griezmann attempts a shot, opposed by Liam Scales. JASON CAIRNDUFF (Action Images via Reuters)
The changes
Atlético did not have time to establish the government of the game on the tie. Again, he got lost in a band. This time on the left. Maeda, who had changed flanks, appeared treacherously behind Nahuel Molina. His cross made a side-to-side trip through the middle of Oblak's area. Again with no one to intercept it, but the Honduran Luis Palma to amass it free of mark. His violent right cross came in after hitting the post first.
Celtic Park caught fire again, enlarging its team just as it seemed to dwarf Atlético. Oblak had to intervene in a hard shot by O'Riley who was looking for the top corner to avoid a major setback before the break. Simeone's corrections were clear and forceful. He sat the overwhelmed Galán under the excuse that he had a yellow card and also relegated Saúl, who did not prevail in the aerial game on long balls and did not play football either. Riquelme and Llorente were the solutions. The first showed the courage and audacity that he has to threaten whenever he prowls around the area. He may lack gas for the round trip, but with the ball he plays very loose and sharp. For Llorente, the substitution was the first warning of a season in which he is not there. That's why he celebrated his attendance at Morata so much. A bounce with a bounce that was riveted in a plank by the nine from Madrid, who is having his best season. Not only because of the goals, but also because he supports his team when he needs to stretch.
That goal did upset Celtic, who saw the best version of Atlético, already with Correa on the field. One of his maneuvers on a sewn tile with a right hand could have been the final blow, but Hart pulled it out. Simeone's team was in full flow, but De Paul's expulsion forced them to resist another draw in Glasgow.
You can follow EL PAÍS Deportes on Facebook and Xor sign up here to receive our weekly newsletter.

#Atlético #resists #Glasgow