Crowned by an aura of defeat after the Nagorno Karabakh debacle, accused of being a traitor by the opposition and abandoned by his ally Russia, by the West and by the diaspora, the Armenian Prime Minister, Nikol Pashinián, will seek this Thursday in Granada to advance towards a treaty of peace with Azerbaijan, which constantly increases its demands towards Armenia, grown as it is by its military victories and the recovery of control over the enclave. Meanwhile, tens of thousands of Karabakh refugees are spread across the geography of Armenia, whose population is both fed up with a conflict of more than three decades and frightened by the possibility of new Azerbaijani attacks.
"Pashinián has sold us. A few years ago he came to Artsakh (as Armenians call Nagorno-Karabakh) and said 'Artsakh is Armenia'; now he says 'Artsakh is Azerbaijan'. She deceived us," Susana Gevorkián, a woman who recently escaped from the Armenian enclave, located in internationally recognized territory like Azerbaijan, complained a few days ago. She was one of the more than 100,000 people who, demoralized, hungry and traumatized, have crossed the border to leave practically empty what until a week ago was a territory populated by Armenians. A flow that some experts consider could "destabilize" Armenia, a country of only 2.8 million inhabitants and with few financial resources.
The opposition blames Pashinián directly for the defeat: both in the 2020 war, which forced the Armenian Armed Forces to withdraw from the territory they controlled around Nagorno Karabakh, and in the most recent one, which concluded with the capitulation of the enclave on September 20. Haik Mamiyanián, opposition deputy and leader of the Republican Party, assures that Pashinián "destroyed the Armenian Armed Forces" through purges, that he did not want to mobilize all the power of the army and that, after the defeat, he "lied" to the population to be re-elected in 2021 promising negotiation terms with Azerbaijan that he has not fulfilled.
By recognizing Baku's sovereignty over Nagorno-Karabakh this year, Pashinian has given it free rein to "occupy" it, and by maintaining a "terrible" foreign policy, it has alienated Russia, its strategic partner, the opponent maintains. That is why he considers him a "traitor" and "illegitimate" ruler, who "is not capable of negotiating a peace treaty with Azerbaijan."
Hence, Mamiyanián warns that, after a pause in recent days to focus on helping the displaced, his party will resume the protests (two weeks ago they ended in riots with dozens of arrests, including opposition leaders). "The only way to get rid of Pashinián is with street protests," says the deputy. Would they not weaken Armenia's position at such a critical moment? "The differences between us are very big. There can be no unity with traitors," he replies.
"Hybrid war"
Join EL PAÍS to follow all the news and read without limits.
Subscribe
Sources close to the Armenian Executive believe that these protests are part of a "hybrid war" behind which they see the hand of Russia, which they accuse of not having helped Armenia when Azerbaijan attacked it despite the collective defense treaties they maintain. and that its interposition troops in Nagorno Karabakh did nothing to stop the Azerbaijani offensive. Moscow also does not hide its hostility towards Pashinian, whom it accuses of the loss of the Armenian enclave for having allied itself with the West.
This rapprochement with the European Union and the United States has not provided much security to Armenia either. Apart from the promise of a few million euros to contribute to the needs of Karabakh refugees and some statements expressing concern, only France has committed to selling weapons to Armenia "so that it can defend itself." The European Commission considers Azerbaijan "a trusted partner" for its energy supplies as an alternative to Russian gas.
"After the war in Ukraine and with this new Cold War between the West and Russia, it is impossible for a small country like Armenia to maintain a balance of relations with both blocs. And, right now, neither Russia nor the West are willing to defend us militarily; Perhaps the only country willing to do this is Iran, because it fears the increase in the influence of Azerbaijan in the Caucasus and, with it, of its partner Israel," says Benjamin Poghosyan, an analyst at the Applied Policy Research Institute (APRI) in Yerevan. .
Among the Armenian population there is a great fear that Azerbaijan will directly attack the territory of Armenia, something that this expert considers "quite probable", either this month, if Baku does not obtain the expected results at the Grenada summit, or next spring. The Pashinian Government maintains that to guarantee the survival of Armenia it is necessary to sign peace with Azerbaijan and normalize relations with Turkey, which would allow the eastern and western borders – closed since the 1990s – to be reopened and break its isolation. "But for this, Azerbaijan demands concessions. He has already destroyed Nagorno-Karabakh, but it seems that this price is not enough, now he demands more," laments Poghosián.
As the Armenian Executive has taken steps back from its previous red lines, Azerbaijani demands have increased: Baku demands a corridor through southern Armenia, the "deoccupation" of several tiny Azerbaijani enclaves in Armenian territory (despopulated, but which cross strategic Armenian roads) and the return of the Azeris expelled by Armenia in the 1990s.
"We know that it is inevitable to make some concessions, the problem is that, with Azerbaijan, after each demand comes a new one. In the end, what will he ask, that we hand over Yerevan?", complains Anna Pambujchián, director of the Foundation for the Development of Democracy: "That is why I do not believe that the ethnic cleansing of Nagorno Karabakh is the end of this conflict, it can resurface whenever. "Everyone fears another war."
Armenia announced last week that it will increase its military budget to 7.3% of GDP, that is, up to about 1.3 billion euros. Even so, it will still be half that of Azerbaijan, the most populous and richest country. "Even I, who have always been a pacifist and have been in reconciliation processes with Azerbaijani colleagues, now believe that we must rearm. We are facing an existential threat," says Pambujchián.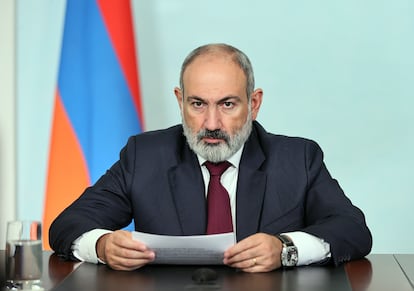 The Prime Minister of Armenia, Nikol Pashinián, in his address to the nation on September 24, 2023, in an image of the Armenian Government. ARMENIAN GOVERMENT PRESS SERVICE (EFE)
This analyst does not believe that the opposition demonstrations are capable of bringing down Pashinián's government: "The population trusts the opposition even less, because those leading the protests are members of former governments who also have responsibility for the current situation. So if the current Government manages to address the humanitarian situation of the refugees and advances certain reforms that offer more social justice, it will achieve enough support to maintain power." The leaders who preceded the current prime minister, Robert Kocharian (1998-2008) and Serzh Sargsián (2008-2018), and who now pull the strings of the protests, were known as "the Karabakh clan" because they came from the enclave. For years they controlled the levers of power in Armenia, relying on certain oligarchs and the security forces, until a revolt against corruption five years ago elevated Pashinián to the Government.
The diaspora – some nine million Armenians live outside the borders of Armenia – has always been an important actor in Armenian politics and an essential driver of investment in the Caucasian country. After a short honeymoon at the beginning of his Government, the powerful diaspora organizations in Europe and America have turned their backs on Pashinián's Executive and have approached the opposition parties, in addition to maintaining a much tougher stance towards Azerbaijan's demands. "It is true that the Government has not been able to establish a good dialogue with the diaspora, but sometimes it does not realize the delicate situation we are in either," says Pambujchián: "Here we are tired of burying kids of barely 19 years, and they are not going to lose their children in combat."
Follow all the international information on Facebook and Xor in our weekly newsletter.
Subscribe to continue reading
Read without limits

#Nagorno #Karabakh #debacle #weakens #Armenia #abandoned #Russia #West #fears #war