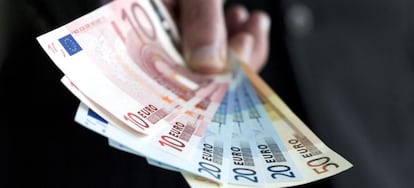 Bloomberg
SelfBank expands its range of deposits with new terms and returns above 3% APR. Specifically, the entity now offers remunerations of 3.20% APR for six months and 3.30% APR for one year. These two products are added to the promotion at 3.05% APR for three months that is also extended. The three deposits can be contracted by both current and new clients from 1,000 euros and up to one million euros, with the only requirement that it be new money from other entities. The payment of interest is quarterly, it does not allow automatic renewal and, in case of full early cancellation, only 100% of the capital initially invested is returned. The bank is a member of the Spanish Deposit Guarantee Fund (FGD), which in the event of bankruptcy guarantees up to 100,000 euros per holder.
SelfBank highlights the flexibility of its products, with minimum and maximum amounts not as limited as those sold by other banks. "Two new features are incorporated that combine long-term profitability with the agility of short-term products: it will not be necessary to wait for the maturity of the deposits to collect interest, but these will be paid quarterly and, on the other hand, "The deposit allows for early cancellation at any time," says Ignacio Prieto Funes, director of the entity.
Under the protection of the Spanish FGD there is also Banco Mediolanum, which has the Deposit 4.0 for six months with a remuneration of up to 4% APR for new money from 10,000 euros and up to 50,000 euros. Interest is settled upon maturity, at which time at least one of the product holders must have managed assets of at least 3,000 euros in the entity. Or, one of them has a direct deposit of 700 euros. Partial cancellations are not accepted.
Likewise, Pibank, backed by the Spanish FGD, markets a 12-month deposit at 3.34% APR without balance limits with quarterly interest payments. And Banca March gives new clients a 3.30% APR for one year for assets between 10,000 and one million euros. It is necessary to open the Avantio Online Account and it is possible to withdraw the capital before maturity, but in this case the profitability obtained would drop to 1%.
With a branch in Spain, but under the umbrella of the Italian FGD, which also guarantees a maximum of 100,000 euros per holder, BFF Bank (known as Facto) has the best three-month returns (3.29% APR) and six and 12 months (4.06% APR) from 5,000 euros.
ING Guaranteed Fund
For its part, ING has launched a new fund with guaranteed profitability that will offer its participants a return of 9% (3% APR) during the three years of the instrument's life, which will be marketed from this month of October until December 20 2023 and is scheduled to expire in 2026.
The Guaranteed Orange Fund 2026 II will invest 100% of its capital in Italian debt and will not require a minimum subscription level. Interest will be paid annually if the investment is maintained, although it offers exit windows every six months without charging commissions. The first fund of this type marketed by ING in July reached 160 million assets under management. The entity ensures that this instrument allows clients to "minimize risks" by obtaining guaranteed profitability.
Follow all the information about Cinco Días on Facebook, X and Linkedin, or in our Five Day Agenda newsletter
The Five Day agenda
The most important economic quotes of the day, with the keys and context to understand their scope
receive it
#SelfBank #boosts #deposits #terms #months #year #APR