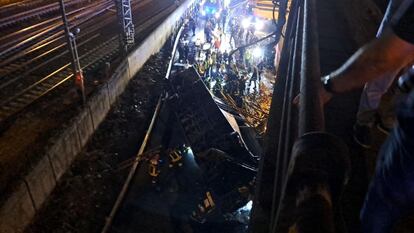 Rescue teams are working at the site where a bus with passengers on board fell from an elevated section in Venice (Italy).ANDREA BUOSO (EFE)
At least 20 people have died when a bus plunged from an overpass in Venice, northeastern Italy, the city's mayor, Luigi Brugnaro, told the Italian newspaper La Republicca. "At least 20 dead, a terrible tragedy," declared the councilor. The accident occurred around seven-thirty in the afternoon and the reasons are currently unknown.
The vehicle went through the fence of a section of road that passes over a railway line in Mestre, part of the municipality and about 10 kilometers from the canal area. After falling from a height of 10 meters, the bus collided with some electrical cables and ended up catching fire. The Italian media La Stampa reports that two children are among the dead. In addition, at least 12 people have been injured in the accident, according to the Prefecture, which states that there are still between four and five passengers to be located.
Firefighters have attended the scene, along with emergency services and police. The train line between Venice and Mestre is suspended. "A terrible tragedy has struck our community tonight. I have immediately ordered municipal mourning in memory of the numerous victims who were traveling on the accident bus. An apocalyptic scene; there are no words," Brugnaro wrote in a message on
A huge tragedy struck our community this evening.
I immediately ordered the city to mourn, in memory of the numerous victims who were on the fallen bus.
An apocalyptic scene, there are no words. pic.twitter.com/b1UlT5NNdK
— Luigi Brugnaro (@LuigiBrugnaro) October 3, 2023
The Prime Minister, Giorgia Meloni, has expressed her "deepest condolences, personally and from the entire Government, for the serious accident that occurred in Mestre. I think about the victims and their family and friends. "I am in close contact with Mayor Brugnaro and with the Minister (of the Interior) Matteo Piantedosi to follow the news about this tragedy." The Deputy Prime Minister and Minister of Transport, Matteo Salvini, "follows the evolution of the dramatic incident in Mestre", as published by his ministry in a note.
Follow all the international information on Facebook and Xor in our weekly newsletter.
Join EL PAÍS to follow all the news and read without limits.
Subscribe
#dead #bus #falls #overpass #Venice