Why do we believe that this jean, just like the five others we already have, but with a slightly darker tone, is going to change our lives? Why do we always buy variations of the same garment? Why do we have a closet full, but every morning we realize, frustrated, that we have nothing to wear? We asked Andrea Cheong, author of the book Why Don't I Have Nothing to Wear? (Why have I nothing to wear?), which has just been published in the United Kingdom, and says that we are facing a universal conflict that clothing brands have taken it upon themselves to solve (or complicate) by producing many variations of the same garment.
Cheong, also an illustrator and creator of the Mindful Monday method – a practice that involves taking a few minutes on Monday morning to reflect on goals, set intentions and practice mindfulness – proposes applying the principles of conscious living to buying clothes. . She believes that disorder is based on a universal lie: we always think that each acquisition will be better than the previous one and will bring us a little closer to that entelechy that we want to find, which we call personal style.
More information
The author, who has almost 130,000 followers on her Instagram account, answers this questionnaire via email. She is fast and drastic. She recommends rigorously auditing your closet at the beginning of each season to debunk white lies, truly determine what you have, stop buying duplicates, and reduce the wardrobe frustration she calls "decision fatigue."
ASK. Why have we lost control over our wardrobe?
ANSWER. Because instead of stopping to think about how we buy, we start accumulating things to try to build our personal style, influenced by the media, social networks, celebrities and internet culture, and not by the quality of the clothes. or the usefulness that we are really going to give it.
Q. Why do we buy the same garment several times?
A. We repeatedly buy variations of the same thing because we romanticize what a weekend or a night out will be like if we debut something. It is that search that gives us the dopamine rush. Once we have the garment, we wear it and we see that nothing has changed, it goes away and we feel guilty. But since we continue to believe that fantasy, the next time we see another great dress (we will have already forgotten that it looks like so many others we already have), we will repeat the pattern to look for more dopamine.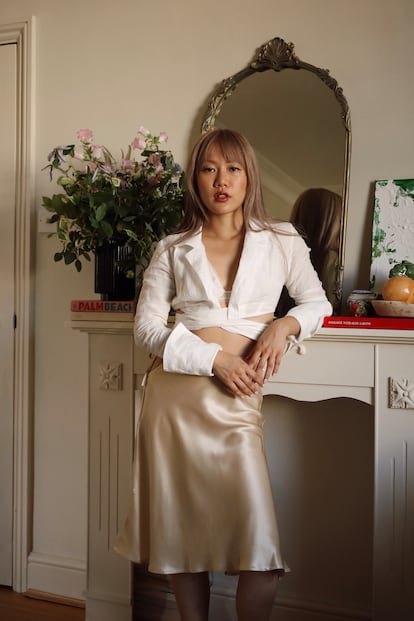 Andrea Cheong, creator of the 'Mindful Monday' method. Alise Jane
Q. Why is your new book a universal complaint?
A. We are not able to align our values ​​with our way of dressing. There is a lot of interference. We sacrifice conscience for convenience. We look for brands that represent us, but then we become their subjects, when really clothing should be a tool at our service. If we don't understand, we get stressed and end up convinced that we have nothing to wear.
Q. Is it possible to regain control of our closets?
A. My Mindful Monday method is a five-step guide to help people think critically about their clothes. It starts with a strict closet audit that will provide several important filters. For example, what materials don't suit you or what brands, even though you think you like them, end up in the bag of what you never wear. Then you should ask yourself if you are comfortable with your budget dedicated to buying clothes and what motivation is behind so much spending. Because, even if we can afford our shopping habits, there will always be a better place to invest our money than the closet – and I really like clothes! The third step is to determine what you want to achieve with the clothes, what their mission is in your life. The fourth, understand what a good quality garment looks like and the fifth, learn to read the composition of a garment on the label.
Q. How do you audit a closet?
A. We must create four piles of clothes: clothes to store (for example, the summer clothes that we are about to put away); clothes that you don't want (it is very important to examine this pile, observe its quality and if there are any recurring brands); clothes to donate and give away (after a year of closet audits this pile will reduce significantly), and clothes that need some repair (I recommend going through this pile every time you feel the need to buy something new). I encourage people to do an audit each season so that only the items they will need are visible.
Q. What are the advantages of doing these audits frequently?
A. You gain power over your wardrobe and it doesn't cost you anything. You'll know exactly what clothes you wear every day and every week, and if there are any gaps in your closet that prevent you from getting dressed easily. Most buyers want to find their style, but are afraid of repeating clothes. However, your hallmark is precisely the confidence to wear what you like, even if it is all very similar. And that is very sustainable.
Q. You say that 70% of the wardrobe should be wardrobe essentials, how do you recognize a basic?
A. The basics are very personal. For example, many consider jeans as a wardrobe staple, but others barely wear them. Your basics will be the ones that survive the closet audit again and again, despite the season. And yes, I believe that an efficient wardrobe should be made up of 70% basics.
Q. Why? No, it's very boring?
A. Because they are the foundations of almost all looks. The audit does not prioritize clothing based on how pretty or how expensive it is, nor on the brands that in theory can add value to your wardrobe. It's about equalizing the value of clothing, so if you keep wearing a decade-old t-shirt, it will be just as valuable as any other item in your wardrobe. If you trust your wardrobe, microtrends, brand hypes that appear out of nowhere, and impulse purchases will be less tempting.
Q. Do good clothes have to be expensive?
A. It is possible to find good quality clothing at any price, but the challenge we face as buyers is that when it is produced in excess, as is the case now, it is difficult to identify well-made items, as commercial criteria such as obsolescence are imposed. programmed. The price of a piece is never a reliable indication of its quality or its intended sustainability. I recommend turning the clothes inside out: if they are as pretty on the inside as they are on the outside, that's usually a good sign.

#Andrea #Cheong #author #Wear #align #values #dressing