The 12-month Euribor has returned to its old ways. The index to which the majority of variable rate mortgages are referenced has regained its upward path, after registering its first fall in 19 months in August, closing September at 4.145%. However, the Euribor has even exceeded 4.2% in the daily rate on five occasions, levels that have not been seen since November 2008.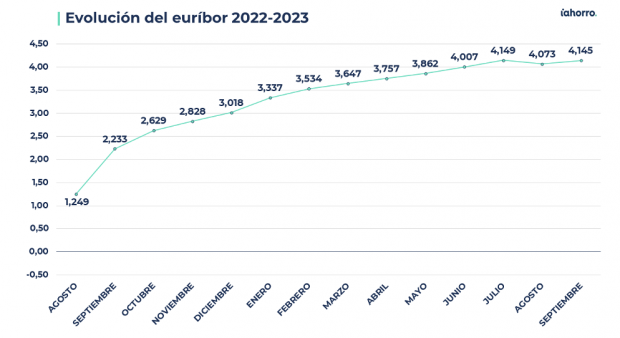 Thus, mortgage holders who have to review their payment with the September data will suffer a new increase in costs. Taking into account a mortgage of 180,000 euros, with a term of 25 years and an interest of Euribor plus 1%, if the loan is reviewed annually with the value of the current month, its monthly payment will go from about 875 euros to about 1,068 euros. This means that the mortgaged party will pay 193 euros more per month and 2,316 euros more per year. However, it should be noted that the increase in the cost of the installments will be greater or lesser depending on the amount and term outstanding of the mortgage.
This is because in September of last year the Euribor stood at 2.233%, so until now an interest of 3.233% was applied to said mortgage and its monthly payment was about 875 euros. While if it reaches 4.145%, an interest of 5.145% will be applied (when adding the 1% differential) and your monthly payment will skyrocket to 1,068 euros.
Evolution of the Euribor
One of the keys to this new rise in the Euribor has been the tenth increase (since July 2022) in interest rates announced on September 14 by the European Central Bank (ECB). Although everything suggested that the organization chaired by Christine Lagarde was going to hit the brakes, at the last minute it decided to continue with its policy of increases until reaching the value of money at 4.5%, levels that had not been recorded since last year. 2001.
Regarding the evolution of the Euribor, Simone Colombelli, Mortgage Director of the comparator iAhorro, assures that "the Euribor is being forced to follow the path of official interest rates, which are already 35 basis points above."
Despite this new rise in the Euribor, the index has been anchored at levels between 4% and 4.15% for four months, something surprising considering the trend registered in previous months, when it increased between two and three tenths per month. However, it should be noted that the mortgage index has posted figures higher than 4.2% in its daily rate on several days. For this reason, Colombelli assures that "we will soon reach that 4.2% monthly average" and "the next barrier that we will not take long to reach will be 4.5%." In fact, it is likely that we will end the year with the Euribor around 4.5%.
Euribor in 2023
The mortgage index has risen a lot during the year due to the continuous rate hikes by the ECB. This is how it has evolved since the start of the year:
January: 3.337% February: 3.534% March: 3.647% April: 3.757% May: 3.862% June: 4.007% July: 4.149% August: 4.073% September: 4.145%
#Euribor #reaches #September #mortgages #expensive