Autobesity is the term that has just been coined – in English, autobesity – to define the phenomenon that affects cars in the West: they are increasingly larger, more powerful and occupy more public space, despite the fact that, in general, they are emptier. In Spain, this means that the sale of SUVs – models similar to off-road vehicles – has quadrupled in 10 years and there are now six out of every 10 vehicles that are shipped. Some cities are beginning to outline measures to penalize them taking up more public space: Paris and Lyon have announced that next year they will increase street parking rates for these cars, something that Montreal, in Canada, is already testing. Several experts ask to open this debate in Spain, something that for now the big cities are not considering.
"Cars are getting bigger for several reasons," he explains. Manuel Romanaprofessor of Civil Engineering at the Polytechnic University of Madrid (UPM), "because they have more safety elements that take up space, because people want to drive higher and feel safer —although passenger cars are also safe—, and because we are a richer country that buys bigger and more expensive cars." David Lois, professor of Social Psychology at UNED, says: "A bigger car is a symbol of status, the bigger and more powerful, the more it reflects success." In any case, "it is paradoxical that cars are getting bigger, because families are smaller and the average occupancy of vehicles in urban areas has not changed, which is around 1.3 people per car," he continues.
The consequence of this trend is a real boom in SUVs (acronym for Sport Utility Vehicle): "From 145,000 units in 2013, 20% of the total, we have gone to 476,000 last year, 58% of the total." sales. And it is something that has already happened in the United States and is now happening throughout Europe," says a spokesperson for Anfac, the automobile industry association. José Manuel López Montoya, from the mobility expert consultancy MSI – which has similar sales figures – adds: "It is the new family car, they usually have a certain height to easily fit the children, they are spacious and have a good trunk. Since the Nissan Qashqai arrived, which was the precursor, we have seen unstoppable growth in these vehicles."
Not everything is advantages. "SUVs take up more public space, which reduces the effective number of parking spaces and contributes to a more hostile city. Furthermore, since they are so tall, they are more dangerous if an accident occurs," he points out. Martha Serrano, founder of the Women in Movement network. Ramón Ledesma, from the consulting firm Pons Mobility, agrees: "These are cars that occupy between 20% and 30% more public space. On a street with two 150-meter parking lanes, 60 five-meter SUVs, 80 four-meter passenger cars, and 100 three-meter small cars—Smart type—would fit. In addition, they are 15% or 20% heavier, and that also affects road maintenance." Anfac responds that the most popular SUVs are the smallest ones, equivalent in length to passenger cars.
More information
Information is the first tool against climate change. Subscribe to it.
Subscribe
Another problem is emissions. "Despite the theoretical greater efficiency in the engines, the average emissions for each new vehicle are increasing, because vehicles with more efficient but also heavier and more powerful engines are entering the market. And not only those from the exhaust pipe, but also the emissions of harmful particles resulting from friction and braking," says Lois, who also researches mobility at Transyt-UPM. The industry defends, however, that new vehicles are increasingly less polluting.
These issues have led to a debate in several cities: both Paris and Lyon have announced that they will begin to charge these vehicles more when parking on the street because they use more public space and are less efficient. According to a municipal spokesperson, in Lyon the fee for residents to park on the street is now 20 euros per month, and next year it will be 15 for electric cars (and large families), 30 for combustion cars up to 1,700 kilos or hybrids up to 1,900, and 45 for the heaviest ones (such as SUVs). "Heavier vehicles have a greater impact on the climate. They consume more fuel (…) and the accidents they cause are more serious," says the French City Council in a press release.
Paris, for its part, approved last July to increase the price of public parking according to the size and weight of the cars, although it has not yet specified what this will mean. "The objective is to focus on an absurdity: self-obsession, the inexorable growth of the weight and size of the vehicles that circulate in our cities," said Green MP Frédéric Badina-Serpette at the time, according to The Guardian. Meanwhile, Montreal (Canada) implemented a similar measure in July: residents with larger and heavier cars pay more to park in a neighborhood of the city (Rosemont-La Petite-Patrie).
A debate to open in Spain
The debate has not yet reached Spain: none of the five largest cities (Madrid, Barcelona, ​​Valencia, Seville and Zaragoza) are considering opening this melon, which is essential for smaller cities to take note. Different experts in mobility and public space ask to reflect on this. "In many Spanish cities there is already a policy whereby the most polluting cars pay more when parking, those that occupy more public space should also pay a higher rate," Serrano launches. Ledesma, from the Pons consulting firm, agrees: "It is worth establishing a higher pricing for SUVs. Paris and Lyon have opened the debate and other cities will surely follow."
"If they use more space, it is logical that they pay more," says Albert Gragera, a professor at the Autonomous University of Barcelona who studies the effects of parking. "It can be done with rates that vary with energy efficiency. Or like in Copenhagen, where they fine vehicles that overhang the squares. Also some garages are starting to charge extra for vehicles like SUVs," he continues. In any case, it would be difficult to implement: "Either it is done at the state level with the registration tax, or each municipality would need to have access to the DGT database to charge differently depending on the model."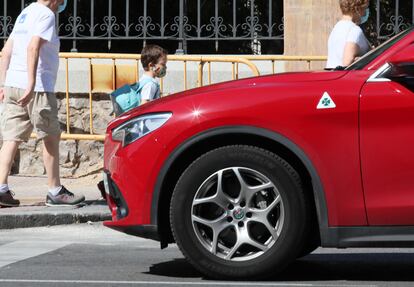 A child walks past a parked SUV in Madrid, in an archive image. KIKE FOR
Zaida Muxí, professor at the Barcelona School of Architecture, goes one step further: "I think it's good that they pay more for being bigger, but I think what Tokyo does is even better, where you can't have a car if you don't have one." where to park it. Let's think that in Spain it is penalized to sleep on the street, but leaving your car on the street for weeks is very normal. There is something wrong here." López Montoya, from MSI, is contrary: "It is a tax collection measure that I don't think has much to do with caring about citizens, it threatens family consumption and makes life difficult for families." Romana, from the UPM, is not a supporter either: "It is more reasonable to pay more to pollute more than to use more space. "I don't think it has a real effect: no one is going to stop buying an SUV because they pay more for parking."
Lois (UNED) differs: "Amsterdam has increased the parking rate in the center from 5.5 euros per hour to 7.5, and that has meant a decrease in traffic of between 3% and 5%. On the other hand, in Spain we maintain parking rates that give away public space to drivers, who also tend to have the highest incomes." As an example, in Madrid regulated parking in the center starts at 1.20 per hour and at 1.08 in Barcelona (in other cities it is cheaper). This also extends to parking for residents in the neighborhoods: in the capital they pay 24 euros to park on the street all year round, and in Barcelona, ​​52. In Europe, on the other hand, there is an increasing commitment to raising these rates to gain public space: Amsterdam already charges residents 267 euros for street parking and in Copenhagen the amount can reach up to 535 euros.
You can follow CLIMATE AND ENVIRONMENT on Facebook and Xor sign up here to receive our weekly newsletter
Subscribe to continue reading
Read without limits

#large #cars #pay #park #street #Paris #Lyon