Shelves and shelves to place pictures are always a good decorative option. IKEA
Shelves to place pictures are essential elements in any home. Their main purpose is more than obvious but they also give a new twist to the decoration of the room in question. And when it comes to design, the Swedish firm Ikea has extensive experience. They not only design practical desk chairs, lamps and top-selling auxiliary furniture. They also have a variety of minimalist shelves to show off our favorite paintings.
Precisely, the article you have before your eyes is about this theme: they offer an elegant and functional aesthetic, with resistant materials, easy to clean and at outstanding prices: from only 5 euros onwards. And, some of them have the necessary size and shape where you can place other practical products and decorations that complement the wall without the need to drill or holes.
Picture shelf with central slot
It is one of the shelves with the best average score in its category at Ikea. And no wonder: its design incorporates a slot designed so that any frame, even the smallest ones, can be placed at the ideal angle. It is sold in six different colors and with very elegant birch or walnut effects. Supports five kilograms of weight.
Picture shelf made of bamboo
Bamboo is one of the materials considered the vegetal steel of the 21st century and, in addition, it provides a chic decoration to any room in the house. Like the shelf in the image: it also includes a central slot so that our paintings do not slip. Thanks to its length of 75 cm we can place several well-spaced objects.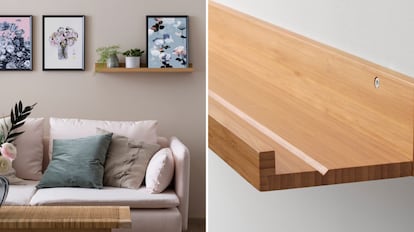 Bamboo is an element of decorative art of the first order.
Shelf for displaying pictures
This other shelf option is ideal if we are convinced of placing photographs, paintings and collections as if it were an exhibition. Furthermore, if you combine several you can fill a corner with life and joy with the best memories. The product has a length of 60 centimeters and a maximum weight of 5 kilograms. Sold in white.
This picture display rack is perfect for placing on top of the desk.
Steel exhibition shelf
If we dare with something a little more different, we can resort to a product like the one in the image. This shelf has modern and highly polished finishes, in an industrial style. In addition, it has a front frame that reveals its lower part and, therefore, is also ideal for placing small ornaments. Sold in glossy black.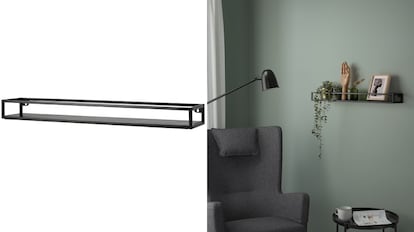 This Ikea picture shelf has an elegant anthracite color.More information
Picture Shelf and Organizer with Hooks
This picture shelf model has just landed in the Ikea catalog. Its peculiarity is that it not only serves to display paintings but is a practical space to store other objects. It is, in short, a charming wall organizer as it is designed in oak wood. It includes small hooks in its lower area.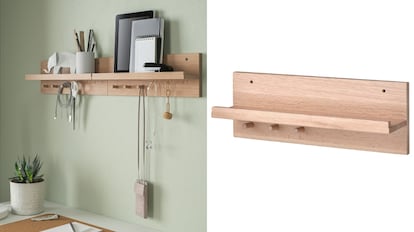 The novelties in this type of shelves come to Ikea thanks to solid wood.
Translucent picture shelf
Because not only do these types of transparent finishes look good in rooms like the bathroom. Also on walls finished in white or black or in places like the kitchen. This shelf is made of acrylic plastic that is very easy to keep clean with minimal effort. Its dimensions? It has a depth of 10 cm and a length of 60 cm.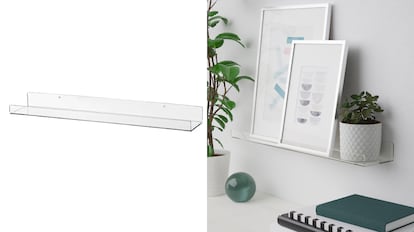 A transparent shelf will always look great for contrast.
Multi-module picture shelf
To close this selection we have decided to focus on this other modular wall shelf where we can place our favorite paintings. With a minimalist and modernist finish, this wall furniture is ideal for creating a feeling of greater volume on any wall we place it on. It supports 10 kg of weight and has a height of 60 cm.
Display shelf for fours and other objects called Lindasen.More information
*All purchase prices included in this article are current as of September 7, 2023.
You can follow EL PAÍS ESCAPARATE on Facebook and Instagram, or subscribe to our Newsletter here.

#Ideas #decorate #house #Ikea #picture #shelves