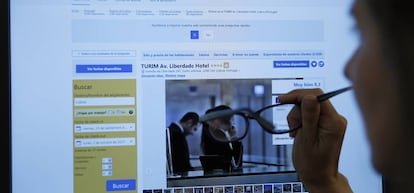 A user consulting an ad on Booking.Pablo Monge
The European Commission has prohibited the merger between the large digital travel agency Booking and its Swedish competitor eTraveli. "Our analysis of the operation shows that the merger would allow Booking to further strengthen its dominant position in the European market," explained Commissioner Didier Reynders, head of Competition. The operation is actually planned as a purchase of the European firm by the American giant that amounted to 1,630 million euros. "Bans are rare. Today's decision (for this Monday) is, in fact, the first to be blocked this year," highlighted the Belgian commissioner, responding in advance to the criticism that is usually made against Brussels for an alleged very restrictive policy in operations of concentration.
"The operation would have strengthened Booking's dominant position in the digital travel agency market, causing an increase in prices for hotels and, possibly, for consumers," explain the Commission's Competition technicians. According to the numbers they have presented, the North American company has grown so much in the last decade as to end up having a presence of more than 60% of the market, "there is only one significant competitor, which is much smaller and is mainly concentrated in the US market." . The dominance is so overwhelming, in his opinion, that Brussels concludes that rivals cannot compete on prices in the hotel and accommodation segment.
Acquiring eTraveli, an airline booking company, would lead Booking to also become the first intermediary in the flight market: "This would have allowed Booking to benefit from customer inertia, since a significant part of these additional consumers would have remained on Booking platforms. Therefore, the transaction would have made it more difficult for competitors to challenge Booking's position."
To try to save the operation, the American company proposed compensatory measures. "However, they were insufficient to offset the negative effects of the acquisition. That is why the merger could not be approved," explained Reynders.
This move represents a blow to the growth strategy followed by Booking based on acquisitions, since the purchase of eTraveli, a company from the CVC Capital Partners fund, was the largest operation of those that closed last year. In November he bought Getaroom, a hotel brokerage company, for 1.08 billion euros.
The vetoed operation is one of those being analyzed by the European Commission, which has also yet to publish its opinion on the merger proposed in Spain between Orange and MásMóvil, valued at 19.6 billion. Brussels issued a statement of objections last June pointing out objections to the simple union of both companies because it could end up causing an increase in prices in Spain by reducing competition.
Follow all the information about Economy and Business on Facebook and Xor in our weekly newsletter
The Five Day Agenda
The most important economic quotes of the day, with the keys and context to understand their scope.
RECEIVE IT IN YOUR MAIL
#Brussels #vetoes #purchase #eTraveli #digital #travel #agency #Booking