On September 8, two ultralight planes flew over the Pyrenees. Huge floating tricycles with a fan on the back. They hung from a yellow paraglider six meters in diameter and were followed by 35 black, very black birds, forming a strange human, mechanical and animal procession. It was an amazing sight, like something out of an animated movie. About 100 meters below, winding along the roads that connect France with Spain, several vehicles full of biologists closely monitored the expedition. And in this way, after a hiatus of hundreds of years, a flock of hermit ibis emigrated again to Spain. It had not done so since the Middle Ages, when it is believed that this species of migratory bird became extinct throughout Europe.
After landing and camping in a meadow in Alt Empordà, Johannes Fritz, a biologist and experienced pilot, takes a few minutes to answer the phone and explain how it feels to lead this strange migration: "It's something surreal, being up there surrounded by a large group. of birds, basically being part of the flock… They could do whatever they wanted, fly in all directions, but they follow us for thousands of kilometers. Is incredible". It is even more so after Fritz's explanation: birds follow their "adoptive mothers." They are Helena Wehner and Barbara Steininger, the volunteers who serve as co-pilots in the ultralights, and who have fed them for weeks in an aviary in Austria, where they have grown up. Now they teach them the migratory routes as a mother would do with her chicks. The idea is that the birds memorize the path. Afterwards, they will be released in Jerez de la Frontera and once acclimatized, they will teach this migratory route to their offspring and repeat it every year. It may sound crazy, but Fritz knows it will work. After all he's been doing it for 20 years.
More information
"This is the sixteenth migration I have made in the last two decades," he explains proudly. "We already have a population of about 250 birds in the wild and about half have been bred in the wild. "They have learned these routes from their elders." However, this migration is different, important. It feels somehow like the first. The destination is the south of the Iberian Peninsula and not Tuscany, Italy, as it has always been until now. "It's because of climate change," the biologist explains laconically. "We have been forced to change route."
To survive the central European winter, the hermit ibis needs to migrate south. Fritz taught them how to do it from Lake Constance (which separates Austria, Germany and Switzerland) to Italy, crossing the Alps, the highest mountain range on the continent. Normally, they did so at the end of September, but global warming has delayed the migration of these birds, which now begin to take flight in mid-October. By then, temperatures may be mild on the lake, but they are impossible in the Alps, which become an impassable wall of ice. Last year only five of the 60 ibises that tried to cross them succeeded. Fritz and his team, the Waldrappteam (waldrapp means ibis in German), had to transport the rest by van. But a seasonal migration cannot function like an Uber service. Another solution had to be found.
The flock of ibis flying in an image captured from Fritz.Waldrappteam's ultralight
The solution was offered by Ingrid. This is the name of one of the ibis with which she migrated in 2022. But at some point, in the Alps, Ingrid got lost and undertook a long journey alone to Malaga. The Waldrappteam had it marked and as soon as she found out about her new home, she picked up the phone and called her Spanish colleagues.
Miguel Ángel Quevedo Muñoz is a veterinarian at the Jerez Botanical Zoo and one of those responsible for the Eremita Project, which has been trying to increase the population of this bird in the Spanish habitat since 2003. First in captivity; for years, reintroducing it into nature, near Cádiz, at a rate of about 20 per year. When he talked to Fritz about Ingrid, he quickly raised the possibility of making Ingrid's route the main one. To be offered as a new destination, uniting the migrant populations of Austria with the sedentary populations of Spain. "Spanish birds do not migrate, since the cold is not as intense here as in Austria," explains Quevedo in a telephone conversation. But sedentary lifestyle means that they do not mix with other populations and that represents a challenge for the Eremita Project team: "We have to increase the genetic variability of the birds," summarizes the expert.
Until now they did it with an exchange between other European zoos, something like an Erasmus for birds, through the European Endangered Species Program. Quevedo explains it with a more biblical simile: "Many zoos function like small Noah's Ark, they conserve threatened species so that there is good genetic variability and so that we can exchange between different zoos." But what the Waldrappteam proposed went much further. It did not happen through a specific exchange, but rather through the mixing of two populations. "We don't know what is going to happen," admits Quevedo. "We know that they are gregarious birds, that they will mix well, but we do not know if the Austrian group will resume their return migration in spring, we suspect that they will and it is possible that some of the Spanish group will follow them. But maybe some stay, we will see."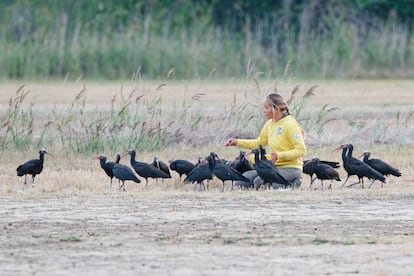 One of the foster mothers spends time with the flock of ibis.FERNANDEZ MICHEL
Attacks by boys
1,600 kilometers from Cádiz, Johannes has had a little scare. A bird of prey caused his ibis flock to break up and two of his ibis have been lost. "It happens sometimes," he comments with resignation. "But in all these years we have only lost one bird due to predator attacks." It does not seem that this incident will modify his flight plan much. They left last August 21. They will arrive, if all goes well, at the end of September.
"We travel about 120 kilometers a day, whenever the weather permits," explains Fritz. The Waldrappteam is made up of 14 people. They have two ultralight planes and five vehicles. Upon landing they set up a small camp. The birds follow their adoptive mothers from one place to another, also by land. To facilitate recognition, both are wearing a striking yellow raincoat, the same color as the parachute.
Then they set up a portable aviary, in a couple of hours, and there they rest until the next day. Thus, day after day, until reaching Jerez de la Frontera, repeating an almost identical route to the one Ingrid took last year. "She is an explorer and an inspiration," Fritz explains of the bird. "She has become a kind of symbol of the collaboration between Proyecto Eremita and Waldrappteam."
Hermit ibises are also called northern bald ibises, a longer, but much more descriptive name. On their heads they do not have plumage, but rather a caruncle reminiscent of scars, testicles or turkey mucus. It looks like the extension of its long, curved beak. Their crown is festooned with long black feathers, like a crest. They are ugly? Fritz does not refute this perception, but points out in return his charisma, gregariousness and friendliness. When he came across these birds for the first time, in 1997, it was love at first sight. He worked at the Konrad Lorenz Research Center in Austria, raising crows—literally—and geese while pursuing his PhD. In 1997, a zoo gave the center some hermit ibis chicks. They were not as docile as geese, nor as intelligent as crows. Most scientists did not develop a very special relationship with the chicks, but this was not the case with Fritz, who became "his adoptive father" to him.
Aerial view of the expedition.
By then, Flying Free, the film with Anna Paquin and Jeff Daniels that tells the true story of Canadian naturalist Bill Lishman, had already been released. Lishman guided 36 Canada geese in his ultralight plane on a migration toward South Carolina. When Fritz said he wanted to do something similar, his colleagues took it as a joke. But in 2002 a feasibility study was started on the reintroduction of the species to Europe. Within the framework of the Life community project, the release of the population was authorized. "There were barely 200 specimens in the wild in Morocco, but in captivity, in Europe, there were about 2,000 specimens," recalls Quevedo. "That is the great paradox of this species." So two initiatives were launched in parallel: a Central European one, led by the Waldrappteam, with a stable but migratory population; and another Spanish one, with the sedentary Proyecto Eremita. "They worked on one side, and we on the other," says the veterinarian. "But now we are going to do it together."
Fritz is looking forward to arriving in Andalusia and is full of thanks to his new companions. The road to get here has been long and complicated, especially in the beginning. "It's easier now, but learning to fly with them was quite a challenge," Fritz admits. "In the early years, we didn't have a proper microplane. "It was faster than birds," which fly at about 40 kilometers per hour. That is why they had to adapt not only to the speed, but to their way of flying.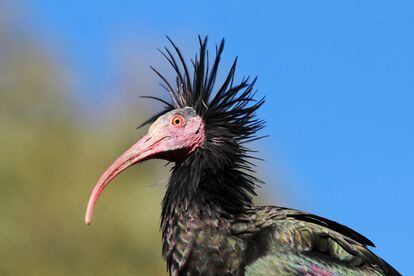 Closeup of one of the birds.Waldrappteam
The flight of flocks of birds is governed by synchronized behavior, similar to that of schools of fish or swarms of insects. They can change position and flapping rhythm in a matter of seconds, tracing hypnotic and unpredictable movements. Synchronizing a small plane to this flocking behavior (also called flocking, in English) seems complicated. There are computer simulations that have tried it, but the theory, in these cases, is very different from the practice.
Fritz and his team have plenty of the latter. Almost every year since 2004, the Waldrappteam has guided around 20 captive-born young ibises to the fields of Tuscany. In 2011, for the first time, one returned independently north of the Alps, migrating in the opposite direction. When autumn came and he returned to Tuscany, he was followed by a group of birds that humans had not taught to migrate.
The species now had sufficient numbers to be biologically sustainable, it was beginning to learn the migratory routes and teach it to new generations. And at this moment, when the future of the hermit ibises was beginning to settle, global warming has put it in check again. However, Fritz is optimistic. He believes that there will come a time when the populations will be autonomous, but he does not put a specific date on this moment either. For now, he has 1,600 kilometers left to reach his destination. And he already anticipates that next year he will continue flying with his birds.
You can follow MATERIA on Facebook, Twitter and Instagram, or sign up here to receive our weekly newsletter.

#return #ibis #biologists #teaching #flock #migrate #Cádiz