Giacomo Arroyo, firefighter who has just passed the opposition in the Community of Madrid. Santi Burgos
It's time to oppose. This is enthusiastically defended by Puri Marín, head of studies at the Jesús Ayala exam preparation academy in Málaga, which, since the pandemic, has spread its success throughout Spain and abroad. "We have students from Austria or Thailand, who want to find a secure job to be able to return to their country," says Marín proudly. Like her, hundreds of opposition academies workers are overwhelmed with work due to the opposition fever generated by the largest public employment offer so far approved for this year, with almost 40,000 new positions. And those who will come in the coming years, since the public employee workforce is severely aging and half will retire in the next 10 to 15 years. But taking out an opposition, as is well known, is not free in time, but neither is it free in money, something that is less talked about.
Becoming a Tax Inspector is costing Miguel Guerrero García, in addition to months of full dedication to studying, around 1,500 euros per month, which in his case is paid by his parents. This Melilla native, who is about to turn 27, is preparing for an opposition for a position at the highest levels of the General State Administration (the so-called A1, which requires a university degree) and he does it full time, he even lives in the César Carlos school where exclusively graduates who prepare public service exams in the higher bodies of the administration reside.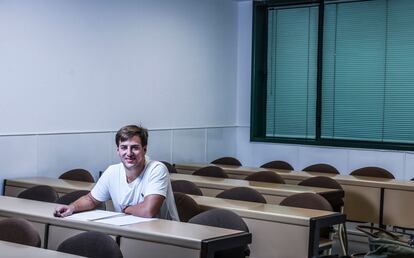 Miguel Guerrero García, opponent of tax inspector. Alvaro Garcia
The monthly amount paid by this aspiring Treasury Inspector is broken down into just over 300 euros per month, which he pays to the Center for Financial Studies (CEF) academy, where he attends about eight hours a week; Added to this is the 750 euros that the dormitory costs and the rest is money for expenses during your stay in Madrid. In addition, you have to add around 500 euros to purchase the syllabus and a small amount that guarantees updating of all regulations for a whole year, an expense that is one of the most worthwhile, according to all the opponents consulted. The preparers estimate that it takes at least 18 months to pass these oppositions (level A1, the highest in the Administration), so their total cost would be between about 6,000 and 19,000 euros, depending on whether you have to pay a place to live and study.
The main factor that determines the cost of preparing for an opposition is the level of employment for which one opts, which is usually marked by the candidate's qualifications. The first thing an aspiring civil servant should consider is how he or she is going to prepare. Basically, she must decide if she is going to go to a specialized academy and have a teacher; If she is going to hire an individual coach; If she is going to acquire the training with syllabus packages and recorded classes taught on online platforms by the academies themselves, which is somewhat cheaper; or if she chooses to take the syllabus and study on her own, without any type of guide. Gloria Oliveros, the director of Public Employment at Adams, one of the main opposition preparation companies with more than 60 years of experience, assures that the option of contracting preparation in an academy with a teacher (attending the academy in person or following weekly classes remotely) "is an enormously facilitating element" to approve the opposition. Something that Ángela de las Heras, another director of CEF – an academy specialized in training at the highest levels of administrations – fully agrees with, who emphasizes that telepresence has made these processes much cheaper because it avoids the cost of having to travel to live in Madrid.
Among the most expensive processes is always that of groups A1 of the General State Administration (AGE) and equivalent in the rest of the regional and local administrations, for which the applicant is required to have at least a university degree. The cost of an in-person or telepresence academy if it broadcasts classes via streaming is between 300 and 350 euros per month for these positions. After consulting with different academies, it is observed that, for academy preparation at the level immediately below A1, which corresponds to the A2 Management bodies (diplomas and equivalents), the price ranges between 200 and 250 euros per month; administrative candidates (C1, with a Bachelor's degree), between 120 and 170 euros on average; preparing a test for administrative assistant (C2) is around 100 and 160 euros per month; and finally opting for the lowest level, junior, costs between 70 and 100 euros per month.
For the majority of these positions, a preparation of between one and three years is necessary, which places the cost of the courses guided by teachers alone between about 1,000 and 7,000 euros, adding the opportunity cost of living for all this time. , something much more difficult to quantify and that forces a significant portion of applicants to work while taking the exam, which sometimes delays (and makes it more expensive) to finally get a place.
How to make the process cheaper
The costs vary depending on whether the academy includes the price of the syllabi or whether they are purchased separately. Furthermore, the final investment can be reduced by up to 50% if you opt for exclusively online preparation or if the candidate takes advantage of one of the offers offered by some academies, for example by paying between 6 and 18 months in advance. Another cheaper option is also offered by union schools such as the CSIF civil servants' union, which applies lower rates to its members or establishes collaboration agreements with academies such as Corporepol, which prepares access to municipal and national police forces. in Madrid. The director of this academy, Alberto Franco, explains that the monthly fee is 65 euros to prepare the theory, plus another 35 euros for the comprehensive preparation of the physical tests. These opponents also pay 100 euros for the syllabus and, in the case of national police officers, 150 to prepare for the personal interview, which the local Madrid police do not have.
It is also cheaper to prepare for an internal promotion competition for those who are already civil servants and want to move up a level, since the syllabus is usually half that of the free shift and, therefore, the preparation time is also reduced. But these cases also end up involving a significant cost. Montserrat Sánchez, 48, is already a civil servant, but she is preparing for a promotion to group A2 (graduates) through an internal promotion competition for the Ministry of Agriculture. Her opposition is very specific, to work in fishing, animal genetics or plant genetics laboratories. In her case, the problem is not so much the cost as the difficulty of finding a coach, because, according to her story, she has shown up twice studying at her expense and she has failed both times. "Academies don't bother to prepare these highly specialized positions," she says. For this reason, she is now determined to opt for a coach who will cost her between 1,500 and 2,000 euros for the eight or nine months in which she believes she could achieve this position. In exams for teachers, for example, it is also common for several candidates to get together in groups of five or six people and hire a coach to whom each one pays about 150 euros per month (a price similar to that charged by some academies for this opposition). ).
There are two oppositions that are clearly among the most expensive. One is access to the notary profession, which is the one that first comes to mind when you think of someone who has taken the exam for years. But much less known is the strong investment needed to successfully prepare for the firefighter exam, which can be around 15,000 euros in total. Giacomo Arroyo Perconing, 30 years old, has just passed a long selection process that lasted more than a year of exams and demanding physical tests to be a firefighter in the Community of Madrid. "The best thing to pass this opposition is to go to a comprehensive training academy where they teach the theoretical and physical part, which usually have a cost that ranges between 180 and 250 euros per month; "But it is also required to have a truck driving license, which costs around 3,000 euros and, sometimes, the payment of additional truck driving practices, in preparation for the exam, which can cost up to 600 euros per month," explains this. young firefighter who will sign as a career civil servant in just a few days. Furthermore, after the opposition, these professionals must go to an academy, already public, to do their internships. In total, they spend an average of four or five years to get their place, "although there are colleagues who have passed with me who have taken ten years until they have managed to pass," he remembers.
The average period it takes to pass an opposition to notaries is around five years. "It is practically impossible to obtain it in less than three years, and they are convened every two years, so it is easy to take at least five years," explains the director of the examination academy of the Notarial College of Madrid, Isidoro Lora-Tamayo, who ensures that approximately 80% of applicants prepare in the training centers dependent on each autonomous college. The cost of this Madrid academy is 179 euros per month. In Madrid there is the possibility that the school itself grants the student a scholarship or grants him a loan, which he can return after passing the opposition, preparing new applicants and waiving the fees for the first years of working as a coach.
For the first time this year, the Government has offered a scholarship program for candidates of Corps and Scales of the General State Administration, with which it is intended that applicants with lower incomes cover the expenses derived from preparing for the tests. selective. This is an initiative endowed with up to 7,000 gross euros per applicant, whose application period ended in July and it will not be until the end of the year when the first beneficiaries are known. The Ministry of Public Function explains that the process of verifying the income of applicants is being especially complicated because, unlike scholarships for students who do not work, in this case they are applicants who mostly have income and must be verified. who meet the requirements to receive one of these aids.
All this investment is intended to raise opposition, fundamentally, those from the highest positions in the administration such as, among many others, the inspectors of the Treasury, Labor and Social Security; the General Comptrollers of the State or Insurance or members of the diplomatic career, lead a senior official, who prefers not to identify herself, to criticize the elitism of these processes. "The vast majority of people who can afford the preparation to pass an A1 level place have high incomes and are usually children of wealthy families. These officials will, in the end, be the ones who end up designing many public policies and that will inevitably impregnate them with certain class biases," points out the reflection of this public directive.
Follow all the information about Economy and Business on Facebook and Xor in our weekly newsletter
The Five Day Agenda
The most important economic quotes of the day, with the keys and context to understand their scope.
RECEIVE IT IN YOUR MAIL
#fever #oppositions #salary #life #cost