Exploring the roots of the legacy of fashion houses, distilling their DNA and serving it to the public, and to their management boards, clean of artifice and ready for immediate consumption seems to be the most recurring idea at this Milan fashion week. Nostalgia for a better past has been the driving force behind some of the collections, whose creative teams have opened archives and closets to search their own interiors for the answer to the question that many of us ask ourselves today: is identity a fixed concept, something immobile, an idea that remains unchanged and, therefore, can be rescued from some drawer or is shaped by social, economic and climatic changes?
Matthieu Blazy, the French designer at the helm of Bottega Veneta, gave his answer on Friday, September 22, on a stage tiled with tiles depicting oceans, shapeless continents, flying fish and fantastical sea creatures. This was the simple premise of the trip he proposed: a mixture of archetypes from around the world that are in constant transformation, in creation. "Pure shapes, marked shoulders and tailoring give way to the simple, the natural and the primal," the brand explained.
More information
"The notion of national clothing becomes international clothing": Blazy thus ends with the idea of ​​his three previous shows, which was Italy and the introspective look at the country's traditions, with the aim of lowering the Bottega Veneta by two or three revolutions. fireworks made by his predecessor in office, Daniel Lee. At a time when Italy defends extreme border control and is harshly confronting the migration catastrophe on its shores, perhaps it is not a bad idea to leave Italy, literally and figuratively. Or even open its doors. That is why it does not seem coincidental that the brand talks about outcasts and nomads, that they use flags of imaginary countries and foreign newspapers as beads. It is a subtle but effective message. It does not seem coincidental either that Cicciolina, who was a member of the Radical Party, was among those invited to the parade.
Blazy turns to some of his now classics, moving away from quiet luxury, at the latest Bottega Veneta show in Milan.Victor VIRGILE (Gamma-Rapho via Getty Images)
For his trip, Blazy turns to some of his now classics: the stitch that he handles like no other in intarsias and jacquards, which he gives with rigidity, sometimes, drape and weight at other times. He continued his typical finishes with leather fringes, which now also become raffia pompoms. He presented tweeds and cheviots and some giant bags filled with clothes from previous collections that reflected this idea of ​​evolution. There was intrecciato, of course, the sign of the house, but also games with the skin, transforming it into die-cut flowers, into knotted scarves, into banana leaves. Bright colors reminiscent of animal prints, its already classic water green, yellows, reds. Something very far from silent luxury, curious considering that it was Blazy who presented in his first collection a checkered shirt and a pair of jeans with the appearance of a flannel shirt and a cowboy, with the fall of a flannel shirt and a cowboy, but that in It was actually a leather set.
Ferragamo changes the red, trademark of the Florentine house, for deep green leather suits in the collection presented at Milan fashion week.Jacopo Raule (Getty Images)
Maximilian Davis at Ferragamo makes another turn in the same direction. The legacy of a century-old house cannot weigh too much. That is why it has gone out to seek inspiration in its Caribbean origins, mixing elements such as wood, fake bone, stones, with pleated silks, rigid or very light leather, changing the red, trademark of the Florentine house, for leather suits of a deep green. This time, he also introduces linen, a popular fabric, although waxing it to make trenches that resemble leather and to mix it with noble fabrics such as satin or leather. Davis also uses the superpositions of layers and shapes and presents printed garments, something new in his work, achieving a tribal effect, yes, but he also appeals with the mixture of natural elements and technical processes to Arte Povera, the Italian movement that in the Seventies rebelled against the exacerbated economic prosperity of Italy to focus on the disinherited and the subproletariat of the south.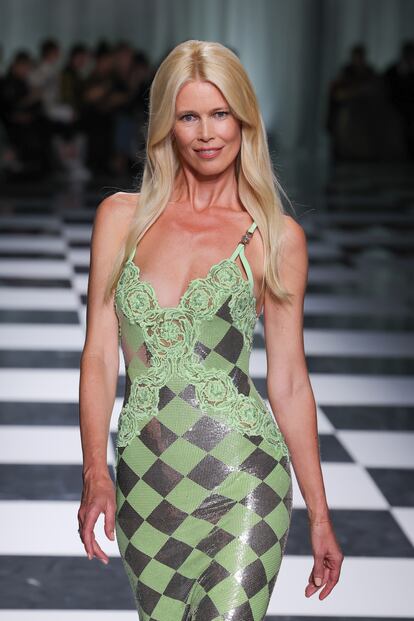 Claudia Schiffer closed the Versace show, since it was also this 'top' who closed the 1995 show on which this one was inspired. Victor Boyko (Getty Images)
More literal in her reinterpretation was Donatella Versace, who recovered her brother Gianni's 1995 spring-summer collection: pastel colors, checks, tweeds. A happy and carefree bet, a way of dusting off a more naive and less dominatrix vision than in her latest collections. Precisely the appearance at the closing of the show by Claudia Schiffer, who also closed the '95 show on which this one was inspired, gives an idea of ​​the relaxation in Donatella's message: the top rests in a placid and discreet family life, oblivious to the controversies about the difficulties of life that other top stars carry out.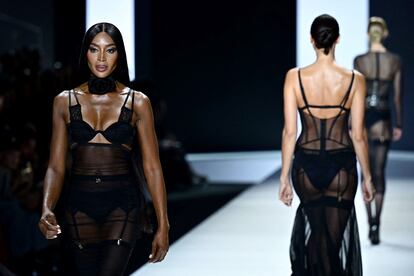 Naomi Campbell was in charge of closing the Dolce & Gabbana show at Milanese fashion week.GABRIEL BOUYS (AFP)
Naomi Campbell also reappeared to close the Dolce & Gabbana show, which presented a boudoir collection of pure corsetry and lingerie. Transparencies and black and white, with some minimal concession to the leopard print defended by a casting that only they can bring together: Natasha Poly, Irina Shayk, Mariacarla Boscono, Vittoria Ceretti, Ashley Graham and Naomi, cheered at the end. While the designers resort to their essence, a secured commercial vehicle, each year they use part of those profits to finance a young talent, this time Karoline Vitto. This Sunday morning the Brazilian designer paraded at the Italian brand's offices with a collection "for real bodies. The designer has positioned large bodies at the center of the London scene and now she arrives in Italy with her curvy models," the press release said. It was a relief to finally see more than one plus-size model on the catwalk.
During the Giorgio Armani show, the designer remains true to himself and does not need to turn to past times for inspiration.CLAUDIA GRECO (REUTERS)
Giorgio Armani closed the week, perhaps the only designer who has remained so faithful to himself and who does not need to turn to past times to seek inspiration. The always recognizable seal of his proposals with oriental inspiration, satin fabrics, crystal appliqués and light silhouettes, returned to the catwalk to confirm that a designer can open the doors to distant places, search outside their borders, and be, at the same time , living history of his own country.
Subscribe to continue reading
Read without limits
#Migrants #nomads #Milan #fashion #week #Italy