"Girl, fresh sorrel!", a young man with a bare torso shouts at the guy who is walking in his bag. A few steps away, three kids who look like conservatory students use their guitars and clarinet to sing rumba, with more grace than art, Buana Buana King Kong. A group of English tourists crosses with wide eyes that corridor of more or less fake customs that runs from the port of Cádiz to its Abastos market. On both sides of that road, neighborhood businesses long ago gave way to boutique nougat shops, sushi restaurants with cool decorations or with pre-cooked paella boards. Even the historic Bar Brim—the kind where you drink from Duralex glasses—now has a sign in its window that says "Take away."
More information
The Cádiz tour – carried out on a Thursday in September – is experienced with its respective variants in the center of any Spanish or European city that has long embraced tourism as its main source of income. The reverse of this Manna is well known: increase in the average rental price, gentrification or displacement of the premises. Vernacular gastronomy does not escape this touristic spiral either. More and more experts are warning of the foodification that holiday destinations are suffering from, with a culinary offer that is increasingly less identity-based, more standardized and expensive, which scares away neighbors and, in many cases, makes the job market in the hospitality industry precarious. "There is a hijacking of the food landscape. The cities are first touristified, they are decorated. Then, they gentrify by expelling their neighbors and, finally, they become gourmet," warns José Berasaluce, coordinator of the gastronomic master's degree at the University of Cádiz, Masterñam. Since 2017, the city of Cádiz has gone from offering 5,277 places to being able to accommodate 17,400 people, according to the Tourism Offer Report of the Junta de Andalucía for 2023. But the increase is inversely proportional to the population loss of the capital: If in 1981 there were 157,766 registered residents, in 2022 (latest data available) the figure had been reduced to 113,066 inhabitants.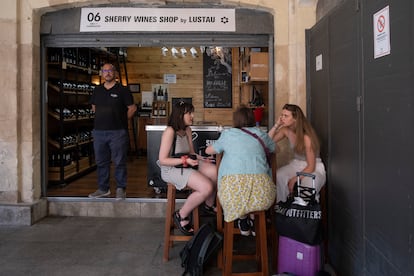 Sherry wine shop in the Mercado de Abastos of Cádiz. PACO PUENTES
Cádiz is immersed in just the second step of that metamorphosis in which the local feels increasingly strange in the bars and restaurants that they previously considered theirs and are now full of tourists, eager to live native experiences. "The foodie is a predator of other people's identity," summarizes Berasaluce. But other destinations, such as Barcelona and its neighborhood of La Barceloneta or Florence, are already experiencing the effects of the "hijacking of the gastronomic landscape," as the expert adds. For this reason, the master's degree in gastronomy at the Cádiz university that he directs this course will incorporate a specific subject dedicated to gastronomic nationalisms, food sovereignty and the foodification process that will be taught by the writer and professor specializing in the history of gastronomy, Inés Butrón. But the debate within researchers is not new and more and more scientific articles and conferences warn of a global phenomenon of food gentrification that entails phenomena such as "cultural appropriation, fetishization, corporate power, poverty, housing, access to food and racism", as Joshua Sbicca, professor of Sociology at Colorado State University, explains in his article Food, gentrification and urban transformations.
Boquería Market, in Barcelona. GETTY IMAGES
Sbicca detects how there are neighborhoods that were "poor and working class" that have mutated to become objects of coveted desire for those seeking "cosmopolitan destinations where they can live rich cultural and gastronomic experiences" in which the traditional cuisine of the neighborhood has disappeared. This is the case of Eixample and Ciutat Vella in Barcelona, ​​areas of New Orleans and Marrakech, the Ruzafa neighborhood in Valencia or the center of Seville, places where products such as avocado, bao bread and hummus are as present as they are standardized. . "The traditional is not there nor is it expected, but when it is there it is so exotic, such an object of desire, that it is used to make it more expensive. The result is that you have a very bad and very expensive dish," exemplifies Butrón, who recognizes herself as expelled from her own city, Barcelona, ​​fed up with "paying those prices and eating ceviche at all hours." "Now the exotic thing in Cádiz is tuna with onions because it is only offered raw. Culinary and product knowledge has been lost and the consumer has a blank slate regarding the products," denounces the expert, who has Cadiz roots.
Almost the entire process of foodification and aestheticization of food that a tourist destination undergoes fits into a food market. So much so that the one in San Miguel in Madrid – converted in 2009 into a gourmet space with usually astronomical prices – already gives name to the effect that these spaces go through when they become places for tasting, in a global phenomenon that goes from Mexico to Spain, passing for the United Kingdom. "These transformations are marginalizing its function as a public service dedicated to the sale of general products at affordable prices and, thus, generating new forms of exclusion and displacement," denounces Sara González, professor of Geography at the University of Leeds in her article The ' gourmetization' of cities and food markets.
Ana Eliso —Anita La Pantoja for her clients— suffers firsthand from the phenomenon, also called La Boquería syndrome (the Instagrammable market in Barcelona), at a time when there are more tourists with cameras than neighbors. She has run a fruit stand in the Central Market of Cádiz for decades and admits she is "bitter" with the gastronomic corner that takes away customers. "The guy looks a lot, but nothing about buying," says the saleswoman. A client, shopping cart at the ready, agrees: "If I'm shopping and I see a lot of people outside looking around, I turn around and leave without buying." The loss of clients that Eliso suffers also has a specific social class, "low-income people, ethnic minorities, emigrants and older people and weaker merchants," as González adds. "They are the outcasts, the great victims who have no voice, nor can they be part of the public debate when it comes to tourism. Poverty then remains only part of the heritage, of the decoration," adds Berasaluce.
It is not very clear when Cádiz will reach the final stage, but what happens at the end of the road is known, what the Cádiz professor calls "food deserts." "This is when food stores disappear, there are no more because everything is done through the horeca channel," explains Berasaluce. The new mayor of Sanlúcar de Barrameda, Carmen Álvarez (IU), warned about this end a few weeks ago when she warned in Diario de Cádiz that her city could not "become a large dining room" and denounced the paradox that the year of The gastronomic capital of 2022 resulted in fewer sales for local farmers and fishermen. At this point, in addition to the social fracture, the union fracture also becomes more pronounced. "The seasonality of the hospitality sector means that there is an increase in hiring in season and out of season they see nothing. It is destructive and very harmful and prevents citizens from becoming attached to the territory," adds the Masterñam coordinator.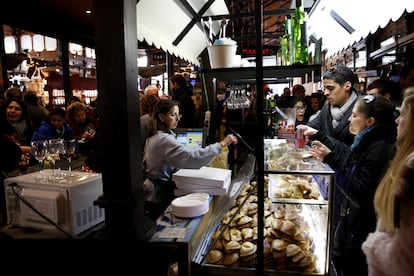 San Miguel Market, in Madrid, in an archive image. Samuel Sanchez
Butrón, used to traveling around Spain studying traditional gastronomy, is also used to seeing "cities evolve, beautified by tourism, but the ideal is that when they return, the people are still there, that they have not been expelled." Berasaluce assures that the only way to achieve this is with "public regulation and intervention" and exemplifies how city councils controlled the excessive concentration of banking entities in certain streets in the past. There are even specific cases, such as Florence, which between the end of 2017 and September 2018 created ordinances to suspend the opening of new food and beverage businesses for three years and to limit the consumption of food in public, given the success of local restaurants. offering the Florentine flatbread sandwich, schiacciata. The measure "works," explains Berasaluce, who met with municipal officials of the city last April. There are even town councils and administrations that are considering or applying similar measures in Rome, Lisbon, Venice or Verona, as exemplified by the scientific article from the University of Florence The foodification of the historic center of Florence.
The question is whether these regulatory brakes on foodification, when they occur, arrive "too late," as Berasaluce asks. "What will happen to the last corner that makes the nice thing? Well, let's hope that people read little and leave that lady who makes it alone," adds Butrón, resigned. In Cádiz, beyond the ordinance that put a limit on new licenses for apartments and hotels in certain areas, there is nothing else planned. Anita la Pantoja says that, for now, she is willing to endure, resigned. 50 meters from her, the Colombian Sonia Olaya and her partner, the Englishman George, eat a piece of fried fish and two bottles of beer at a high table. They have come from Marbella to spend a day in Cádiz and are delighted with their chance discovery of the Mercado, on their way to a restaurant that a friend recommended to them. "It is a wonder. We are foodies, we look for the traditional, but it costs more and more because of the tourists," says Olaya, without noticing the paradoxical contradiction.
#Gentrification #gastronomic #foodie #predator #peoples #identity