"When you start investigating, you see that it is not that complicated to do without the plane; The problem is that there is hardly any information, nor agencies that organize this type of getaways," says Sandra Olías, who is afraid of flying and, due to the lack of alternatives, opted to set up, as a hobby, the website Viajar sin Volar, which It has been operating since 2018. Now it sees how more and more users who are ashamed of flying come to its page (in Swedish, flygskam, which defines the feeling of guilt for using a transport that, with its emissions, contributes to climate change). The so-called free-flight trips are possible if the traveler reduces the distances they want to travel and consequently renounces more distant destinations —America, Oceania, Asia, if the origin is Spain—, according to clarifies Juan Carlos Martín, professor of Applied Economic Analysis at the University of Las Palmas de Gran Canaria and researcher at the Institute of Tourism and Sustainable Economic Development.
In general, traveling without flying means taking more days off from work, which not everyone has, as Martín recalls. The time factor is less determining when the getaway is domestic and in a country like Spain, with good roads (although areas with very poor rail transport persist); The exception would be the Canary Islands, as the expert notes, with knowledge of the facts. Going from Malaga to Madrid takes about five hours by car; by AVE, about three hours; by plane, just over an hour. "With the train, the traveler saves waiting at the airport and leaves and arrives at more central stations," defends Olías. "This is when there is a competitive railway alternative," points out Martín.
More information
This plot give and take remains stale on some European itineraries. The Traveling without flying website suggests arriving in England by boat—from Santander or Bilbao to Portsmouth or Plymouth—and Paris by train, from San Sebastián or Barcelona. It takes just over six and a half hours to get from Barcelona to the French capital on rails, compared to two hours on a flight, but, again, avoiding airports saves time. "Once you arrive in Paris it is very simple," says Olías, referring to this city as the gateway to the center of Europe: a band of countries connected by an excellent railway network.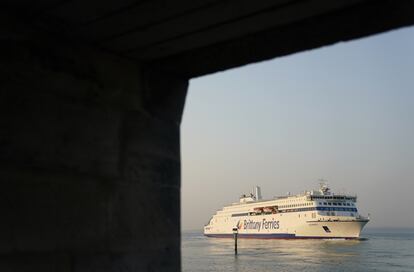 One of the ships of the Brittany Ferries shipping company, upon arrival at the port of Portsmouth (England) from Spain.Andrew Matthews (PA Images / Get
Long distance
Newsletter
The best travel recommendations, every week in your inbox
RECEIVE THEM
The tables are resolved in favor of the plane when it comes to long-distance journeys. In Martín's opinion, it is not realistic to replace a flight of more than four hours with any other means of transportation. The case of the Queen Mary 2 can be cited, which makes several one-week transatlantic cruises each year between Southampton (England) and New York, in the United States, but it is an experience in itself and not a functional transport to change of continent.
"Travelers who need to fly to another continent still have a great opportunity to reduce internal flights," sources from the British company Byway, which creates tourist packages using train, bus, ferry or bicycle from the United Kingdom, comment by email. "Opting for the train once landed in Europe is a great way to reduce flights, even if they can't eliminate them completely; "It is still a big step," emphasizes this free-flight travel agency born during the pandemic. He agrees with Olías that there is not enough disclosure or information about the possibilities offered by alternative public transport, which makes it difficult for many people to skip the plane. "Slow and sustainable trips go hand in hand with trips without flights," they say from Byway, which is committed to calm programs compared to those that propose devouring destinations without hardly digesting them. Among the offer that has been prepared for this winter is touring Sweden and Norway on rails, for 19 days, spending the night in Hamburg, Copenhagen, Stockholm, Narvik or Utrecht. Or reach, by the same route, the Christmas markets in Cologne, Berlin and Amsterdam, for seven days (always with departures from London).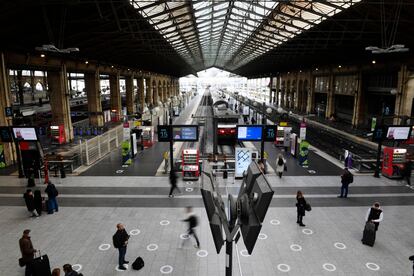 Passengers on the platforms of the largest train station in Europe: Gare du Nord, in Paris. JULIEN DE ROSA (AFP / Getty Imag
"We started a little more than three years ago, we have served nearly 3,000 clients; we have grown rapidly. This July, three times more passengers traveled with us than last July," reveals Byway, who predicts that the flygskam movement will grow. "We are in beta testing in the United States, and we hope to launch it in many more markets in the future. Our main objective is to popularize travel without flights. We hope that tourism will depend less on flights in the future," he adds. "The market is very heterogeneous, and, therefore, there will always be people who do without the plane, out of fear or embarrassment of flying," maintains Martín, who compares it to those who decide to stop eating red meat due to their environmental concerns. But this expert in the tourism sector does not believe that it is the majority trend. "The curiosity to know the world is inherent to human beings; The arrival of low-cost companies has democratized travel. "It is too attractive to waste," he points out.
This duality is reflected in the data. A report this year from WTTC (World Travel and Tourism Council) reveals that 69% of travelers are looking at sustainable options for their 2023 getaways, and another from McKinsey, published in 2022, estimates that now They are much more aware of climate change, and 36% of them plan to fly less. Although the same research by the consulting firm recognizes that price and connectivity continue to be above sustainability, and that passenger transport by air will return to pre-pandemic levels between 2023 and 2024. A rebound that is clearly seen in the graphs European (Eurostat) and national (INE).
Subscribe here to the El Viajero newsletter and find inspiration for your next trips on our Facebook accounts, Twitter and Instagram.

#Travel #plane #but..