On the afternoon of September 27, 2022, Tamara Falcó gave a press conference at the Teatro Real to explain the details of her breakup with Íñigo Onieva. A few days before, the TVs had broadcast compromising images of her boyfriend with another woman at Burning Man, a festival held every year in the Black Rock Desert (Nevada, USA). "I told him: 'You know that I don't care if it was six seconds or a nanosecond in the metaverse: as long as this is true, everything ends here," revealed the Marchioness of Griñón in a multitudinous and surreal appearance that was broadcast live. by the main television networks. On October 1, the aristocrat reappeared as a guest at the World Congress of Families in Mexico City, an ultraconservative Catholic forum, where she said: "I don't feel hatred, but pity (for Onieva). "Those who are lost in the shadows deserve to know the love of God."
A year has passed since the "nanosecond" and Onieva and Falcó are husband and wife. The Marquises of Griñón are looking for their first child and plan to move to a penthouse in Puerta de Hierro, fortress of the rich and famous. The couple, who received a million-dollar sum for selling the exclusive of their wedding to ¡Hola! magazine, live with aristocratic ease. The accounts of Isabel Preysler's daughter are robust thanks to her advertising contracts with more than half a dozen fashion, beauty and luxury brands: from the jewelry company Tous to the cosmetics firms Sisley and Opi, including the real estate group Kronos and the Ritz hotel. According to Santiago de Mollinedo, general director of Personality Media, a company that advises agencies and advertisers to choose a famous person or influencer for their campaigns, the marquise's popularity is through the roof. "Before MasterChef, a program in which she participated in 2019, 60% of the population knew her, mostly adults. Today, with her participation in El Hormiguero and her greater presence in the media in recent months, she has managed to achieve 80% recognition," De Mollinedo explains to EL PAÍS. His company surveys about 40,000 people in the months of May-June and November-December to find out what Spaniards think about celebrities like Falcó. "Where she has grown the most is among young people, where she was little known because it was a product more focused on the gossip press, where that youth audience does not have great interest. In that segment, she has gone from 40% to 74% notoriety," notes the executive.
More information
The figures show that Tamara Falcó is enjoying a honeymoon with fame, although the controversies and scandals she was involved in this last year – infidelities, breakup of her engagement, reconciliation, media wedding – could have suffered her reputation. In May 2020, after her time on MasterChef, 43% of those surveyed by Personality evaluated her positively. Only 21% of them had a negative perception of her. In May of this year, positive reviews plummeted to 31% and negative reviews rose to 38%. "Their continuous news environment about her, focused on her private life, devalues ​​the consumer's perception of her. The consumer looks for the effort and sympathy to build the positive image of a character, but does not value her continuous reference to her private life," says De Mollinedo. "Nor does her role in the entertainment program in which she appears weekly help her image, since her contribution to the content is scarce, although it generates a lot of impact, which is what the program seeks," concludes the executive. What does the marchioness contribute to the format? How do audiences respond when she's on screen? The producer of El Hormiguero did not want to respond to these questions.
After her wedding to Onieva, held in July, some media speculated that Tamara Falcó could have lost her contract as an ambassador for the Mandarin Oriental Ritz Hotel in Madrid. Inmaculada Casado de Amezúa, public relations director of the accommodation, denies this to this newspaper: "Stay with us. Our ambassadors have a real relationship with the hotel. In her case, we chose her because her father, the Marquis of Griñón, was a great client of ours. She came many times to look for him. We also chose her because she has an elegant profile and a connection with gastronomy. Elegance and good gastronomy characterize the hotel."
The marchioness has not only not lost contracts in the last year, but has won new ones. The car manufacturer Kia has just signed her as an ambassador (she was previously the image of Jaguar and Land Rover luxury cars). "We highlight her career as an entrepreneur and her innovative vision of design, in line with the brand's new philosophy," explains Emilio Herrera, president of Kia Iberia, in an email. "In addition, she is a person open to inspiration and who inspires many people, a goal also in line with the brand and its motto Movement that inspires," he adds. Falcó announced this agreement two weeks ago on her Instagram, where she has one and a half million followers. In the images she is seen posing with the car in front of her mother's mansion in Puerta de Hierro, one of the most photographed houses in Spain.
His professional life does not seem to have suffered any major upheavals in recent months, but his private life is changing rapidly. A year after her high-profile breakup with Onieva and just three months after her wedding to the nighttime businessman, the aristocrat is looking for her first child. Last week she attended the presentation of her new collection for Pedro del Hierro at Mercedes-Benz Fashion Week Madrid, where she spoke about the treatment she is undergoing in order to become pregnant. "They are monitoring me, it is called naprotechnology, and I am super happy. For now, everything is fine and, since I am a very believer, it will be what God wants," she said. American Catholic gynecologist and obstetrician Thomas W. Hilgers created this procreation technique so that women can conceive a child naturally. The new method, which looks for the causes of the couple's infertility and optimizes the female fertility cycle, is booming among many Catholics who are against in vitro fertilization (IVF) because they follow the precepts of the Church: in 2008 , Pope Benedict XVI assured that IVF "infringes on the protection of human dignity" and, in 2010, the Vatican criticized the awarding of the Nobel Prize to the British Robert Edwards, father of this technique.
Tamara Falcó and Íñigo Onieva are also finalizing the details to move to a penthouse in Puerta de Hierro, the Madrid urbanization where she grew up with her mother and the former socialist minister Miguel Boyer. The property, valued at 1.5 million euros, was designed by the famous architect Joaquín Torres and built by Kronos, a luxury real estate group of which the aristocrat is also the image. "There are still a few things left, but we are working on it," she said on the day of the show about her new house, which has a 186-square-meter terrace with a private pool. From there, the marchioness can contemplate the roofs of the residences of the ambassadors of Sudan and Kuwait, those of the former house of the Spanish-Lebanese arms merchant Abdul Rahman El Assir, and those of the mansion where her mother, Isabel Preysler, lives. since 1992.
The penthouse is a stone's throw from the M-30, which will allow you to reach the center of Madrid in less than 15 minutes to fulfill your profitable professional commitments: events, fashion shows, photocalls and red carpets. A character of his stature can charge between 3,000 and 4,000 euros for a post on Instagram and between 30,000 and 50,000 euros for attending a social event (previous payment).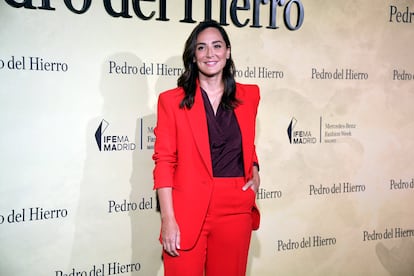 Tamara Falcó at the Pedro del Hierro fashion show that she attended on September 14.Europa Press Entertainment (Europa Press via Getty Images)
According to sources consulted by EL PAÍS, the aristocrat could have pocketed more than half a million euros for the exclusive of her wedding, held this summer in her family's castle. Various media have reported that Onieva could have received a similar amount for having participated in the report. But for now she is the one who generates the most income. At the presentation of her clothing collection, she said that her husband, the new marquis consort, is "excited about a restoration project that he is working hard on." "I think she's going to turn out very well," she said. Onieva plans to invest the money she has earned in recent months in the remodeling of Café Gijón, a classic on Madrid's Paseo de Recoletos. Before watching the Pedro del Hierro parade, journalists asked Falcó what the secret was to the success of her marital relationship. The marchioness responded that it was trust: "Tying it short, I don't think it will work."
Subscribe to continue reading
Read without limits

#Tamara #Falcó #year #nanosecond #metaverse #contracts #search #baby #luxury #penthouse