Years before the fable of the metaverse and virtual reality glasses, Antonella Tignanelli opted for an immersive experience based on sitting at the table. After the pandemic destroyed a documentary about pagan and religious gastronomic rituals, she resurrected the project as a theater company. The recipe for her success was to combine her professional career with her family roots: art and food. "It all started with my grandmother," says this cook, consultant and art director, 33 years old and born in Buenos Aires. She helped Celia, nicknamed Buti, orchestrate family celebrations: Argentine barbecue, towers of profiteroles. Her maternal grandmother studied Fine Arts and her paternal family was a lineage of actors. With this family cocktail, she played from a young age with photography, acting, painting and collage.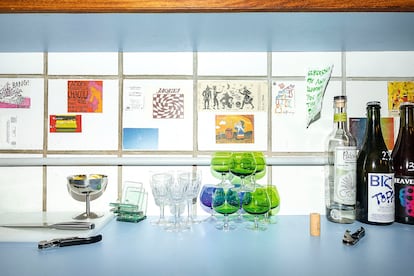 Detail of the Masa Vins premises, in Barcelona.Cecilia Díaz Betz
At just 18 years old he ended up in the carnivals of Chamula, a Mexican town where a dialect inherited from the Mayan is spoken. She enjoyed dancing and eating: "I remember smoky churches and shamans. They gave us simple things made with beans, chard and a tortilla, it was exciting." This adventure triggered four years of travel through Latin America, Southeast Asia and Australia, where she learned the trade of cooking while she sold her paintings. She then settled in New York and had another stroke of luck: with the popularization of food design, a then disruptive discipline, she was able to "unite paths that she had always made separate." She spent four years organizing catering for luxury brands and institutions. "At the opening of an art gallery we made a menu about human nature, divided into parts such as seeds, stems, roots…" She went on to work as a consultant creating restaurants from scratch: she put herself in the fires the first weeks until she let establishments fly in the most sought-after streets of Berlin, Paris or Mexico City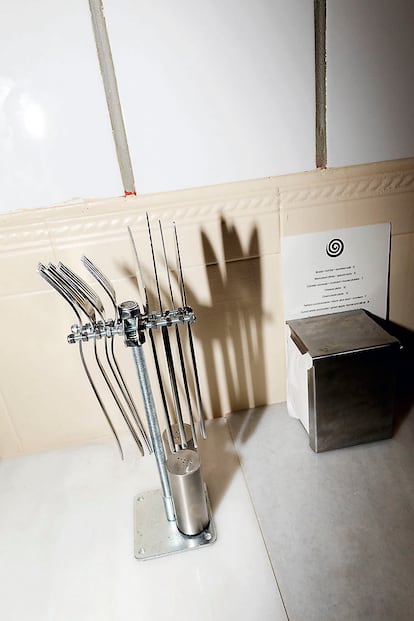 Antonella Tignanelli herself and a friend created the cutlery holder, inspired by a design by Alessi.Cecilia Díaz Betz
Barcelona was among those cities until at a wedding she met the father of her son, born in 2018. That "break" in pregnancy allowed her to create Food Rituals, which materialized in a gastrotheatrical format in 2021 in the south of France. Tignanelli cooked the entire menu for 50 attendees who paid 150 euros for 12 hours of performance: "It was like a wedding." In that case she tackled Midsommar, the Swedish holiday that celebrates the summer solstice. This successful pilot event was followed by others such as Samhain – the Celtic tradition that gave rise to Halloween -, another based on The Book of the Dead from Ancient Egypt and one on Plato's Symposium. There she used recipes such as eggplants that the elderly owner of a tavern on a Greek island taught her. She assures that she owes the success of her projects to that wisdom: "I have learned more from grandmothers than from many artists."
Olives marinated in orange, pink pepper and bay leaf; chipotle spiced walnuts and beet dip, labneh with roasted garlic, za'atar and crudités.Cecilia Díaz Betz
Their Food Rituals team already has a dozen people and they no longer only present their own proposals, but are asked to organize events such as weddings. While developing this traveling company, Tignanelli has also focused on Masa Vins, a place specializing in natural wines in Barcelona's Poblenou: "There you don't bump into tourists like in the center, there are few places to eat and a growing community of neighbors." . He felt the neighborhood had a lot of potential for "a place with quality wines in a casual atmosphere." Her decoration has the vocation of a "regular bar", based on simple tiles, images from her time as a photographer and a record player where customers play Marvin Gaye, Erykah Badu or Villagers.
Music is fundamental at Masa Vins.Cecilia Díaz Betz
From Tuesday to Saturday afternoons, people from collectors from the other side of the city to curious people from the area who want to try a natural wine come. For her, the essence of this emerging concept is to know a good part of the suppliers of the more than 40 bottles on her enormous board, in addition to reducing chemical artifices. For five euros a glass, they offer a wide range of whites, reds, sparkling wines, oranges and rosés. He admits that relying on spontaneous fermentation can be "Russian roulette." The Masa Vins menu is built based on several "adversities", it says: "The kitchen is small and the premises are small. The service has to be fast and simple." It was designed with a predominantly "vegetable and fresh" aesthetic, beyond some "very heavy or carnivorous" bar options, without giving up traditional recipes. Tignanelli is proud that rice pudding and dulce de leche is one of her star dishes: "You can see my grandmother's brand here." Her kitchen partner in both projects, María José Domingos, perceives her in many other moments. Like her when she makes "butter dolls" inspired by the sculptures that her grandmother Buti made with breadcrumbs after dinner.
You can follow EL PAÍS Gastro on Instagram and Twitter.

#Antonella #Tignanelli #Argentine #recreates #themed #banquets #brought #natural #wine #Barcelonas #Poblenou