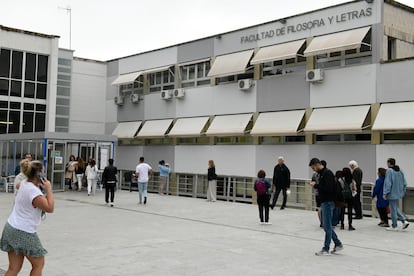 View of the Faculty of Philosophy and Letters of the Autonomous University of Madrid. EFE/Víctor LerenaVíctor Lerena (EFE)
In Spain it is not unusual to find lawyers working as teleoperators, psychology graduates who are waiters or engineers who teach mathematics classes at a school. In fact, this occurs in the Spanish labor market to a greater extent than in the rest of European countries. Thus, 36% of university and postgraduate graduates work in positions that require lower qualifications. This is an endemic anomaly of the Spanish labor market—this percentage has barely changed in the last 30 years—which places Spain at the forefront of labor overqualification in the European Union, as shown by data from the community statistics office ( Eurostat) analyzed in the latest quarterly Labor Market Observatory prepared by Fedea experts and presented this Thursday.
Eurostat measures this overqualification by analyzing the proportion of employed university graduates who work in positions other than those of directors, technicians and scientific and intellectual professionals (groups 1 and 2 of the National Catalog of Occupations). And, according to this, official data for Spain indicate that the so-called "occupational adjustment", that is, workers who have at least a university degree and who do occupy a position appropriate to their training, were just over 63% in 2022.
The group of occupations that has more workers with a qualification that is more in line with their training is that of graduates in higher vocational training, working in intermediate occupations such as technicians, support professionals; accountants; administrative and other office staff; restaurant, personal services, security and commercial workers; as well as qualified workers in industry and construction (groups 3, 4, 5 and 7). These groups had an occupational adjustment that was close to 78%, meaning that almost eight out of ten were in a position suitable for their training. While only a quarter of those who only have upper secondary education (second-stage vocational training and baccalaureate) work in occupations that require lower qualifications, such as those employed in the primary sector, operators of facilities, machinery and assemblers, and elementary occupations ( groups 6, 8 and 9).
The coordinator of this study and an expert economist in labor markets, Florentino Felgueroso, has explained that this labor imbalance of the most qualified personnel in Spain had its highest peak at the beginning of the great recession that caused the financial crisis of 2008, when the rate Overqualification of the group exceeded 40% and, since then, it has remained more or less stable at around 35%, which is why it is "a structural problem" in the Spanish market.
Among qualified men and women, the occupational adjustment rate is very similar (62% and 61%, respectively). Although in the case of qualified foreign women who work in a position for which a university degree is required they drop to 31%, half that of nationals. This means that almost seven out of ten occupy positions for which less training is required than what they have.
Forced discontinuous fixed
On the contrary, another of the historically structural problems of employment in Spain was its high precariousness, generally measured by the temporary employment rate, which Spanish employees also led in Europe until 2022. But last year, the labor reform, which introduced strong restrictions for temporary contracts, has turned this indicator around. This is also reflected in this study, which highlights that the 2021 labor reform has allowed the temporary employment rate to be reduced by seven percentage points, to 17.3%. In this way, this rate has converged with that of surrounding countries such as Portugal, Italy or France.
Despite this reduction, Spain continues to occupy second place in the ranking of temporary employment, some distance from the Netherlands, where half of those employed are temporary. As explained by fellow Fedea researcher, Dutchman Marcel Jansen, this high percentage of temporary employment in the Netherlands is due to technical changes in its measurement since in that country the voluntariness of this type of contracts is very high, unlike what It happens in Spain.
Precisely, the authors of this study have stressed again that the mere decrease in temporary employment is not synonymous with a reduction in job insecurity. Since the impact of the reform on other indicators such as turnover and, more specifically, on the flow of workers from employment to unemployment each quarter, is not occurring at the moment. In fact, the rate of exit from employment into unemployment in Spain affects approximately 3% of employed people in the quarter and doubles the EU-27 average; Furthermore, it remains practically the same as before the pandemic and triples that of the Netherlands, with much more temporality.
The fact that the rate of workers who become unemployed each quarter hardly varies is due, as the authors of this report have explained, to a composition effect consisting of the strong creation of new permanent jobs, which result in unemployment less frequently , compensates for the also increase in unemployment or inactivity of temporary and discontinuous permanent workers.
In addition to the fact that this rate of exits from employment to unemployment is not yet improving, which would also reflect a reduction in precariousness, Jansen has added another indicator that, if measured, could give an idea of ​​whether there is a clear improvement in the quality of employment or not. It would be about measuring, in addition to involuntary part-time employment, something that the Active Population Survey already calculates, knowing how many discontinuous permanent jobs are also forced, and have this contract because they have not found another.
For this reason, Felgueroso has insisted that the word "intermittency" (in employment) is currently key to knowing if the labor reform is improving the quality of employment and also to establish a more certain relationship between GDP, employment and the number of hours worked.
Work slowdown
Regarding this last point, the head of Economic Analysis at BBVA Research and also coordinator of this study, Rafael Doménech, has reported that most employment and hours worked indicators have already exceeded pre-pandemic records between April and June, with the exception of the number of jobs. Furthermore, he recalled that the forecasts that his research department is considering is that employment will grow three tenths in the third quarter and maintain an increase of 1.2% annually. What's more, he estimates that "this growth will remain similar in the coming quarters and the unemployment rate will remain stable, which indicates a less dynamic but still strong labor market."
Along with this foreseeable evolution of employment, Doménech has highlighted that the behavior of salaries reflects the situation of tensions that are occurring in the labor market between the existence of vacancies and unemployment, which is leading to increases of 7.6 % of remuneration per hour worked and 5.1% of remuneration per employee. Although this economist assures that this increase in salaries "has not been a cause for concern" because it is due to the aforementioned tension (in the face of vacancies, some sectors raise salaries to attract workers they cannot find) and is not generating For now, second round effects on inflation, as the Bank of Spain has also pointed out this week. However, Doménech has assured that BBVA Research is "monitoring" that these second round effects do not occur and he has insisted that they do not foresee it in the short term.
Follow all the information about Economy and Business on Facebook and Xor in our weekly newsletter
The Five Day Agenda
The most important economic quotes of the day, with the keys and context to understand their scope.
RECEIVE IT IN YOUR MAIL
#Spain #leads #overqualification #university #students #job #training