Peter Do's debut as creative director of Helmut Lang, two weeks ago in New York; Sabato de Sarno's first show at Gucci, scheduled this Friday, September 22, at Milan Fashion Week; Gabriela Hearst's last show at Chloe, next week in Paris; or the highly anticipated launch of Phoebe Philo's eponymous brand (with a surprise date), among other premieres and farewells, make this month of fashion shows one of the most newsworthy in recent seasons. And yet, in these first days of Milanese fashion week, which tend to anticipate what, with some exceptions, will be the general tone in the following days, there is little sense of surprise or emotion. There is also no trace of the uncertainty imposed by the forced stoppage of the pandemic, because the fashion industry in general, and the luxury industry in particular, have skyrocketed their annual turnover to levels, in many cases, higher than those of 2019. But there is a kind of resignation that results from an inevitable transition. Fashion doesn't really know where it's going, but it knows that it has to go somewhere.
They are the first parades in three years with the complete return of the Asian market in the stands, but analysts estimate that what was the goose that laid the golden eggs during the last decade, in this one seems to have lost steam due to economic uncertainty. Hence, since last season many brands, and very different from each other, have opted for what they now call silent luxury and which is summarized in discreet, functional and high-quality garments, a kind of exclusivity that emerges from the nuances. A dose of realism on the catwalk that responds to the only certainty of recent years: social polarization. The rich are increasingly rich and seek to distinguish themselves from the rest with small and very expensive nuances.
More information
It is not surprising, therefore, that Kim Jones, creative director of Fendi, the Italian house that was synonymous with bourgeois opulence throughout the 20th century, has based his collection for next spring on "the style of the Roman women that I see walking in the mornings when I'm in the city," says the designer. An idea that Jones transfers to basic garments that hug the body, are molded in an almost artisanal way (some of them with the hand stitching typical of his bags) and bet everything on the materials (silks, cashmere or very fine leather) and a palette of strong colors combined in a block.
Several models at the Fendi show, at Milan Fashion Week, on September 20, 2023. Pietro D'Aprano (Getty Images)
The color, from pink to electric blue, has starred in the collection presented in Milan by Max Mara. This time, a traditionally silent brand that has decided to color his classic camel garments with optimism. Even Emporio Armani, Giorgio Armani's casual line, has presented garments entirely in pastel colors, with a final part in which the Arab aesthetic was fused with pink and light blue sequins. In this last year of contrasts, where the reigning trends have been discretion and the return to the exuberant and colorful early years of 2000, it seems that next year color will be the only festive concession to a fashion that, on the other hand, is too realistic to generate emotion.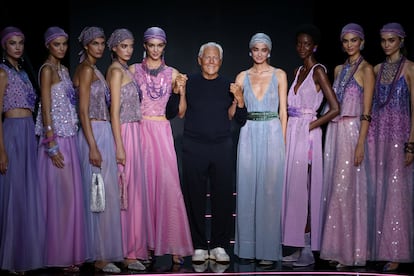 Designer Giorgio Armani waves after the Emporio Armani spring/summer 2024 collection show, held this Thursday, September 21 in Milan.CLAUDIA GRECO (REUTERS)
The party, in capital letters, was put on by Diesel on Wednesday night, with a rave that lasted six hours under torrential rain and to which 7,000 people were invited who purchased their free ticket on the brand's website. Its creative director, the irreverent Glenn Martens, calls it "democracy", fashion with average prices that everyone can live and enjoy. Fashion, in reality, that has seduced the Tiktok generation in depth and form, which has little to do with the hypothetical new luxury client that traditional brands speculate about. Fausto Puglisi's client at Roberto Cavalli also does not invest in subtleties for minorities; The designer imagines it as a transcript between the eternal brilliance of Cher and the sophisticated rebellion of Bianca Jagger, with micro bras and transparencies under airy tunics, as if Bob Mackie and Ossie Clark were collaborating in 2023. Because exuberant fashion, designed with nocturnality and treachery , also exists and also has its audience.
Three of the proposals for the next season of the Diesel collection, during its parade on September 20, 2023 at Milan Fashion Week. Images provided by the firm
And in this moment of transition somewhere, of searching for new markets and new customer profiles, of playing trial/error with logomania, discretion, wealthy maturity and a generation Z that consumes fashion to succeed on the television screen. mobile, Prada is Prada again. A pastel pink setting, the main color of these days and which Miuccia Prada managed to get rid of her classic prejudices years ago, on which a waterfall of slime fell, as happened in her men's show last July. In the background, soundtracks from Hitchcock's films, and on the catwalk, all the stereotypes that the Milanese designer has broken in these forty years: dresses in pastel tones that played with the idea of ​​the romantic and the vaporous to subvert it, armed jackets (this time inspired by the Barbour) that redefined the well-worn feminine tailoring and beaded garments of the twenties that, as is usually the case, merged the flapper with the governess. Prada is Prada again because, for the first time in three years, the imprint of Raf Simons, its creative co-director, is not so noticeable, who has given the brand a kind of uniform cohesion (in every sense of the word) that It is more visual than conceptual.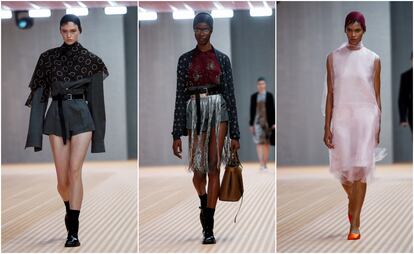 Prada's spring/summer 2024 collection show at Milan Fashion Week on September 21, 2023. Alessandro Garofalo (Reuters)
Perhaps this return to the brand's pre-pandemic times is due to the departure of Fabio Zambernardi, the (very) thinking mind behind the brand's mystique, its design director for more than two decades and who this Thursday, for the first and Only once, he came out to say hello after the parade with Miuccia and Raf. Perhaps, ultimately, this return to complexity and multiple references in Prada is due to the departure of Miuccia herself, now that the entire management team has been restructured and she is completely focused on her artistic foundation. That would be the transition that would change everything, because fashion, almost as much as novelty, lives on customs, and a fashion without Miuccia Prada would largely change the aesthetic and economic structure of European luxury.
From left to right, Raf Simons, Miuccia Prada and Fabio Zambernardi wave on the catwalk after the Prada show at Milan Fashion Week.Daniele Venturelli (WireImage / getty)
There are things, however, that never change even if public opinion insists: few fashion shows (Etro and Alberta Ferretti) have hired models larger than 36. After the pandemic, everyone was full of diversity, betting for a more realistic fashion. Now that sales have returned to health, diversity is no longer an issue. The catwalk only looks at the street to seduce it, not to reflect it.
Subscribe to continue reading
Read without limits
#Transition #Milan #fashion #week