Everything that made us love The Bear in its first season has faded in the second. That first batch of suffocating (but glorious) eight episodes, a postcard of chaos in the kitchen of a Chicago restaurant, felt like a metaphor for the collective stress of 2022. Call it the Carmy effect, but beyond making us scream " Yes, chef!" every time we heated up leftovers in the frying pan and not in the microwave, the story of Carmen Carmy Berzatto (Jeremy Allen White) was much more than a series about how to save a dumpy business. There was something of our anxiety in the agony of that cook educated in Danish cuisine who returns home to try to save the beef sandwich shop run by a brother who has just committed suicide. If The Bear exploded unexpectedly, if it conquered critics and audiences alike, it was also because it investigated what happens when you have placed the most toxic masculinity on a pedestal, functioning as a parable of addiction (drugs, work, what more da) and, in turn, warn of the dangers of gentrification and the extreme dehumanization of late capitalism. How could we not get hooked on that plot if its story was a reflection of ours, that of a society burned out and sleepless by work?
More information
That objective was also defended by the semi-unknown creator of the series, Christopher Storer, a director and screenwriter raised in the Chicago suburb of Park Ridge who has been in Los Angeles for two decades working as a producer of films such as Eighth Grade (2018) or directing episodes of Ramy or Dickinson. From the beginning, Storer wanted to make a series about two topics that tangentially cross our present, beyond whether we are chefs or not: money and time. Regarding the first, the creator has defended in interviews that it was very difficult for him to convince producers who were reluctant to touch on that topic, although he knew that they should talk, all the time, about his influence and what it costs to achieve it for survival today. . He was also obsessed with the second, about time as intangible and social capital (more than ever). Especially after talking to chef friends who always reminded him that his restaurants had eaten up his life. Nothing else mattered. When they entered that space, the only thing that obsessed them was one thing: the pressure to comply with the martial and orderly delivery of the dishes even though their existence, from the doors to the outside of that kitchen, had no meaning or anchorage because its realization staff was dedicated to their craft.
Perhaps the word-of-mouth effect in the cultural conversation and the overwhelming recognition it achieved after that first season — it has already accumulated 50 nominations and 17 awards, including Emmys, Baftas and Golden Globes — have caused a drift that has Hollywoodized its second series and sifted that social criticism. What is it, if not, that episode six, Fishes, with footage that looks like cinema (67 minutes compared to the 30 minutes that the rest of the episodes last on average) and aspirations to formalize the claustrophobic sequences of the Safdie brothers. The bear has returned as the new darling of television, with more stars than an Oscar gala and with the impression that every VIP had been elbowed for appearing in the series that everyone is talking about. Olivia Colman, Jamie Lee Curtis, Sarah Paulson, the comedian John Mulaney, Bob Odenkirk and Gillian Jacobs, among others, have been seen here, and even the casting directors confirmed to the Vulture vertical that, indeed, such was their calling effect that even Some enlightened person had sent them a video of himself making a French omelette in his kitchen and begging to appear on the revelation show of the year.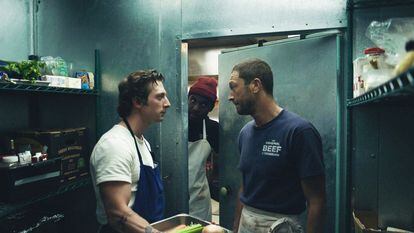 Jeremy Allen White, Lionel Boyce y Ebon Moss-Bachrach, en la primera temporada de 'The Bear'.©FX Networks/Courtesy Everett Collection / Cordon Press
Those of us who had been hooked by the social criticism with which the series had started, the disappointment has hit harder in the face of a stylized second part but full of clichés that reformulate (in a bittersweet way, yes) the fantasy of the American dream. The one about if you try hard, well of course you can. Carmy may have understood that she will only achieve excellence at the cost of letting the love of her life escape (at this point the lack of layers and the simplistic nature of Claire's character is irritating, Molly Gordon deserved a better character than a manic pixie dream girl from the early 2000s) or that the show focuses on the paradox of everything we miss because of our vocation, as happens with the tender Marcus (Lionel Boyce). But it is in characters like Richie (Ebon Moss-Bachrach) where the trap of capitalist realization becomes even more evident.
In Tenedores (Forks), the episode in which he stars and which is as beautiful as it is blushing, the essence that this season emanates is revealed. It is in her plot where she accelerates without brakes towards what the writer Joshua Clover defended as the "affirmation trap": or how we workers have assimilated our self-exploitation as a premise of survival. And not only that, the line that separates that perennial smile in the workplace and the love we give to what we do is increasingly blurred. Richie is the guy who best represents the privatization of stress in which we live immersed: that neoliberal theory that has made us believe that if you don't have a job it's because you haven't worked hard enough (and without pay, of course). The one that indoctrinates us not only into thinking that we should feel naturally inclined to want it. It is thinking that freedom only exists thanks to him. It's what makes you a person, what defines who you are. What life orders you. Like good old Richie, who isn't going to want the best for him and for everything to turn out well for him, in Forks.
Theorist and activist Silvia Federici wrote that "there is nothing that liquidates our lives more effectively than the process in which the tasks and relationships that make us happy become work." The quote is collected by the journalist Sarah Jaffe in Work will not correspond to you (which Ara Llibres has now translated from the original English into Catalan), an essay in which she denounces why we have ended up working more hours than ever, how we are expected to be available even when we have left work and how they have sneaked in the milonga that, in addition, should make us feel complete and fulfilled, happy. "In short: love for work is a scam," she says after her investigation. Someone please pass this on to Carmy to save us more trouble in the third season.
You can follow EL PAÍS TELEVISIÓN in Twitter or sign up here to receive our weekly newsletter.
Receive the television newsletter
All the news from channels and platforms, with interviews, news and analysis, in addition to the recommendations and criticisms of our journalists
APÚNTATE
Subscribe to continue reading
Read without limits

#Bear #love #work #scam