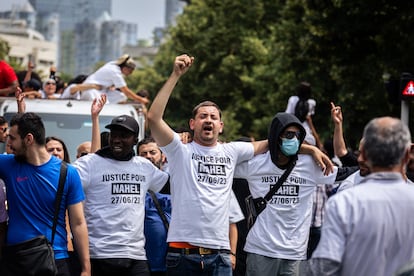 A protest in Paris in memory of the French teenager Nahel M., who died at a police checkpoint on June 29 in Nanterre.Telmo Pinto (SOPA Images/Getty I
More than a decade ago everything seemed possible thanks to social networks. Small protests, with very little time to develop, had a huge impact. All of this continues to happen today, if anything amplified through instant messaging networks. But the oldest events allow us to analyze with perspective the achievements and validity of what we were demonstrating for. Many of the proposals that were shouted in 15-M, Occupy Wall Street or the Arab Spring have been shipwrecked. But there are also others, like Black Lives Matter, that are still alive. And some, like #MeToo, not only had global consequences at the time, but are still reinterpreted locally, as with the Spanish #Seacabó.
The perspective of time also drives a debate about the pros and cons of the phenomenon. On the one hand, prestigious academics such as Manuel Castells or Donatella della Porta maintain that social networks are essential for marches and rallies to occur in the 21st century. While, on the other hand, there is a new trend of researchers and journalists who doubt the path and significance of those.
Figures such as Zeynep Tufekci, an important analyst of social movements on a global level, reflected in the book Twitter and Tear Gas: The Power and Fragility of Networked Protest. Spanish edition) about how social networks had changed our way of expressing ourselves. The Turkish writer conceded that the amplification of these networks had been crucial to organizing everything that goes into a large protest, from spreading the word to facing media disdain. However, she added, these large movements, which were organized very quickly, also often lost their way as soon as any problem arose. "They didn't have the tools to navigate the treacherous next phase of politics, because they hadn't needed to build them to get there," he wrote a few years later in a column for The New York Times titled "I Was Wrong About Why." "which protests work."
This is the thesis that essayist Gal Beckerman defends in his latest book, Before the Storm: The Origins of Radical Ideas (Criticism, 2023). Through a dozen cases that cover the past and present of our history, from obtaining the right to vote in England to the feminist fanzines of the nineties or movements such as Occupy Wall Street or Black Lives Matter, Beckerman presents his theory , which shows how in the past the relationships we established were stronger and longer, despite not having Instagram, Twitter or TikTok. "If we do not lay the foundations for lasting movements, as we have seen many times, we risk the possibility of a rapid burst of light and a return to darkness," he comments graphically after a long trip through Italy. "There must be a period in which people deliberate among themselves and refine their ideas to present them to the world."
If you want to support the production of quality journalism, subscribe.
Subscribe
Beckerman calls that initial phase the incubation phase. A moment of special relevance, where "truly radical" ideas need time to develop. This entire gestation process, according to the American writer, disappears with social networks: "At first this may seem like a good thing, it would be like a more efficient and faster way to reach a greater number of people. But the same aspect, which allows movements to consolidate more quickly and attract many followers, also weakens them," he adds by email.
More information
The technologies at our disposal make everything move at a pace that is "faster, shallower and more focused on provoking extreme emotions," says Beckerman. And he cites Marshall McLuhan, whose famous "the medium is the message" delimits our present framework for action. "If our dominant media is one that rewards being fast, loud and flashy, our society, our politics and our culture will be," he concludes.
The numbers are eloquent, we live in a time where we demonstrate for almost everything. More if we are Spanish. Data from the European Social Survey, published in 2021, placed the continent's average at 7.5% of people who went to at least one demonstration. In Spain that figure almost tripled and reached 19.7%. The information from the Ministry of the Interior on reported demonstrations is also clear: in 1994, 10,902 were called, in 2008 there were 15,226, and a decade later, 53,726.
For Stefania Milan, professor of Critical Data Studies at the University of Amsterdam and author of the study From social movements to cloud protesting: the evolution of collective identity, Social networks fall short if we talk about sustaining a protest or a movement over time. "A like or a share on the networks hardly translates into support in real life when people take to the streets or participate in a disruptive action (perhaps illegal) such as an occupation," she says via email.
An additional element that is relevant with social networks is the ability to spread images instead of just words, recalls Donatella della Porta, director of the Doctoral Program in Political Science and Sociology at the Scuola Normale Superiore in Florence and author of books such as The social movements (Center for Sociological Research, 2019). "This gives even more relevance to the diffusion of collective emotions," she maintains.
This double dichotomy, on the one hand visibility and exposure, but on the other control and division, is one of the central issues in the recent article Young Humans Make Change, Young Users Click: Creating Youth-Centered Networked Social Movements , Young Users Click: Creating Youth-Centered Networked Social Movements), where Mina Rezaei of the Department of Human Ecology at the University of California blames social networks for the abundance of stimuli, which distract people from its main objectives, "making them more prone to clicktivism or trapping them in bubble filters", that state of intellectual isolation that algorithms promote.
"Networks are the essential instrument of communication and organization today"
Manuel Castells, sociologist
Although everyone is critical, they also see a halo of hope. "If we look at the global level, in reality the protests organized on the Internet have intensified, some with important social and political effects," recalls via email Manuel Castells, another reference in the academic world, who has been dedicating half a century to studying the social movements.
Castells, former Minister of Universities in the previous legislature, lists the recent protests in Chile, the little-known End SARS in Nigeria, the Black Lives Matter mobilization, the social outbreak in Colombia, which brought Gustavo Petro to the presidency, or the demands of Iranian women against the murder of Mahsa Amini. "They all emerged from social networks that are already the essential instrument of communication and organization of mobilizations in our time," concludes the author of Networks of Indignation and Hope (Alianza, 2012), a key work to understand how social movements began. to organize a decade ago.
The numbers compiled by Daria Kuznetsova and Caroline J. Tolbert in Globalizing information networks, social media, and participation, the most comprehensive study to date, with representative samples from 45 countries, corroborate the latter. "We argue that access to information networks, which exist within the digital media space and where discussions about political norms and values ​​are frequent, promotes higher rates of political participation in the world," they conclude.
Sign up here for the weekly Ideas newsletter.
Subscribe to continue reading
Read without limits
#Viral #protests #path