The current Spanish olive oil campaign that ends in a few days will be remembered as the worst in a long time: 663,000 tons have been produced, according to the Ministry of Agriculture, Fisheries and Food (MAPA), 55.57% less. Very far from the almost million and a half that was achieved between 2021 and 2022. The producers themselves recognized at the beginning of the year, through the Coordinator of Farmers and Livestock Organizations (COAG), that it has been the lowest harvest so far. of the 21st century.
For this reason, all the actors entrust themselves to the rains that are arriving during this September to maintain or, at least, manage to slightly raise that figure to 800,000 tons, say the most optimistic. Primitivo Fernández, director of the National Association of Industrial Packaging and Refiners of Edible Oils (Anierac), points out that there is "a little more fruit" in the olive trees than there was in the previous campaign. If coupled with a "relatively rainy" autumn, the olives will ultimately contain more oil.
Although this spring was once again extremely dry and hot, conditions that burn the olive blossom from which the olive must then germinate, it was somewhat less so than in 2022. However, Rafael Pico, director of the Spanish Association of the Industry and Trade Exporter of Olive Oils and Pomace Oils (Asoliva), puts its feet on the ground and remembers that although production improves, the remainder that will remain from this campaign will give practically identical total stocks.
As a result, two disastrous years for Spain, the largest producer of olive oil in the world, with up to 45% of the total, a figure that rises to 70% at the European level. And despite the setback, with volumes that far exceed those of the traditional second producer, Italy (241,000 tons). For all these reasons, the Spanish Olive Oil Interprofessional points out, production in the EU will drop below three million tons (2.5) for the first time in the last six years. "The trees are exhausted" due to the continued drought, warns its manager, Teresa Pérez. Inflation, she adds, has also been key in the impact on the sector and the subsequent rise in olive oil prices, which have reached historical highs.
Teresa Pérez, manager of the Spanish Olive Oil Interprofessional.
The Ministry of Agriculture, Fisheries and Food collects unprecedented costs for the 35th week of the campaign (from August 28 to September 3): up to 818.56 euros per 100 kilos of extra virgin olive oil (EVOO), 751.28 for the virgin (AOV), 714.21 for the lampante (AOL) and 718.66 for the refined (AOR).
Price increase
As a result, olive oil was already 45% more expensive this August than a year ago, according to the supermarket products comparator Soysuper.com, a percentage that the latest data from the consumer price index (CPI) raises to 52 .5% year-on-year and 8.7% month-on-month.
All those involved agree that the market has become tense. And even more so in our country, where this food "is a basic necessity, with a very high turnover on the shelves" of supermarkets, Pérez recalls. Specifically, the International Olive Council places Spanish per capita consumption at about 11.5 kilos per year, while in Ireland it is 700 grams. "A Spaniard consumes all the olive oil that an Irishman consumes in a year in just over three weeks," he equates. This would explain why the product costs more here than in other countries, a complaint expressed by the Organization of Consumers and Users (OCU). In a statement it pointed out that white label EVOO in our country is 6% more expensive than in Italy, 16% higher than in France and 27% more expensive than in Portugal, and requested the intervention of MAPA to avoid " abuses and speculation" in the production chain. In this regard, Pérez defends that if higher prices are seen here than abroad it is because products that rotate a lot adjust their value to the reality of the market at the time they are put on sale again.
In the opinion of Luis Carlos Valero, olive oil spokesperson for the Young Farmers Agrarian Association of Jaén (Asaja-Jaén) and national olive oil coordinator for Asaja, it also has to do with the tendency of the Spanish consumer to "buy more oil". than you need" in anticipation of prices continuing to rise.
Pico completes that large exporters and importers buy products in one-year contracts. Therefore, if an agreement was reached in December of last year for a certain cost, that value will not be affected if olive oil becomes more expensive. He relates how, in anticipation of a production that was already known to be very low, exports in large quantities were anticipated, "first so as not to lose customers and, second, so that other competitors do not take away the market," in reference to countries with special good harvest, like Greece or especially Turkey, which has more than tripled its exports (241.66%) from January to July of this year, going from 36,000 to 123,000 tons.
Despite everything, Spain foresees sales to international markets for a total of 700,000 tons, followed by Italy (330,000). Although the rise in prices has caused a 50% drop in exports worldwide, the United States is where they suffer the least, with a reduction of 25%.
Another aspect that worries Asoliva is the up to 250,000 tons not sold "because the consumer does not accept the prices." In particular, Pico points to the horeca channel (hotels, restaurants and cafes) as the most sensitive to rising prices, before which they turn towards other vegetable fats such as sunflower oil to reduce margins. Unlike retail, where he describes a customer who remains "loyal."
Among the reasons for this loyalty, Álvaro Díaz de Lope, deputy general director of the agri-food cooperative Dcoop, believes that its beneficial effects on health are, which makes it "more valued than ever by the modern consumer." This group, the largest olive producer in the world, has exports that exceed 400 million (35% of total turnover), indicates Manuel Pérez, its international commercial director.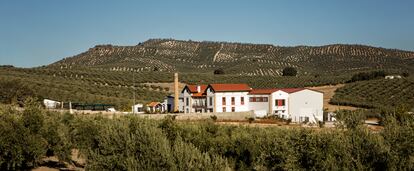 Facilities of the Alcalá Oliva SME, located in Alcalá la Real (Jaén).
In the case of Alcalá Oliva, an SME located in Alcalá la Real (Jaén) made up of 15 employees and that annually packages around one million kilos of EVOO in two different brands (Alcalá Oliva and Minioliva), the effects of the drought and the rise in prices leave a scenario of "uncertainty" for the campaign that is yet to come, acknowledges its export manager, Ángela Pérez Linde.
This family business has had to increase the price of its products by up to 70% compared to the beginning of the last campaign. For this reason, a kilo is paid at an average of 8.5 euros, when a year ago it was 5 euros. In parallel, exports are its main source of income: 7 out of every 10 euros invoiced correspond to markets such as Japan, South Korea, Taiwan and China. Ingenuity has been sharpened to not only focus the increase in margins on the product: thus, the SME comments that they have counteracted the rise in energy prices with an investment to install photovoltaic panels for self-consumption.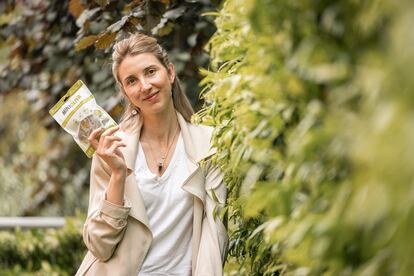 Ángela Pérez Linde, export manager of the Jaén-based SME Alcalá Oliva.
About 70 kilometers away from this company and halfway between the provinces of Jaén and Granada is the farm of a young oil company, Capricho del Fraile. Born in 2021, it focuses on a business model based on the production, packaging and distribution of EVOO, distinguished by the early harvesting it entails. Pablo Robles, commercial director of the brand, places the entire olive harvest period in the 42,000 olive trees they have between mid-October and November.
Made up of three people, they currently focus on making all the necessary improvements to provide greater quality to their products and, in turn, on establishing a portfolio of international clients. At the moment, Indonesia, France and England, but Robles puts the United States as a "primary objective." In its first year of harvest, the entire production was sold abroad, with the focus on catering due to its gourmet nature.
For this year, Capricho del Fraile expects to produce between 200,000 and 250,000 kilos of EVOO, especially sensitive to price increases which, as a result, have translated into an increase of up to 12% in the final price.
Challenges to avoid losing global leadership
Bureaucracy. The Interprofessional requests the simplification of administrative procedures, especially with regard to information and promotion campaigns co-financed by the EU. "The Commission has to be more sensitive to those of us who manage the programs," urges Teresa Pérez, from the Spanish Olive Oil Interprofessional. And she also demands that the rules be made more flexible to communicate its healthy properties.
Labelled. Europe is also debating how to incorporate nutritional information on labeling. "We hope that the Nutri-Score disaster is not repeated," they warn, which penalized olive oil compared to other less healthy products.
Türkiye. This August, the country banned bulk exports, very based on price, "but not on packaging," says Rafael Pico (Asoliva), who sees it as a strategy of the Turkish authorities to retain added value.
Andalusia. The main national producer has suffered a reduction of 11.6% in its exports, in total worth 1.5 million euros, according to data for the first half of 2023 from Andalucía Trade.
Follow all the information about Cinco Días on Facebook, Twitter and Linkedin, or in our Five Day Agenda newsletter

#worst #olive #oil #harvest #century #sector #clings #rains