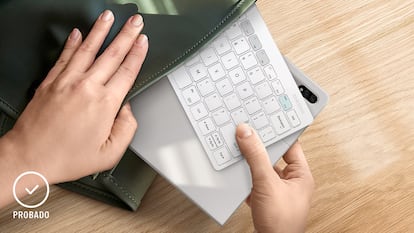 We take an in-depth look at the best keyboards of 2023 to use with tablets.SAMSUNG
Despite the wide uses that tablets have (to watch multimedia content, shop online, consult information, play games, make video calls…), when it comes to writing texts they are not the best alternative: the on-screen keyboard is not comfortable due to the size of the keys, the distance between them and the lack of travel, which means that it is not as fast as on a physical keyboard and many more errors are made. Although there is a solution! And it is found on external keyboards.
These connect to the tablet via a USB cable or Bluetooth. Some of them even have integrated supports that guarantee a more ergonomic position of the tablet in this task.
What models of keyboards for tablets have we chosen?
With a maximum budget of 60 euros, we have selected five universal models that are among the best sellers on the main online shopping platforms: Logitech K480 (9.25), ASHU Bluetooth keyboard (9), Samsung Smart Trio 500 (8. 75), SUBBLIM tetrolit keyboard (8) and SENGBIRCH Bluetooth keyboard (7.25). When analyzing and evaluating them, we have taken into account the following aspects:
Design: the materials used for its construction, whether it is wireless or wired, the height and travel of the keys, ease of cleaning… Ergonomics: whether the hands are placed in a natural position when typing and the wrists are aligned with the rest of the arm.Compatibility: if it is used with any tablet or depends on a brand or model.Complements: the comfort and the possibility of adjusting the palm rest, if the numerical module comes separately, if it incorporates a lighting system, etc..Others: Can they be used with other devices besides tablets? Also if it is easy to store and transport, if you have a touchpad or need external mice…
Comparison of the best keyboards for tablets: this is how we have tested them
For several weeks we have used these tablet keyboards to carry out activities such as working, transcribing documents, chatting or simply browsing the Internet. With these tests we wanted to check their functionalities, as well as whether they are ergonomic or what features they offer. After the analysis process, we came to the conclusion that the best model is the Logitech K480 thanks to its good performance, the quality of its materials and the ability to use it with up to three devices simultaneously.
Logitech K480 tablet keyboard: our choice
With dimensions of 29.9 x 19.5 x 2 centimeters, its design is predominantly black although it has several green details such as the slot where the tablet is placed. Offering an English keyboard layout, the Ñ is not available, although it can still be used via commands (by pressing Alt + 0241 on the numeric keypad).
Its keys are soft to the touch, sensitive and do not make too much noise when typing. In addition, they resist splashes and are easily cleaned with a damp cloth. The ergonomics have been well resolved, as the hands do not suffer too much after use.
Compatible with Windows, macOS, ChromeOS, Android and iPadOS operating systems, it connects via Bluetooth to up to three devices simultaneously, being able to switch between them from a small wheel located in the upper left. Its integrated stand fits medium-sized tablets (from 10.5 mm thick and 258 mm wide).
Technical sheetDimensions: 29.9 x 19.5 x 2 cm.Weight: 820 grams.Compatibility: all operating systems.Connection: Bluetooth.Number of keys: 104.Batteries: 2 AAA (included).Others: integrated support, Dial Easy-Switch, splash resistant…
The Logitech K480 tablet keyboard works with 2 pre-installed AAA batteries that guarantee an autonomy of almost a year. Being rigid, it cannot be folded or closed; To transport or store it, we recommend a protective case.
The best: its ergonomics and great battery life. The worst thing: that the keyboard is English, so it does not have the letter Ñ incorporated. Conclusions: With a splash-resistant design, it offers good ergonomics, is compatible with all operating systems and can be used with up to three devices at the same time.
ASHU Bluetooth tablet keyboard: the alternative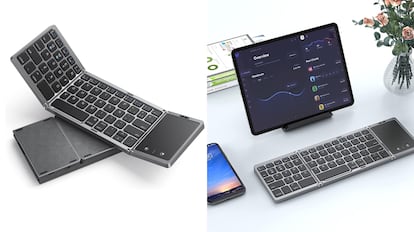 Side view of the Ashu tablet keyboard, divided into modules.

The first thing that catches your attention as soon as you take it out of its packaging is its design: it is divided into three modules (which makes it easy to fold for transport), two of them with a split keyboard and another with a touch area that is used mouse mode and it even has two buttons that correspond to the right and left click. The only drawback is that it is located on the right side of the keyboard, so it can be annoying for left-handed users.
As it has dimensions of 5.2 x 9.8 x 2 cm when unfolded, it is ideal for people who do not have very large hands. When you start using it, it is a little difficult to adapt to its three-block design, but once you get the hang of it, it is comfortable.
The Ashu tablet keyboard connects via Bluetooth and is capable of connecting to two devices at the same time. As for its compatibility, it works with any device, from MacBook, iPad, iPhone or Android tablet, phone or smart TV. It uses a 1040 mAh lithium battery that is charged via an included USB cable and guarantees autonomy of up to 200 hours.
Samsung Smart Trio 500 tablet keyboard: best value for money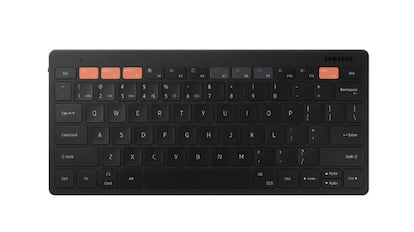 Detail view of the Samsung Smart Trio tablet keyboard.
Designed in white with some details in pastel blue and gray, this wireless keyboard is the most beautiful in the comparison. Its dimensions are 12.7 x 28 x 1.6 cm and it uses, like the Logitech model, the British keyboard system, so it does not have the Ñ either.
The first thing that stands out about its keys is that they are very soft to the touch, in addition to having adequate sensitivity and are quite comfortable to use, as they do not slip or get stuck during use. It is quite thin and since it weighs 393 grams, it is very easy to transport. However, it does not have an integrated support to place the tablet, something that would guarantee a much more comfortable user experience.
Its Bluetooth pairing is activated by pressing a key located on the top, connecting to three devices in just one second. In addition, it has three shortcut keys for each of these devices, so that pressing them opens the three applications that are most commonly used with each of them. For example, Word with the tablet and YouTube with the mobile.
SUBBLIM Backlit Tablet Keyboard
Side view of the keyboard with modern design from the SUBBLIM brand.
It differs from the rest due to its backlighting, choosing between seven colors that illuminate the keys to provide a more personalized and modern touch. In addition, the brightness level can be adjusted to adapt it to the needs of each user. This lighting is quite useful when using it in poorly lit places and even at night. It has a compact size, 6 cm thick and weighs only 200 grams.
Its keys (the Ñ is included), made of scissor membrane, are soft and comfortable to use, although they are somewhat noisy. It is compatible with multiple devices and systems (iOS, Android, macOS, and Windows), but only pairs with one device.
To connect it, you need to pair the Bluetooth, which sometimes takes a while to respond. The SUBBLIM backlit tablet keyboard is powered by a lithium battery and has a power saving function that activates automatically when it detects periods of inactivity.
SENGBIRCH tablet keyboard
Elegant design and compact size: this is the keyboard from the Sengbirch brand.
This keyboard looks a bit flimsy, weighs very little and is very thin.
Otherwise, it has a traditional black design with white letters and uses the Spanish keyboard system. The touch and sensitivity of its keys is correct and therefore comfortable to use, although it does not have pads on the back, which makes it slip a little. It also does not have support for a tablet or mobile phone.
SENGBIRCH tablet keyboard works via Bluetooth and is compatible with most devices and operating systems. The connection is quite fast and can only be used with one device, since there are no more options to synchronize several devices at the same time.
It uses a built-in 430 mAh rechargeable battery that has a charging time of between 2 and 3 hours. In exchange, you get an autonomy of approximately 10 hours of use.
*All purchase prices included in this article are current as of September 19, 2023.
(Remember that if you are an Amazon Prime user, all purchases have free shipping. Amazon offers a free, no-obligation trial period for 30 days.)
You can follow EL PAÍS ESCAPARATE on Facebook and Instagram, or subscribe to our Newsletter here.

#keyboards #tablets #returning #routine