The Welshman Sebastian Stride (Aberystwyth, 50 years old) is an archaeologist of the Silk Road and one of the founders of Siris Academic, a non-profit consulting firm that has advised more than 250 institutions in 25 countries – especially universities – in 13 years. and research centers― on the policies to follow in higher education. But the company, converted into a foundation, is above all known for the report that has uncovered the international scheme of cheating in university rankings. Stride, who "like a good Briton" claims to drink two liters of tea a day, lives in Barcelona – headquarters of Siris Academic – and is on his way to becoming a regular at meetings of Spanish rectors, who listen to his presentations, sometimes pleased and other times uncomfortable. , since it proposes a radical change in its university system.
Ask. With each Shanghai ranking, there is a regret that there is not a Spanish university among the top 200. Can there be one without financing?
Answer. Normally there would be one or two among the top 100 (in the country there are 50 public universities and 40 private ones). Sometimes I despair when I read, for example, that the University of Oviedo has dropped 200 positions. It doesn't have to be in those rankings, it has to have a seal of excellence! Although it does research, it cannot compete with Harvard or MIT, it has another social function: for students to learn, employability, the local ecosystem… And, in turn, as a country you need some outstanding research institutions. A very good example is the Nobel Prizes that Castilla y León wants to have. For a Nobel Prize winner to go to Valladolid would not be positive for his university! It works in global networks and the impact for the city is zero. It's like in sports: each country wants to have the world champion, but the gym in each town is more important for health.
Q. Should Spain merge universities like France does to climb the rankings?
A. No. The best universities in the world, I go back to Harvard, have less than 20,000 students. A lot of research is done in them, it's not that the classes are very good, it's that their students are super selected and they go to investigate. If I look at Madrid, the Complutense (61,000 university students) is too big. If we split it in two – with a part dedicated to undergraduate training – and integrate the CSIC laboratories, you can put it among the top 100 in the world (it is now in the 301-400 range in the Shanghai ranking). And the same with Barcelona.
More information
Q. In a country with transferred autonomous powers it seems impossible to discriminate.
A. You don't have to look at Shanghai, but rather be proud of the impact on companies or the training of students there. In the seventies, in Italy they founded the University of Calabria. They wanted to move forward the region, which has suffered a lot (from the 'Ndrangheta criminal organization). With European money they created a synchrotron (particle accelerator) and a department of theoretical chemistry, which is good and a source of pride, but how does it benefit the region? That was not his mission. The quality of the classes is not very good, nor are the job opportunities… You have to look at that, not Shanghai. But, returning to Spain, as a country it needs to have one or two universities in the top 100 (among the 100 best). People are happy to work with us in Barcelona because of the quality of life, even though they have lower salaries than in Holland or Germany. But if universities also stood out, it would be incredible. I give the example of Catalonia because it has had very powerful public policies for research centers. Barcelona could have, with its (scientific) ecosystem, a university in the top 50 that would benefit the entire system.
The competition is not between Spanish universities, but between Spain and the rest of the world.
Q. Pompeu Fabra or Carlos III appear among the great young universities, but they are highly punished in the Shanghai ranking for their lack of history and size.
A. Yes, but if you take the example of Pompeu Fabra, you put the BIST (Barcelona Institute of Science and Technology), the ICFO (on photonics), the CRG (Center for Genomic Regulation)… What would come out? But, of course, the UB (University of Barcelona) or the Autonomous University are going to say that it cannot be. I can imagine institutional paths with mergers or redistributions to enter the top 100, but obviously it has to be the actors who decide. The competition is not between Spanish universities, but between Spain and the rest of the world.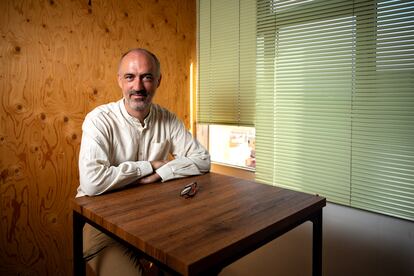 Sebastien Stride at the Siris Academic Foundation where he works. Kike corner
Q. Spain is the main recipient of Erasmus, it has incorporated 44 universities into European alliances and, however, the number of foreign students and professors is very low.
A. Universities have to be autonomous. So, if the quality of teaching and the attraction capacity decrease due to having an endogamous system, this translates into them receiving less money. Obviously then they would change their practices! You can, as in Denmark, change the system at the State level, but it is very difficult and there will be brutal resistance; or a system can be introduced where there are incentives. If you look at the last 20 years, in general Spanish universities have increased a lot in quality and visibility. And they are clearly underfunded, especially after the 2010 crisis. Despite the decrease in funding, compared to other European countries, they have maintained or improved. They've done a pretty impressive job. Potentially, Spain does not have to be ashamed. The French or German systems are less effective than the Spanish system. Although the systems of Denmark, Holland or Switzerland are better.
More information
Q. Effective in what?
A. In scientific production, with the public money that France and Germany receive they are very inefficient. It does not function very well. Have you seen the public money that enters Spain and the results? Is incredible. Portugal is also improving. An American researcher who wants to come to Europe will obviously first look at Holland, Denmark or Switzerland. He is not going to look at Spain for perception, but he has it all.
Q. In Spain there are not many resources and salaries are not competitive at all.
A. The issue of salaries is less important than that of the scientific ecosystem. In Barcelona you have it very good, or in Granada. It takes a financial effort, but if you give a little to everyone it won't change anything. I can understand from a social point of view coffee for everyone, but it hurts as a country not to have two or three in the Champions League.
Sarkozy, Hollande, Macron…have not changed politics in France, because it was a country's decision
Q. But those stars can't be in a second-rate league.
A. No. But those stars are not going to be decided by me as the Government, because it would be a scandal. But you can have an independent international jury that evaluates the universities' projects and decides. That happened in France, where the Government did not like the decisions. They wanted to change something and the jury said: "You have called us to evaluate, if you change something we will resign." And in the end the Government said: "Okay." The most interesting thing is that those from the French PP and PSOE agreed. With successive governments – Sarkozy, Hollande, Macron… – the policy has not changed, because it was a country decision.
Q. Is the central government right to force private universities to pass a quality screening?
A. There is a very clear problem with teaching quality in private schools, regulation should be much more demanding and some should be closed. It is a public service and, if there are no places, what must be opened are public universities.
You can follow EL PAÍS EDUCACIÓN in Facebook and Twitteror sign up here to receive our weekly newsletter.

#Sebastian #Stride #university #expert #Spain #ashamed #France #Germany #effective #scientific #production