The librarian Esther Escribano takes off her clothes without hesitation when she goes to the consultation with her dermatologist in Alcázar de San Juan (Ciudad Real). The excellent relationship that she has built with her doctor since 2014 means that she can show him the plaques and redness that she has suffered from episodes in the genital area. Escribano is 49 years old and has spent half his life with psoriasis, a disease that manifests itself in the form of skin lesions and that affects one million residents in Spain. "We are not talking about showing your arm, you have to take off your clothes. It is the most uncomfortable part, you don't say it right away," she says, passionate about reading out of pleasure and obligation. "If the person who is going to see you is not very empathetic or does not trust you, he can be quite violent. I have no shame with her," she explains. Psoriasis in the genital area, which usually appears in patients with a moderate or severe degree of disease, causes itching and can cause pain during sexual intercourse due to friction.
—How was the summer, Rosa?
—How are you doing, Esther? Do you have any problems applying the treatment?… Let's see the analysis.
Escribano greets his dermatologist with affection, whom he often crosses paths with on the streets of Alcázar. He has just come out of the check-up that he goes to every three months. His iron is a little low, but the good news is that he barely notices a patch on his scalp. It's clean, as they say. He feels so well thanks to the treatments – and the swimming, which he practices regularly, and the healthy life he leads – that his dermatologist has made an appointment this time for six months. It wasn't always like this. There were times when her body was full of injuries. Also the genitals.
"The discomfort when having sexual relations has come more from pain than from modesty because my husband has known about it from the beginning," says this graduate in Library and Documentation, who lived in Madrid from 1992 to 2001. "Yes "If I had had a new relationship, it would have been difficult for me because of shame," he says. 24.4% of patients who suffer from psoriasis have their relationships with family members and partners affected, according to the Next Psoriasis survey, prepared by the Acción Psoriasis association.
If you tell it you will be cured sooner
It is essential that patients tell it and doctors ask. José Castiñeira is a specialist in Dermatology at the University Hospital of León. "There are patients who do not know that psoriasis can appear in the genital area. They may even think that it is a sexually transmitted disease," says the dermatologist. "All this delays the diagnosis," he adds. At the conferences and talks he attends, he says, colleagues are reminded that they have to ask patients about the genital area. "Maybe less than 3% of the body is affected by the lesions caused by psoriasis. But if you then have a large genital plaque, it affects the patient's quality of life," he says.
Patients complain of the burning caused by cracks and plaques when walking and sitting, explains the dermatologist. It doesn't just affect sexual relations. "It is a humid area, which is always covered. It is a bit the most difficult to deal with and the most uncomfortable," says Escribano. "It affects men and women equally, but it tends to be more itchy for women," summarizes the dermatologist. Lesions can occur in all the parts that make up the genitals but only on the outside. The effects can be small red spots or large plaques. Due to the higher humidity, peeling does not usually appear.
Psoriasis is an immune-mediated inflammatory disease (IMID) that behaves arbitrarily. It occurs in unexpected outbreaks. Yesterday you were good, today less good and tomorrow maybe very bad. Sometimes it produces comorbidities, that is, secondary diseases triggered by the inflammation that psoriasis causes in the body. That is why Escribano's dermatologist, who does not return to the consultation until February, has insisted that if she suffers any joint pain she go to the hospital. You have to be very alert in case you develop psoriatic arthritis, which affects between 10% and 30% of psoriasis patients, one of the most common comorbidities.
Associations and doctors reiterate that psoriasis is not contagious. It is not hereditary either, but there is a genetic predisposition to suffer from it. A third of those affected have immediate family members who have suffered from it. "My father and my sister have them," Escribano remembers. "With the first plaques and itching, the diagnosis was clear," he says.
Castiñeira, like all specialists who deal with psoriasis patients, remembers the importance of an early and rapid diagnosis. "The disease has a trace," he says, referring to the fact that the damage accumulates, that the plaques 'have memory.' That is why Escribano's dermatologist insists so much on monitoring any pain in the knees or fingers and toes. You have to be careful so that irreversible injuries do not occur. Thanks to the advancement of treatments, psoriasis and psoriatic arthritis, always classified as chronic, are shedding this surname because patients experience very long phases without any injury.
Sunbaths
Escribano's parents live in Alicante, so he can swim in the sea and sunbathe on the beach frequently, something that has always been very good for his injuries. That is when they have sprouted, when all that remains is to stick to the treatment or change the existing one. But patients learn to know their bodies over time. They know what can cause plaques to appear on the skin and try to anticipate or remedy them. Escribano repeats it throughout the entire interview: stress causes injuries.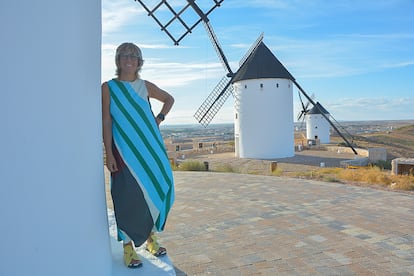 The patient Esther Escribano, in the windmills of Alcázar de San Juan (Ciudad Real).RAP
And stress is generated by changes such as a new job or moving to another city, but also changes in weight – psoriasis patients are between two and four times more likely to be diagnosed with obesity. "I've been going to a nutritionist for a while because I have a tendency to gain weight," says this woman from La Mancha, who says she eats everything but in a more organized way. He has increased his consumption of fruit and vegetables, he has stopped snacking between meals and he has reduced junk food. "You have to allow yourself certain things because if you take everything away it would cause me stress," she says without sarcasm. One of the things that she allowed herself was to change Madrid for Alcázar de San Juan, her town, where she does not plan to leave again in her life.
#psoriasis #prevents #pleasure