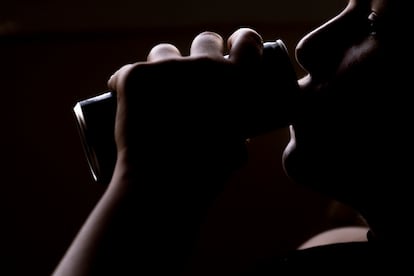 A girl drinks a can of energy drink.PACO PUENTES
The alcohol industry has been using to its advantage for years a paradox that has not ceased to be repeated for decades in studies: people who claim to never drink have higher mortality rates than those who do so occasionally or in small quantities. It has been part of the argument that a little wine or beer every day is beneficial. It has long been known that they do not live less (on average) because they do not drink, but because of other health problems. The largest study on alcohol and mortality in Spain, which will be published in a few weeks and was presented earlier this month at the congress of the Spanish Society of Epidemiology, delves into this apparent contradiction of abstainers.
Like most research on the subject, if you draw a graph in which the horizontal line is alcohol consumption and the vertical line is mortality, you get something similar to a lopsided jack. Those who do not drink anything die more (at the same age range), the curve drops slightly to reach those who report moderate consumption and, from there, when it exceeds 20 grams per day (two beers exceed it), it goes rising practically linearly as alcohol intake increases. The problem, says Iñaki Galán, epidemiologist at the Carlos III Health Institute and lead author of the study, is that the supposed abstainers "are a very bad reference group, it is a highly selected population that is not representative."
Very often, those who say they never drink actually drank, to the point of suffering from alcoholism, and radically stopped to overcome the addiction. Or they have different health problems, and they do not drink alcohol precisely because of them. Among those who call themselves abstainers – 24% of those over 15 years of age have not tried it in the last 12 months, according to the Survey on Alcohol and Other Drugs in Spain (EDADES) – there are more underlying chronic diseases, greater sedentary lifestyle, They are mostly women and non-smokers, says Galán.
Elsa (who prefers not to give her real name), 49 years old, is one of those people who does not drink because of a health problem. When she was 19 years old she was diagnosed with epilepsy and it was recommended that she not take any psychoactive substances. "It wasn't hard for me to stop drinking because I didn't get extremely drunk, I haven't fallen over or vomited in my life. I have never been more than very happy. Plus, then I had a brain hemorrhage and every time I feel weird, like when I'm tipsy, I get scared. So drinking alcohol doesn't compensate me at all," she says.
In Spain there are very few abstainers who are abstainers if situations similar to these do not occur, and there are no studies that allow us to compare their health status or mortality with people who do drink. Furthermore, although its damage to the body is well established, its effects over time have not been analyzed as much as has been done with other harmful substances, such as tobacco.
To compare the mortality of alcohol, says Galán, the best reference group is that of occasional drinkers who practically do not try it, who do it a few times a year, in specific celebrations, and in very small quantities. "They consume so infrequently that there is no biological effect of alcohol. "This group, which drinks once a month or less, is representative of the population." And here it is proven that drinking alcohol does not provide any benefit with respect to mortality. This supposed advantage of those who ingest small amounts over those who do not try it disappears.
Vending machines for sugary juices, soft drinks and energy drinks at a door of the University of Seville. PACO PUENTES
This group is the one with the lowest mortality, but it is practically on a par with those who drink between 0 and 10 grams of alcohol a day and the next, 10 to 20 grams (a can of beer contains about 12 grams, the same as a glass of wine). These specific conclusions for Spain thanks to the comparison of large population cohorts are very similar to those of a large international study published this year in the journal JAMA.
Both investigations make it clear that the more alcohol, the more mortality, although in small quantities it practically does not increase. This may give the impression that drinking a little daily is not harmful. The alcohol industry has made it so that they believe and almost 20% of those who do it give one of the reasons that it is healthy, a proportion that has been increasing in recent years, according to AGES. But alcohol is not harmless. Hepatologists insist that if consumed daily, even in small quantities, you can end up developing diseases such as fatty liver. Furthermore, it is a toxic substance that increases the risk of cancer and its addictive potential carries a risk of starting with moderate doses and ending up multiplying your intake.
What's not clear is what the health risks are years after drinking. "We know with complete certainty that quitting reduces the danger, but unfortunately the exact extent to which it is not quantified," says Miguel Marcos, coordinator of the Alcohol and Other Drugs group of the Spanish Society of Internal Medicine (SEMI). When consumption is very high, there are side effects that can be irreversible: "The one that can be maintained the most over time is liver damage. Once fibrosis has been reached, part of the damage remains. And the best thing to do is leave it to begin regeneration. Another is the cognitive and brain deterioration associated with alcohol."
The stigma of the teetotaler
Not drinking in a society with alcohol so ingrained is not always easy. "There is a lot of social pressure. People don't understand that you can have a good time," Elsa confesses. The same thing happens to Vicente Prieto, 55 years old. He does not consume alcohol because when he tried it when he was young he did not like the taste. And he didn't see the need to keep trying. He has experienced that same pressure, which is stronger in youth, but which never stops. "Now that I'm over 50, I'm at work lunches, with bosses, and many times I have to invent that I'm taking some medication to justify not trying wine or beer," she says.
He repeats a question that, no matter how many times he is asked, continues to baffle him:
—Are you going to let me drink alone?
—No, you're not alone, I'm here with you, only instead of a beer, I'm going to drink a Coca-Cola or a sparkling water.
Such choices are often a source of ridicule. "I'm tired of hearing: 'You're coming strong today,' or similar things when I order a soft drink," she says. And she believes that behind that there is really a feeling of guilt. "I think they are people who know that drinking is not good for their health and feel more comfortable if they do not do it alone. I think it's great that they drink alcohol, I also eat churros or cakes from time to time, and I know that they are not healthy. But just as I don't tell anyone what to drink, I wish they wouldn't tell me."
Integration into the group is one of the great reasons for starting to drink in adolescents and alcohol is still very entrenched (74% of those between 14 and 18 have drunk at some time and more than half have done so in last month), but its consumption has been declining for three decades. Perhaps in the following generations the stigma will fade, and if there are more healthy abstainers, the mortality paradox will also disappear.
Subscribe to continue reading
Read without limits

#apparent #paradox #high #mortality #abstainers