A 16-year-old boy opens the door of a Cercanías car in Madrid. He has just used a machete to attack other young people, whom he leaves inside the convoy. A few days before, they had launched one of the most serious offenses among violent youth gangs. Two words full of meaning for them: "fuck" (in Spanish, fuck you) and the name of the band. Enough reason to seek revenge. "We had a machete and a knife, we asked them if it was them and we did." A month later, the Police arrested him and he ended up being convicted of attempted murder. Today, still locked up in a juvenile center and already 18, he is a different person.
"My mother started crying, my mind was cloudy and I told her that it was my life, that I decided," he says. He was a boy who was bullied at school. Until one of the two most powerful bands at the moment (Dominican Don't Play and Trinitarios) "welcomed" him. Later, his life was the street and he never left home without a weapon. "You don't need to be stuffed, you use the knife because you see it as normal." They arrested him at his house at dawn, and at dawn he arrived downtown: "I lay down and thought: 'I'm better off here than on the street.' I felt calm, liberated. "I could forget about everything."
The State Attorney General's Office warned last week in its annual report of a "criminal explosion" among minors convicted in 2022 and an "increase in increasingly violent criminal behavior." Violence that threatens life, the coordinating juvenile prosecutor Eduardo Esteban acknowledged in an interview, has a lot to do with the presence and increase of violent youth gangs, which continue to represent a "tiny" percentage of young people. While crimes in general committed by minors in 2022 barely increased by 1%, murders and homicides (both completed and attempted) did rise: they increased by 14.77% to reach 101 cases initiated. If compared to 2017, the increase is 100%.
The public ministry expressed its concern about the "trivialization" of violence among young people and the "total lack of value for one's own and others' physical integrity," as well as the ease with which members of violent youth gangs acquire knives. , the most "brutal".
Bárbara Scandroglio is a professor of Psychology at the Autonomous University of Madrid (UAM) and has spent two decades studying and working in the field with youth groups of all types, from neo-Nazis to Latin King, including current youth gangs. "When you perceive the world through your membership in a group, you lose your consciousness as an individual person. You are a replaceable member of the ensemble. And the adversaries are not Paul or Peter and they have a face, they are simply the enemy. That is why they do not think that they are stabbing an equal, it is the same thing that happens to abusers or soldiers," she points out. This is how the boy at the beginning, the Spaniard convicted of attempted murder, expresses himself: "When you see a friend attacked with a machete, it annoys you and you think I'll avenge him. We'll find it." In his case, as is the case with most, contact with a knife was not something extraordinary: "In the neighborhood you see many things, knives are normal."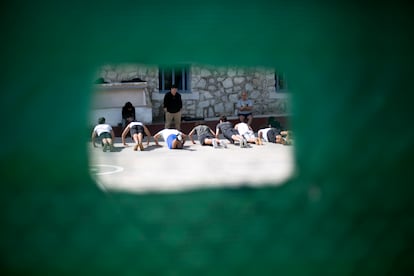 A group of minors exercise in a minor center in Madrid. Santi Burgos
The UAM expert gives a very specific example, the testimony she collected from a police officer. "He told me that he had been very shocked, because they had just arrested a minor accused of killing another boy. After giving his information, he made to go home. They had to explain to him what a murder meant, because he was still feeling the adrenaline of having done something heroic for the group."
Luis Jesús Andrés, a psychologist at a reform center in Madrid, works with these cases daily. "They think: 'These friends came at a time in my life when I felt alone, I could be in a situation of harassment or unprotected and they helped me and got me out of this. That is why I owe them loyalty and respect because they are my family," he points out. "That's why everything becomes 'either you or me,'" he says. "Here we try to dismantle that resistance. We have to talk about why they joined the violent group, get them out of the tunnel vision in which they only think about themselves. They realize that their actions have a consequence," says the psychologist. All this takes time, as those responsible for the center warn, the polite and calm boy who now sits in a chair and explains how he hacked an "enemy" with a machete and understands that this is not normal, it is radically opposite to the one who arrived two years ago. . He reasons it himself: "To realize this you have to be locked up in a center for a long time, no matter how minimal the contact with them (the band members) is, that doesn't work."
The psychologist says that, in most cases, children present vulnerabilities from a very early age. Many of them suffer from a lack of affection from their parents, forced to work long hours to face very precarious situations. "They have a lot of free time and they feel alone, abandoned. The band not only gives them a sense of belonging, it also gives them access to money." Gang activity routinely includes violent robbery.
Is there a "violent explosion"? Are young people who recently arrived in gangs more violent? The professor of Social Anthropology at the Pompeu Fabra University and director of the research project on TransGang gangs, Carles Feixa, considers that the police response of mass imprisonment of the gang leaders (usually over 18 years of age) has not been accompanied by the social resources necessary to care for minors who remain on the streets as members of these gangs. "This police action does not work on its own, it has a counterproductive effect: when these groups are beheaded, they reorganize in a more anarchic way and even use more violent methods." Feixa is referring to autonomies such as Madrid, where programs such as street educators—social integrators who mediate between young people in street conflicts in hot spots in the city—have been reduced.
Scandroglio also points to the pandemic as a fundamental factor. "There was a resurgence, not only of the so-called Latin gangs, but also of other youth groups without that hallmark. Imagine a teenager in confinement, whose horizon is blurred, that affects a lot on a mental level, it is an objective impact. When the adolescent's horizon falls, he seeks refuge in his tribe, so to speak, and one way to differentiate himself is to seek confrontation with others," he explains. The expert, however, does not believe that we are facing an alarming situation or that it has not occurred before. "Violence is cyclical, as those of us who have been studying it for decades know. If it reaches a peak, then it goes down, it never stabilizes at those high levels," she points out.
"It has been proven that at those ages they are perfectly reducible, but we must invest in them," says Feixa, who points out that their chances of finding work are remote, especially after the pandemic stopped, and they see the street as the only alternative. . "Their group is the only thing they have left," she clarifies. The figure of the guardian agent, local police officers dressed in plain clothes who contact adolescents in educational center environments and are responsible for preventing them from joining the ranks of organized crime, has also suffered cuts in the capital of Madrid. Scandroglio thinks in this same direction and assures that all interventions have to be aimed at offering alternatives: "You cannot simply tell them that their way of life is bad without offering them alternatives for leisure and employment."
One of the access doors to a juvenile center in Madrid. Santi Burgos
In search of more answers to this increase in violence, criminology expert at the University of Bristol, Jade Levell, points out that far from the most classic view that blames the cultural products that young people consume, such as series, movies or music with inappropriate content, the trigger is domestic violence and sexist violence that these boys suffer, whether they are direct victims or witnesses. In her research Boys, victims of domestic violence and youth gangs, a high percentage of the minors interviewed claimed to have experienced violence at home. "Growing up with the violent figure of the father is the way in which they naturalize and normalize violence, the impact is clear." Levell denounces that the social mechanisms of support for these children are not working. "If the State doesn't help them, they get involved in gangs. We have to review the challenges they face as minors and rather than seeing them as perpetrators of violence, we have to look at them as victims of the system. "They are teenagers."
More than on Netflix or HBO, violence is learned at home, also defends M. Carmen Cano, head of the child-parent violence research team at the University of Jaén. "The most important mechanism in learning is imitation; Whether they are victims or witnesses, they have learned a model of behavior and see it as an appropriate way to resolve conflicts," says Cano, who insists that a young person does not become violent overnight.
Although the idea is widespread, the researcher, expert in urban culture and host of the Radio 4 program The Secret History, Oriol Rosell, defends that cultural products such as video games are not the problem, but rather the "devastating deficit in education." Gang membership also has to do, he maintains, with the collapse of the idea of ​​meritocracy. "They know that, even with studies, what awaits them is working at a McDonalds. There is nowhere to hold on and they have to do something to get out of the hole. What goes through his head is to get out of poverty autonomously at the expense of whoever it may be."
The data on the reintegration of minors is very positive, 92% of them are not resentenced as minors, according to official data. Judge Concepción Rodríguez has been in charge of a juvenile court in Madrid for 20 years. "When they pass by here it is as if they hit rock bottom, they see the wolf's ears and realize that they have to change their lives. We are here to help them with that, we are focused on re-education and of course on reparation for the victim," explains the magistrate. In her experience, the system works. She cites a case as an example: "I recently received a letter of gratitude from a municipal police officer who had just passed the exam and when he was a minor stopped by here." There are 75 juvenile judges in Spain.
The Assembly of Madrid, the region most affected by violence by youth groups, created a gang study commission last year in which social and police experts participated. Among them, Javier Susín, the head of the Police Information Brigade of the National Police in Madrid, who drew a robotic portrait of the members that make up these groups. Among other elements, he highlighted the drop in the age of entry into these groups, who belong to families of single mothers and who seek a feeling of belonging and identity in these groups. "One of the last detainees related to a homicide case," he said at that time, "had not gone to school for three months, but he didn't show up at home either! And his mother told us: 'Well, he's coming to eat. ever…'. So, of course, the feeling of the band is a feeling that replaces the family, serving as a form of integration."
Susín also highlighted that now the age of entry into these groups had dropped to 12 years: "In three years we have gone from 10% to 40% of detained minors." He also specified that they abandon them earlier: "The older ones are joining organized crime earlier, that is, they are already trafficking drugs, robbing with violence… They give orders to the minors to, as they say, carry out attacks (attack with weapons) on other members of opposing gangs because they know that they have a much lesser punishment."
The boy at the beginning has another perspective. He wants to study Vocational Training for the duration of his measure. In the long term, he aspires to "buy a house and have a girlfriend," he says with a smile. He entered when he was 16 and will leave, at least, when he is 20.
Subscribe to continue reading
Read without limits
#trivialization #violence #among #young #people #dont #armed #knife #normal