One of the surprises of the return of summer is the comedy and suspense series Poker Face that just premiered on September 15 on SkyShowtime. An original series that comes to Spain after receiving good reviews, winning the TCA-Television Critics Association award for Best Comedy Performance for the work of its protagonist and being nominated for two Emmy Awards.
Poker Face is a brilliant series of 10 episodes lasting almost an hour created by Rian Johnson, known for his work on the fiction Daggers in the Back. Its protagonist is Charlie Cale (Natasha Lyonne), a woman who has an extraordinary ability to guess when someone is lying. Charlie works in a casino and decides to use her skills to become an invincible poker player.
The series stands out for the interpretation of Charlie Cane by actress Natasha Lyonne, the originality of the script and the well-known guest stars who appear in each episode such as Adrien Brody, Dasha Polanco, Benjamin Bratt or Nick Nolte, among many others.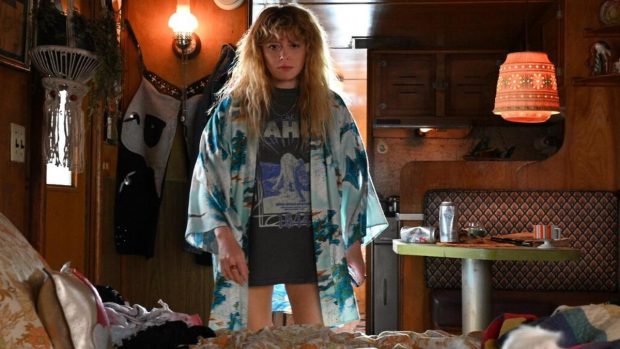 Poker Face
A woman with a strange gift
The protagonist of the series is Charlie Cale, a strange woman who lives in a trailer near Las Vegas. A slightly eccentric woman who works in the city casino, quite fond of beer, she leads a more or less normal life. Everything changes when Charlie realizes that she has a strange ability: she knows when someone is lying to her. This strange gift of hers helps her win numerous games at the casino until Sterling Frost, the owner of the casino where she works, discovers it and forbids her from using that ability.
After many complex situations, Charlie leaves town and decides to take advantage of her skills to become an improvised detective. In her 1969 Plymouth Barracuda, a car that does not go unnoticed, she will dedicate herself to traveling through the United States where she will find various homicides that she will try to solve thanks to her strange gift.
Poker Face Skyshowtime
The cast of the Poker Face series
Actress Natasha Lyonne, known for her work in series such as Orange is the New Black and Russian Doll, plays the role of the strange protagonist of this series.
Among the guest stars that appear in the episodes are well-known actors such as Adrien Brody, Dasha Polanco, Benjamin Bratt, Joseph Gordon-Levitt, Chloë Sevigny, Ron Perlman, Judith Light and Nick Nolte, among others. Poker Face is a good option for those looking for original series, with a good script and a good performance by its protagonists.
#arrived #SkyShowtime #favorite #series #episodes #watch