We chose a series of best-rated bedroom wardrobes on Amazon.
The purchasing possibilities in the category of bedroom wardrobes are countless. However, choosing cheap wardrobes with a good rating is not as easy a task as it seems, especially when we are immersed in the back-to-school situation. For this reason, at EL PAÍS Escaparate we have combed through the Amazon catalog to find these bedroom wardrobes for people with a limited budget: no piece of furniture exceeds 130 euros.
In this selection, you can find wardrobes for double bedrooms, but not only exclusively: also to be located in rooms such as living rooms or more youthful or children's rooms, and also in small spaces; divided into two sections: folding cabinets and those finished in chipboard, with more elaborate assembly.
FOLDING CABINETS FOR BEDROOM
Six-level folding wardrobe with cover, Songmics
In the absence of waterproof wardrobes, many people are unaware that they can choose a folding and portable wardrobe like the one in the image for their bedroom. Ideal for small spaces, it includes everything necessary to become a very useful clothing store: its fabric is designed in a herringbone format and has an easy-to-deploy cover.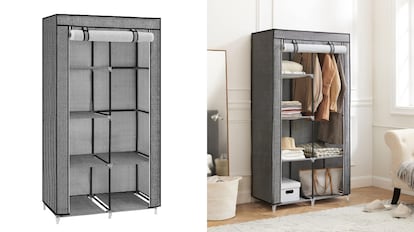 Cloth Wardrobe with 12 Compartment Cover, Songmics
For sale in five very elegant colors, the layout of this folding bedroom wardrobe is different from the previous one. Among other things, because it is larger in three rows: two narrower ones on the sides and one larger one in the center. The hanging bar can support up to 15 kg of weight and each of the shelves, 5 kg. Its instructions are easy to follow and are numbered.
Average rating: 4.2 out of 5 stars. More than 7,800 reviews.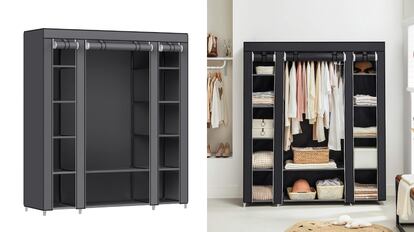 Detailed view of the wardrobe for the Songmics room.
Modular wardrobe with 16 visible shelves, Songmics
Alone or integrated into a larger piece of furniture: this storage solution is ideal, for example, for double bedrooms where you want to store shoes or clothes that complement your daily clothes. There are 16 visible cubes, measuring 30 x 30 x 30 cm. Made of waterproof plastic, they are very easy to clean and move. They are sold in various colors.
Average rating: 4.5 out of 5 stars. More than 3,500 reviews.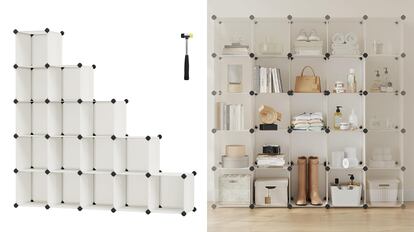 Front view of this modular wardrobe with 16 shelves.
Children's wardrobe with six modules, Xokotaki
Decorating a room for small children is easier if we have furniture that helps us with the task. The wardrobe we highlight has animal drawings on each of its six panels, which open through a hole without the risk of getting your fingers caught. In addition, the furniture is waterproof and comes with the entire assembly pack included.
Average rating: 4.6 out of 5 stars.
This is a wardrobe for small children with standard dimensions.
Open wardrobe with eight shelves, Songmics
The open and metallic cabinets produce a visual sensation of great lightness. This is what happens with this piece of furniture from Songmics. With a medium height, it offers two areas to hang clothes and several shelves to place them folded. The structure is made with strong metal tubes; Each shelf supports up to 8 kg of weight. For sale in three neutral colors that integrate very well in rooms, hallways or halls.
Average rating: 4.3 out of 5 stars. More than 1,300 reviews.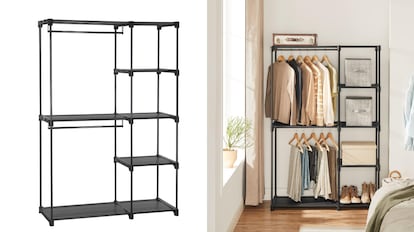 This independent and visible wardrobe has a double coat rack.
Modular wardrobe with 16 closed compartments, Homidec
In all likelihood, it is one of the most elegant products in this selection that you can find among the cheap wardrobes for sale on Amazon. Available in two colors, it has compartments with a large bottom where you can hang clothes without difficulty. In addition, each of the 16 modules has a resin door that keeps away moisture and dust.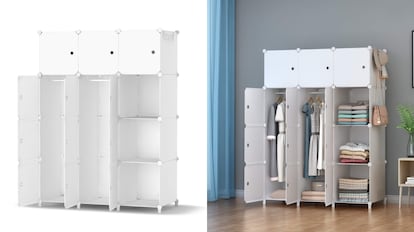 The cube-shaped compartments of this cheap wardrobe are large.
WOODEN OR CHIPBOARD CABINETS FOR BEDROOM
Open wardrobe with hanger and wheels, Homcom
Wardrobes in small rooms do not always have to be static, there are very practical ones that have rotating wheels with latches, like the one in the image. Its open design gives it a plus of modernity and among its storage space we find a bar to hang coats and dresses, as well as three shelves.
Average rating: 4.3 out of 5 stars.
This cheap wardrobe available on Amazon is equipped with wheels.
Multipurpose column type wardrobe, Habitatdesign
Another very useful option is to use a column-type auxiliary wardrobe. Its width does not exceed 40 centimeters but it has a height of 180 cm. As some comments indicate, this wardrobe is very useful to place in corners or very small rooms. Designed with a single door, it has four shelves.
Average rating: 4.2 out of 5 stars. More than 7,800 reviews.
A column-type wardrobe is ideal for corners or small spaces.
Wardrobe with sliding chipboard doors, Muebles Pitarch
Given its size (it is 33 centimeters deep), this wardrobe looks great in bedrooms, hallway areas or living rooms. Its usefulness is maximized if it is used as auxiliary furniture to store blankets or clothes that we do not usually use on a daily basis. It has a beautiful white color and its sliding doors slide smoothly.
Average rating: 4.2 out of 5 stars.
Front view of a bedroom wardrobe with sliding door.
Two-door wardrobe, Loungitude
Whether in matte white or oak, a wardrobe that includes two doors will add a touch of privacy and elegance to the room. This piece of furniture has a melamine finish and incorporates a coat rack inside. Its assembly kit is really simple and has metal hinges. In addition, it comes equipped with anti-noise studs.
Average rating: 4 out of 5 stars. More than 500 reviews.
This white wardrobe, with an elegant design, is made up of two doors.
Wardrobe with shelves, drawer and open dressing room, Habitatdesign
We close the selection of these tall bedroom wardrobes with the furniture in the image: a reversible walk-in wardrobe made up of four shelves (two of them adjustable in height) and an extra drawer. The white and oak option looks good in any room and, as it does not have doors, it is ideal for placement in small spaces. He has a height of 187 cm.
Average rating: 4.4 out of 5 stars. 400 reviews.
Detailed view of a wardrobe consisting of a coat rack and independent shelves.
*All purchase prices included in this article are current as of September 16, 2023.
(Remember that if you are an Amazon Prime user, all purchases have free shipping. Amazon offers a free, no-obligation trial period for 30 days.)
You can follow EL PAÍS ESCAPARATE on Facebook and Instagram, or subscribe to our Newsletter here.

#bestrated #bedroom #wardrobes #Amazon #price