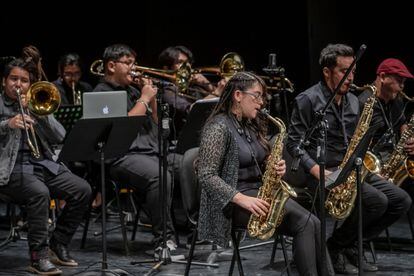 Members of La Pintana Big Band during a rehearsal, in Santiago. Cristian Soto Quiroz
EL PAÍS offers the América Futura section openly for its daily and global information contribution on sustainable development. If you want to support our journalism, subscribe here.
Emanuelle Valencia, 33 years old, a little over a decade ago he was a musician who played trumpet in several famous Chilean bands. He had started playing it since he was a child, so he had a high level of execution. "They called me a stump, because he played, played and played," he laughs. Today he is the director of La Pintana Big Band, a youth group that he created 12 years ago at the Forjadores del Futuro free school. The school no longer exists, but the band does. The kids in that first Big Band grew up. And now they teach jazz to the new generations on Sundays at the La Pintana House of Culture. They also go on tour and perform in different venues in Chile. They applaud them. They invite them. They give them as an example.
"Before leaving with the Big Band I felt empty. Something was missing, but I kept playing the same. Until it started to happen to me that I would get off the stage and go home crying. Because? I didn't understand," Valencia remembers. Until he was called to make music with the children of the school located in the heart of Población El Castillo, a neighborhood located south of Santiago. This place was created in 1981 during the Pinochet dictatorship to relocate people eradicated from the city center. It is a complex population, with high levels of drug addiction, hopelessness and crime.
Detail of a trumpet and sheet music during a rehearsal of La Pintana Big Band, in Santiago.Cristian Soto Quiroz
"Drug trafficking and consumption have strongly marked the form and rhythms of occupation of public spaces such as the street, squares, passages and shops, becoming one of the central causes of violence and crime among rival gangs that dispute control of the territory," wrote academics Ana María Alvarez and Héctor Cavieres from the Silva Henríquez Catholic University in a qualitative study on the sector.
The data from the latest Casen survey (National Socioeconomic Characterization Survey) in 2022 indicates that the percentage of poverty by income in the commune is 14.1% and the percentage of multidimensional poverty – which measures factors such as education, health, housing and not just income- is almost 33%, which places it above the regional average, 17.1%. In this neighborhood, there is little access to education, overcrowding, insecurity and monthly income that does not exceed $573. "The problems of the sector remain without major variations," since Ana María Álvarez studied the sector in 2016.
Valencia, the jazz teacher, remembers that when he arrived in the town, he saw true poverty. Raw life "The children's faces moved me deeply, their lives were difficult, tremendous stories," he remembers.
– Now Manu, what do we do? – the school director told him when he arrived.
-Let's make a Big Band- Emanuelle answered.
– What is a Big Band?
– A large Jazz band with trumpets, trombones, saxophones, pianos, drums, bass. With many instruments.
"Write down what you need," the director asked him and handed him a sheet of paper. There Valencia wrote: four trumpets, four trombones, two saxophones, drums, bass and keyboard. All. "When the new instruments arrived at school, the children jumped on them. They had never seen them before. They caressed them, ran their fingers over them, contemplated the shine of the bronzes. From that moment everything changed. I never cried again without knowing why. The Big Band gave meaning to my life," he says.
Noticed
Carlos Martínez, 24 years old, is a member of the Big Band. He started in the band arranging the sheet music. When they told him he could play the alto saxophone he couldn't believe it.
"I? Yes, I was deaf in one ear (he lost it in a car accident). The excitement was so great that I spent a whole month practicing a single note: the C. C in all its forms: sharp, C Major, C Minor. Do, do and do. It didn't move on to anything else. I loved the Do! I loved feeling like I could, so I repeated it over and over again," he says, still excited and smiling. Valentina Basoalto, 23, picked up a trumpet when she was 12: "I had never seen one. For me this was a lifesaver. I found friends, darling. I also found in music a way to tell people: 'Look, we live in a stigmatized population, but here we have extraordinary people, there are not only drugs,' she says with her chin up. Basoalto has grown up, she is no longer the little girl who learned to play trumpet. Today she is a self-confident woman who plays the trumpet like a professional.
In the center, Valentina Basoalto, one of the trumpeters of La Pintana Big Band. Crisitan Soto
"Before I was ashamed to say that I was from this town because they told me: 'Oh, El Castillo is super dangerous, it's always on TV.' Aren't you afraid of living there? I told them no, that in El Castillo there are many working people, people who go out to work at 5 in the morning. "We are not all criminals." She herself is a construction and music technician and a collaborator with Valencia, of the Kreart Foundation, ("Believe Creating Art") that teaches music for free. The idea came from the teacher and there she teaches and all the children – who have already grown up – and who now share what they have learned with the new generations. In total there are about 60 children who are training at the jazz school.
The classes are held every Sunday at La Casa de la Cultura de La Pintana, which is facilitated by the place. The funds for this initiative are obtained through donations from individuals. When the children arrive – says Basoalto – she remembers her own childhood when she went to the classes the teacher gave.
"Here children are marked with a difficult life from their grandparents and great-grandparents. But I tell them that with music they can make a difference. Make a better path," she motivates them. Basoalto paid for her studies alone. And she is the first university student in her entire family. At her job she went from counting vouchers to being the head of her section. She plays the trumpet every time she can, it makes her happy. And in these days she was given the keys to her own house in the rural sector of Nos. "I will take my mother to live with me. I dream of having a house where there is grass, trees, tranquility," she says.
Against loneliness
Jean Pierre García was alone when he was a child. Completely alone, because his parents had to leave home very early and return at night. In La Pintana there are very few jobs so people must travel many hours by bus to access a job.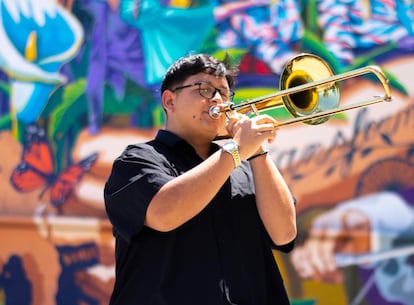 Jean Pierre García, trumpeter of La Pintana Big Band.EMANUELLE VALENCIA
"The commune has not been able to generate an economic base to produce jobs and, in its more than thirty years of existence, it has not been able to attract the real estate investment necessary to provide a sociocultural mix to the space," adds the study by the Doctor in Urban Planning and Space Conditioning of the Université Paris-Est Marne-la-Vallée, France, Ana María Alvarez. "It should be noted that more than 90% of the homes installed there are social housing."
The specialist adds that half of metropolitan employment is concentrated in a few municipalities of the city of Santiago (Central and Eastern Zone) and 45% of the inhabitants of the southern zone, where El Castillo is located, move to these sectors: "If we add to this that the average travel time by public transport from La Pintana to these sectors where employment sources are located is more than two hours, then it is evident that the possibilities of accompanying children are considerably limited" , he concludes.
In addition to loneliness, García had to endure as a child the bullying he received at school and the death of his favorite uncle who committed suicide due to drugs. Still, his life was becoming a difficult mountain to climb. "I was nine years old, I was upset when I asked Valencia if I could join the Big Band. 'What instrument do you want?', he told me. 'That one,' I asked. And I pointed a trombone at him. I was able to take it home and rehearsed for three hours straight without stopping. He was like a friend," he says today that he is already studying music at university.
On Sundays he also takes classes at the Kreart Foundation, at the Pintana House of Culture. And today, the day of this interview, she is on stage, in a dress rehearsal for the play The Lion King. Valencia looks at him from below the stage. They have known each other for more than ten years. He says that he is proud of everything he has achieved. He sees him happy. And he is too. For him and for everyone.
-How did you get a child who doesn't know anything about music to play this way?
-Not even I know. I learned from them to teach. It was a mutual learning. What I do know is that who I am today is based on this story.
#Pintana #Big #Band #young #Chileans #jazz #save #lives