While rescue efforts in Morocco enter their final stage after the devastating earthquake last Friday – which has already left nearly 3,000 dead and more than 5,500 injured -, hundreds of people in Spain are mobilizing with the support of neighborhood and social associations to Send help to survivors. Requests for assistance on social networks encouraged cases such as that of Salma Aitel, a 24-year-old community manager, born in Casablanca and living in Madrid. "I posted on Instagram that in my town we needed help and it spread everywhere. I never thought that the initiative would become something so big," he assures EL PAÍS in a telephone conversation.
Its collection plan, distributed in four points in the Community of Madrid (the areas of Embajadores and Usera, in the capital; and in the municipalities of Parla and Alcalá de Henares), mobilized dozens of people. "We need up to 30 volunteers to organize," he says. Bags with sheets and blankets, boxes with coats or slippers, others with diapers and non-perishable food filled the collection points. "We only had a couple of vans and now we have three trailers full of donations," he says.
Civil society carries out the task of providing humanitarian assistance, a task that has been vetoed to countries such as France or Germany due to the refusal of King Mohamed VI. At the moment, Rabat has only accepted help from four countries: Spain, the United Kingdom, the United Arab Emirates and Qatar. Much of the aid is promoted by private initiatives. In Spain, dozens of associations and citizen groups – led mainly by people of Moroccan origin – have called this week to collect food, clothing, medicines, diapers or medical supplies.
Aitel thanks her friend Sofia Meca Ekasser, a 26-year-old Moroccan administrator, who was the first to spread the campaign on her Instagram (with more than 30,000 followers) for the success of the collection. "We are not part of any association and yet we collected much more than we expected. The impact of the networks is brutal," says Aitel, who traveled to Morocco this Thursday to distribute aid in Marrakesh and Ouarzazate, one of the most devastated cities after the earthquake, where his paternal family is from.
People help load a trailer with donations to Morocco, in Madrid, in an image provided.
In the Madrid neighborhood of El Pilar, a group of friends who are around 20 years old launched a collection campaign on Instagram and on X (a social network formerly known as Twitter) since Wednesday. "There is a large Moroccan community in the neighborhood. There are people here who still do not have news of their family, so we want to help in any way we can," says Ibra, a 20-year-old young man, at the Youth House, a neighborhood meeting space where they received the donations. A few hours after the start, his collection accumulated dozens of bags with winter clothes, diapers, flashlights and medicines. "Not food, because (Morocco) customs throws it away," warns the young man, based on rumors spread on social networks.
Join EL PAÍS to follow all the news and read without limits.
Subscribe
The challenge that remains now is huge: getting aid to the most affected areas in the shortest time possible. Sabah Yacoubi Channing, president of the Association of Moroccan Workers and Immigrants (ATIM) in the Region of Murcia, explains that, despite the solidarity of the community, it is also important that companies, especially transport companies, join the initiatives. local. "We call for support from companies (to lend their vehicles)," claims the directive. In his association they receive transfers to be able to pay for the transportation of aid: "If no one can give us a ship, we will raise the money for one."
Salma Aitel has done the same. Friends and volunteers raised money to finance the trailers, which left for the south on Wednesday night. "I hope they don't have problems at the border," emphasizes the young woman, who confesses that "the information is very confusing regarding the issue of customs." "We have sent an email to the Embassy (Moroccan in Spain) to ask for instructions, but there has been no response," she says.
The army of the Alawite kingdom and international rescue teams, including the Spanish Military Emergency Unit (UME), are key to the distribution of aid. This is what Miguel Riqueni, leader of the Rally Solidario association, defends, which collects clothing, school supplies and food every year to distribute in Morocco. "We will take the donations in trucks to Marrakech. Once there, we will divide ourselves into three 4×4 cars to be able to reach the mountain and the isolated areas. I know guides and soldiers who can help us," he says by phone from Seville. The group will collect donations until Friday to begin the distribution task starting Sunday in the Atlas region, which felt a 4.6 magnitude aftershock this Thursday, the largest since Friday's earthquake.
Despite the urgency to send the first aid package donated by civil society, the ATIM association understands that it is not a speed race, but rather a race of resistance. "People are not going to have housing from one day to the next and they are going to need our support for at least three years," calculates Yacoubi. That is why it will keep the more than 15 collection points in Murcia open for several weeks: "There is no deadline for receiving donations."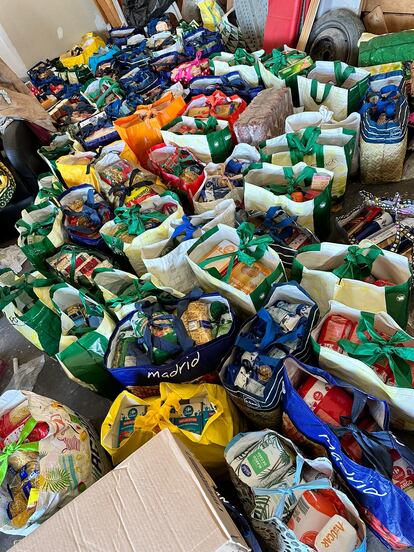 Salma Aitel hopes that donations will reach the most affected areas this week.
Follow all the international information on Facebook and Twitteror in our weekly newsletter.
Subscribe to continue reading
Read without limits

#Moroccan #community #Spain #turns #victims #earthquake #thought #initiative #great