We select laptop backpacks that will make it easier to transport from home to work or university. LENOVO.
September is, par excellence, the month of returning to school and work after the holidays. For many people, this means having to carry their laptop with them when traveling from home to the office or from home to school. Carrying it incorrectly can cause back pain and other discomfort, so experts recommend distributing the weight properly to avoid injuries or contractures.
A good way to do this is to place your laptop in a computer backpack that is designed to protect it while traveling and also store other small objects and accessories. To make the task of choosing computer bags easier, at EL PAÍS Escaparate we have selected eight shoulder bags, briefcases or laptop backpacks that adapt to different styles and are great for daily use or on business trips.
BAGS, CROSSBODY BAGS AND LAPTOP BRIEFCASES
Laptop case with RFID protection
With more than 4,000 reviews and an average rating of 4.6 stars out of 5, this computer case is one of the favorites of Amazon users. Its success lies in the quality of its materials, very resistant for daily use. It is also equipped with RFID protection for cards and Bluetooth connection. Its measurements are 40 x 6.5 x 28 centimeters.
An elegant and simple computer case. HP ESSENTIAL.
Water-repellent shoulder bag for laptops
"Spacious and comfortable to carry," is how those who have tested and reviewed it define this laptop bag. It is a black model with multiple pockets to also carry documents, books, chargers or other small objects. Despite its size, it is light and both the wings and the strap of the shoulder strap are very resistant.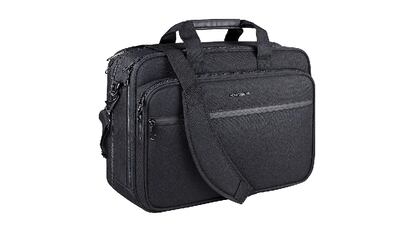 This laptop bag has a sober design, perfect for professional environments. KROSER.
Laptop shopper bag, various colors
The best-selling bag on Amazon in the "women's totes" category is also an excellent option for carrying your laptop on any occasion. It is available in nine very wearable colors and closes with a zipper for greater security.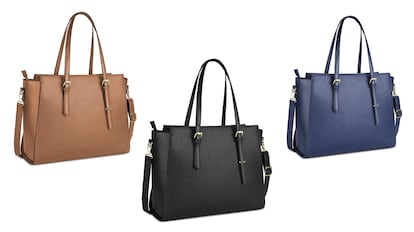 A stylish and very practical computer bag. NEWHEY.
Protective laptop sleeve, various colors
Grey, pink and black are the three shades in which this laptop case is sold online. You can also choose between different sizes and the interior is distributed in comfortable compartments to transport other things in addition to the computer.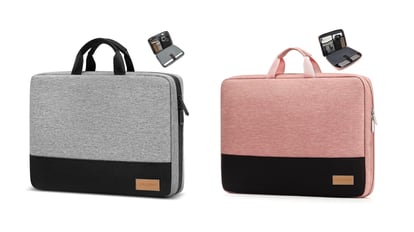 The outer fabric of this laptop case is waterproof and scratch resistant. BAGASIN.
LAPTOP BACKPACKS
Laptop backpack with USB charging port
It is a backpack designed to comfortably transport your laptop that offers many other advantages: USB charging port, anti-theft lock or multiple interior and exterior pockets. It has been made of polyester and has high quality metal zippers.
This computer backpack is lightweight and can be purchased in different colors. KONO.
Waterproof and anti-theft laptop backpack
With a minimalist, modern and elegant design, this laptop backpack is a perfect candidate to adapt to different styles. In addition, it is equipped with a USB port and a headphone jack. Its outer fabric is waterproof and cleans very well.
Navy blue and black are the two available versions of this backpack to carry your computer to work or study. VODLBOV.
Casual laptop backpack, various colors
A Lenovo proposal available in grey, green or carbon black, which offers comfort and practicality in equal parts. The fabric in which it has been made is water-repellent and very durable. It has several well-positioned compartments and pockets.
This laptop backpack fits computers with a size up to 39.6 cm (15.6 inches). LENOVO.
Waterproof unisex backpack for laptop
With a large storage capacity (up to 25 liters), this computer backpack is a multipurpose and all-terrain option for travel or everyday use. It has elastic and padded fastenings for greater comfort and is made of a waterproof material that prevents what is inside from being damaged by rain. Those who have tried it say that "the backpack is very useful and practical."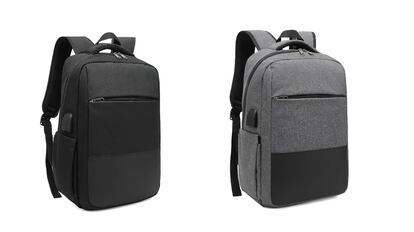 The back of this laptop backpack features an anti-theft pocket. BESTTRAVEL.
*All purchase prices included in this article are current as of September 12, 2023.
(Remember that if you are an Amazon Prime user, all purchases have free shipping. Amazon offers a free, no-obligation trial period for 30 days.)
You can follow EL PAÍS ESCAPARATE on Facebook and Instagram, or subscribe to our Newsletter here.

#Backpacks #bags #laptop #cases