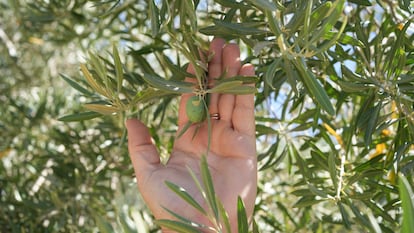 An olive tree affected by drought.Anadolu Agency (Anadolu Agency via Getty Images)
The consumer is amazed. Extra virgin olive oil (EVOO) has exceeded 10 euros per liter in many supermarkets. Something unthinkable two years ago. This increase in prices has its origin in a drastic drop in production due to the persistent drought, which has ruined many farmers and cooperatives. But not to all. A Spanish asset manager, Beka Finance, launched in 2020 a venture capital fund specialized in investing in olive plantations with the most modern production systems. By using agronomic techniques, their production has hardly been affected and they are billing more than ever. Private banking clients who were able to access this product (with a minimum investment of 100,000 euros) will be able to achieve returns of 20% annually.
Fernando de la Vega, one of the top sales managers at Beka Finance, acknowledges that investing in olive groves was not even the original idea. "In 2019 we saw that interest rates were still very low, that there was a lot of interest in alternative investments to bonds and the stock market, and that there was a bubble in traditional venture capital funds, that's why we started looking for new options for our clients. ".
They thought about launching a fund specialized in the purchase of hotels but, with the pandemic, they discarded the idea and began to evaluate the option of entering the so-called agribusiness: investment in the primary sector but with very advanced financial criteria. It was at that moment that they met the ideal partner for this project.
Bolschare was a Portuguese family company that had been planting olive trees for years with a technique that was going to completely revolutionize this type of plantation: instead of arranging the trees isolated from each other and 10 meters apart, as was the traditional way, they began to planting olive trees in long rows, much closer together, and pruning them so that they did not exceed three meters in height. In addition, a precise drip irrigation system was installed in all these hedges. Thanks to the proximity of the Alqueva reservoir (in the Portuguese Alentejo), water was guaranteed. Something fundamental in times of climate change and increasingly frequent droughts.
This technique allows us to go from 300 olive trees per hectare to almost 2,000 trees per hectare and multiply productivity. Furthermore, as they are aligned and low in height, the harvesting technique is not manual, but rather with tractors that pass over the hedges and harvest at full speed. Monitoring the health of the plantation is done with drones.
"The business idea was good. We partnered with Bolschare as an industrial partner to launch the Beka & Bolschare Iberian Agribusiness Fund and today we have already invested more than 50 million through the fund and the venture capital company linked to the project," explains De la Vega. The figure could double in a few months if an agreement with the Official Credit Institute (ICO) is successful.
The fund now owns about 1,300 hectares of crops in Portugal (mainly olive groves) and another 1,500 hectares in Talavera de la Reina (Toledo), which will be dedicated mainly to almond production.
Initial calculations pointed to an average annual profitability of between 11% and 13%, during the 10 years of life that this type of project usually has. But the rise in olive oil prices has changed everything.
A fund with the highest environmental rating
Article 9. European regulations on advertising in investment products are very strict regarding which vehicles can carry the "green" fund or "sustainable" fund label. Only those that have a very specific investment purpose and methodology, with this focus, can be classified as article 9 funds, the highest qualification in this matter. Beka & Bolschare Iberian Agribuisiness was the first venture capital fund in all of Europe to access this category, almost without intending to. Efficiency. The key to achieving this has been that drip irrigation allows you to drastically reduce the consumption of water and nutrients for this type of production, also called intensive crops. The other side of the new agricultural technologies affects the workforce. On a 1,000-hectare farm, only four or five workers are harvested, compared to the 400 that would be necessary on a traditional cultivation farm. In addition, the optimal collection date can be adjusted much more.
The causes of oil inflation are multiple: the war in Ukraine (which has reduced the production of other types of oils) is pointed out; to the increase in costs (due to the rise in fuel and fertilizers), but the main factor is the drought.
Spain produces almost half of the world's olive oil, and 70% of these crops are rainfed. With the lack of rain in the last two years, the olive harvest has plummeted. According to sector calculations, in 2023, about 700,000 kilos of oil will be produced in the oil mills, while the normal thing was to obtain almost double that, about 1.3 million kilos.
"On our farms in the Alentejo, where we have guaranteed irrigation rights thanks to the Alqueva reservoir, which has energized the entire region, we have suffered almost nothing from the drought. Production falls slightly due to high temperatures, but a kilo of oil in the mill is being sold for almost eight euros, which triples the average price of the last 20 years," says De la Vega. In this scenario, Beka Finance wants to continue growing with its commitment to agribusiness and continue buying farms in Spain and Portugal.
And what can we expect in the coming months? Well, good news for investors and bad news for consumers. The manager is considering three scenarios. In the most prudent, the price drops to 7 euros per kilo at the end of the year (it would be partly motivated by the fall in demand); a central scenario at 9 euros per kilo, and an aggressive scenario at 12 euros per kilo, in which green gold would become increasingly golden.
Follow all the information about Cinco Días on Facebook, Twitter and Linkedin, or in our Five Day Agenda newsletter
Register for free to continue reading in Cinco Días
If you have an account in EL PAÍS, you can use it to identify yourself
Thanks for reading Five Days

#venture #capital #fund #making #gold #olive #oil #euros #liter