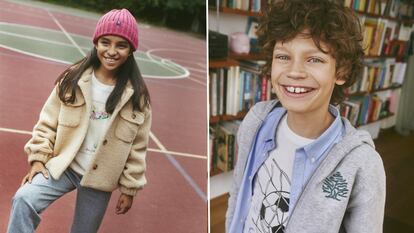 Do you know all the news from the Springfield KIDS collection for this fall?
The catalog of the big fashion brands is ready to offer the best clothes with which to face autumn in an adequate way. One of them, the Spanish Springfield, has launched a wide variety of coats, parkas, long-sleeved shirts, hooded sweatshirts, jeans or tracksuit-type pants in the children's fashion category at a 20% discount on their original price.
Some basics that cannot be missing in any wardrobe of the smallest of the house, made of durable materials and with very attractive colors. In addition, its wide universe of sizes means that we can purchase garments for both children from 5 years of age and adolescents from 12 years of age. Save the most on the return to school!
AUTUMN FASHION FOR GIRL IN SPRINGFIELD
Long-sleeved T-shirt with print for girls, by Springfield
If there is a quintessential autumn basic, the long-sleeved t-shirt cannot be missing from a children's wardrobe. An essential mid-season garment for indoors and outdoors (if the temperature is mild). For sale in pink and cotton, on the front it has a 3D fruit motif. Straight cut, it is suitable for girls up to 12 years old.
Now, with a 20% discount.
Springfield Girls' Long Sleeve Hooded Sweatshirt
In Springfield you can also find discounted clothes like the one in the image: a fitted girl's sweatshirt with an oversized knit and available in sizes from five to ten years old. The garment features a flower print on the chest and back and is sold in a casual soft blue tone.
Now, with a 20% discount.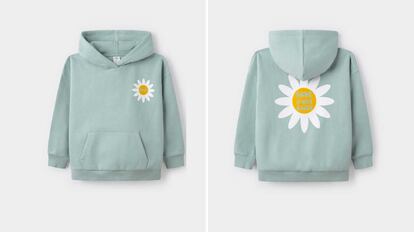 The most characteristic of this long-sleeved sweatshirt are its prints.
Culotte jogging pants for girls, by Springfield
This is a garment made of a mixture of cotton (70%) and polyester (30%), very suitable for extra comfort, especially in school or extracurricular sports routines. It has an elastic waist and a culotte design on the back. As a detail, there is a small flower embroidered on its side. Sold in two soft colors.
Now with a 20% discount.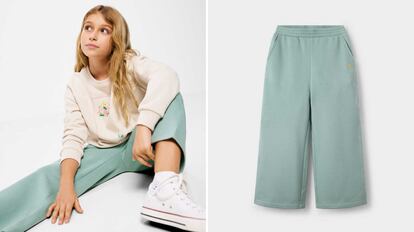 Long sweatpants for girls for sale in two colors.
Culotte trousers with five pockets for girls, by Springfield
Comfort, softness and great autonomy in terms of movement: these are stretch denim, a trendy pair of pants in recent years. In fact, they are garments that fit the figure thanks to the elastane part they include. Available in three pastel colors, it features a medium rise, five pockets, zipper and button closure, and elastic waist.
Now, with a 20% discount.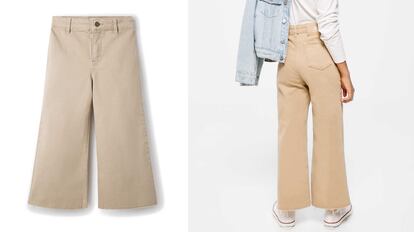 Girls' straight-cut pants for sale in Springfield.
Padded jacket in three colors for girls, by Springfield
It is a basic garment to face the rainy autumn days on the way to school without any worries. With waterproof qualities, this hooded puffer jacket is made of nylon. It has a front closure and zipper pockets, and the length of the garment falls below the waist. Available up to 12 years of age.
20% discount, save 8 euros.
A coat for girls that comes with a pleasant outer padding.
AUTUMN FASHION FOR CHILDREN IN SPRINGFIELD
Springfield Boys' Basic Long Sleeve T-Shirt
The softness and warmth of a long-sleeved t-shirt worn in autumn is difficult to beat with any other fabric. The garment in the image, available in black and also white, has a simple cut, a round neck and a regular fit. The outer fabric resembles peach skin. It is available in sizes five to 12 years old.
Now, with a 20% discount.
An essential autumn wardrobe essential: the long-sleeved t-shirt.
Springfield Boy's Hoodie
The bicycle is transforming the way we move around cities. And clothing brands know it. For this reason, Springfield has chosen its symbol to illustrate this outerwear garment, available in white and navy blue; for both formal and informal looks. With a straight cut, its front pocket is a kangaroo type. Sold in sizes up to 12 years.
Now, with a 20% discount.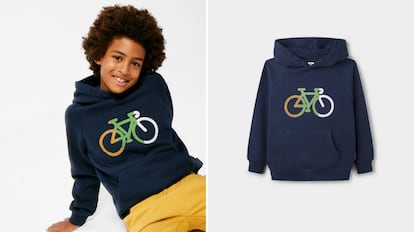 View of a children's sweatshirt with an original contrasting central logo.
Springfield Boy's Open Front Logo Sweatshirt
The colors of autumn par excellence are those related to ocher tones. Therefore, yellow falls into this category. In this same tone, you can purchase this children's open sweatshirt for boys on the Springfield website. Its print in another high-density color makes it more attractive at first glance. It also has two side pockets and a front kangaroo pocket. It is available in sizes from 5 to 12 years.
Now, with a 20% discount.
Front view of the open sweatshirt for boys from the KIDS collection.
Springfield Boy's Jogger Pants
Joggers have jumped from the gyms to the streets in recent years and are an ideal alternative to the classic tracksuit. Available in three casual colors, these sporty cotton pants include two side pockets and an elasticated waist with elastic and drawstring closure. It is sold in a wide number of sizes.
Now, with a 20% discount.
Detailed view of the 'jogger' pants from the KIDS collection.
Denim pants for boys, from Springfield
A stretch jean with a turned-up leg cannot be missing from a basic this fall of 2023. It is a garment that can be used for any formal occasion and, in addition, it has an elastic touch that is ideal for the movements of the little ones. Medium-rise, includes five pockets and a regulator inside the waist. Sold in a single denim blue color.
Now, with a 20% discount.
Denim pants look great for any plan.
Boys' hooded puffer jacket by Springfield
An ideal garment to cope with the cool temperatures that already begin to occur in the month of September and with which to withstand the cold night present in autumn. It is equipped with thermal padding and an outer layer that effectively repels water. All of its pockets have a zipper closure. For sale in three colors such as garnet red, dark blue or bottle green.
20% discount, save 8 euros.
The padded coat for boys from the Springfield KIDS collection.
*All purchase prices included in this article are current as of September 11, 2023.
You can follow EL PAÍS ESCAPARATE on Facebook and Instagram, or subscribe to our Newsletter here.

#Fall #basics #Springfield #discount #boys #girls