Ana María Campillo and her friend Isabel wanted to play a joke on the boys they were dating in mid-1974, when it had not yet been a year since Augusto Pinochet's military dictatorship. The four university students were left-wing and participated in minor resistance activities. They considered that their partners, members of the Socialist Party, were somewhat careless with the clandestine material they handled, so they thought of giving them a scare in the apartment they shared. They had met at night, but the young women, who had a key, arrived first. They played a Swan Lake record and, laughing, messed up the house to make it look like it had been broken into. At 7:00 p.m. the doorbell rang. Isabel went to open the door and returned to the living room with a shocked face. "How well this is acting," Ana María thought, until she saw a man dressed in civilian clothes appear pointing a machine gun at her. Then four more were seen.
In a cafeteria steps from the Plaza de la Constitución, in front of the Presidential Palace of Chile, Ana María Campillo (70 years old, Osorno) remembers the innocence and struggle of that group of friends. The Carabineros Intelligence Service (SICAR) headquarters operated in the underground of that square, one of the most unknown repression centers in the country. There they interrogated, tortured and raped Campillo. Her story is clear and emotional. But she is tired. On August 30, almost half a century after what happened, the Supreme Court convicted six former SICAR agents for the crimes of which she was a victim. The work of the Humanas Corporation was key in the search for justice. That same day, President Gabriel Boric placed a plaque showing that the current La Moneda parking lot was Barracks No. 1, a torture center.
The activity was carried out without the presence of the press, just minutes before informing the country about the Search Plan for the disappeared of the dictatorship. A dozen members of the Plaza de la Constitución collective, the victims' group made up of some 30 survivors of the barracks that operated between 1973 and 1974, were present. Three ministers -Carolina Tohá, Camila Vallejo and Luis Cordero- and the general director also participated. of Carabineros, Ricardo Yáñez. The person in charge of the presidency warned the group the night before that Yáñez would participate in the ceremony. "He was very restorative. The president was very close, he hugged us. Being there, giving relevance to that site, the basement of the Government House where democracy was bombed, is very important," says Campillo.
"The second kidnapping was ugly"
Campillo settled in Santiago during the Allende government to study nursing at the University of Chile. She lived in a female pensioner, where left-wing ideas were dominant, the same ones she had heard from her father, a Spaniard who fled the civil war in his country, and from her brother, a member of the Movimiento de Izquierda Revolucionaria (MIR). ). She was committed to the Popular Unity project and enjoyed the "cultural explosion." On September 11, 1973, the day of the coup, she caught her at the Center for Socioeconomic Studies (CESO), dedicated to advising Allende and where another of her brothers fulfilled an administrative role. The investigators, most of them foreigners, asked for asylum as the days went by until only the Campillos remained. Her plan was one: resist.
Even though Ana María was not a militant nor did she have any position with interference, she was expelled from the university. In March 1974, she began dating Francisco, a socialist economics student who introduced her to her political world. She introduced him to her roommate, Alberto Zerega, and he introduced him to her brother, Víctor. "We continued doing very minimal resistance activities," Campillo points out, such as distributing the Unidad y Lucha newspaper. On a couple of occasions, Víctor Zerega, who had a relevant position in the clandestine structure, asked him to accompany her to certain places as if she were her girlfriend. He warned her that it could be risky, but Ana María agreed without asking any further questions.
It was the afternoon of June 19, 1974 when Ana María, 20 years old, and Isabel, messed up their partner's house in the municipality of La Reina. The agents searched and interrogated them against the wall until three boys arrived: Francisco, Ana María's boyfriend, Alberto, Isabel's boy, and another roommate, a worker who was not involved in politics. They were all asked insistently about a certain Santiago.
The agents questioned the young people, while others rummaged through the bags and drawers of the house. When Colonel Manuel Muñoz Gamboa found a microfilm from a leftist newspaper, they were taken into custody. Blindfolded and handcuffed, they were put in a van towards the clandestine barracks under the Plaza de la Constitución, known today as El Hoyo. Isabel, her friend, was taken to her house. She was the niece of a Carabineros general.
"I was very scared, but I tried to stay calm. We were not at all so involved as to think that they were going to do the worst to us," explains Campillo. They were kept locked up for four days in what had been a 3×2 meter bathroom, crowded with five other detainees. One of them, a little boy, was crying inconsolably. He had been the one who betrayed the Queen's house. He desperately asked for their forgiveness. Francisco, the most combative, begged the agents not to do anything to Ana María, then a young woman with long hair and hippie clothes, whom they baptized Little Lobster, after a popular song of the time.
"In the first kidnapping I was not tortured, but they stripped me naked and beat me. The second one was the one that was ugly", says Ana María. They released all their friends, except Francisco, their boy. When they got into the truck, the driver told Alberto Zerega: "Your brother already shit." In those free hours, Campillo reported this situation to two students from the political circle. It was a fact that marked what would come later.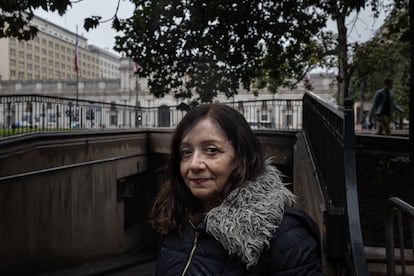 Ana Maria Campillo in Santiago. SOFIA YANJARI
"He won't come back from this"
At six in the morning the next day, a group of agents broke into The Queen's house again. Alberto, resigned, prepared for arrest. "No, you stay there, we need her. And this time wear warm clothes, because she won't come back from this," said one of the agents, pointing out to Campillo that she had possibly been spied on while she was giving the message. They took her again to El Hoyo, where the boy she was dating, Francisco, continued. "The treatment there was very harsh. He thought I had lied to them and that I was someone important. They raped me and warned me that if I complained they would rape me 10 more times," Campillo recalls.
The captain of SICAR, Germán Esquivel Caballero, personally went to interrogate Ana María Campillo. She insistently asked him about Santiago, who, according to what he learned between the two arrests, was the badge of Víctor Zerega, who was detained in the same compound. Víctor served as a member of the Central Committee of the Socialist Party, something that Campillo was unaware of.
Seven days later, on the night of July 1, they released her on Alameda Street. She claims that she played the role of a fool and, although they made her pay, she worked. With her clothes torn, dirty, walking erratically through the week of darkness, she entered a cafeteria to ask for a phone. She went to Alberto, her friend, who immediately asked her if she had seen Toquinho, as she affectionately called her brother Victor. Ella Ana María told him that she was in the barracks and that she had been able to talk at length with him during the nights of confinement. And the last thing she had heard was that they would take him to Valparaíso. A few days later, it appeared in the red press that he had been found dead on the beach. Drowned and shot. The cause of death, the article with false information stated, had been a fight between homosexuals.
Ana María, with a sweet look and transparent voice, interrupts the story. She breaks. "49 years and one still suffers…why? Because there has not been a path of repair. Each one has managed as best they can. I did therapy, but for a long time I didn't talk about these things out of fear. Support has been very precarious," she says.
Francisco, the boy she was dating, was taken to the torture center at 38 London Street and then went into exile in Mexico. He left the country thinking that Ana María was dead. The guilt accompanied him until he returned to Chile in the early nineties and asked a friend what was known about Alberto Zerega, his roommate and brother of Víctor, an executed politician. They told him that he was fine, married many years ago to Ana María Campillo, and that they had three children. Francisco, out of his mind, contacted them. It was a meeting full of pain and forgiveness. reparative. Alberto and Ana María broke up 20 years ago.
Today, the Plaza de la Constitución collective, to which Ana María Campillo belongs, is waiting for La Moneda to fulfill its commitment: to place a monolith in the Government Palace square inspired by the curved wall of the underground where the center of torture. It will have a crescent-shaped garden where a plaque will be raised that mentions the barracks and another to Víctor Zerega. The word of the Executive, according to Campillo, was to inaugurate it next year, on the 50th anniversary of Toquinho's murder.
#Torture #abuse #basements #Moneda #reparation #managed