The Colombian Sergio Díaz-Granados (Santa Marta, 54 years old) usually includes a wish in his speeches: to see the voice of Latin America and the Caribbean strengthened in global forums. This week, the region will have a great opportunity – the second this year – to do so by speaking face to face with European countries. It will be at a meeting in Santiago de Compostela (Spain) where the 27 Ministers of Economy and Finance of the European Union (EU) and their 33 peers from the Community of Latin American and Caribbean States (CELAC) will discuss opportunities in the region. The idea is to carry out the investment agenda announced last July in Brussels by which European countries have committed to investing 45 billion euros (50.5 billion dollars) until 2027 in financing plans for the region through the Global initiative. Gateway that seeks to accelerate the green transition, digital transformation and human development.
"We left Brussels with a project navigation chart and the idea of ​​this meeting in Santiago is precisely to push the concretion and materialization of these expectations," says Díaz-Granados, one of the promoters of this summit, in an interview with EL PAÍS . For him, this meeting is an "opportunity to build the relationship in a different way" between the blocks that, before the July summit, stayed away for seven long years. "I feel that we have begun to lay more foundations for the relationship," says Díaz-Granados, who asks to look beyond the blocks to the "full potential of Europe and the full potential of Latin America and the Caribbean."
The EU is the region's third trading partner, behind China and the US. In addition, it is the main source of foreign direct investment. This new push to strengthen ties with Latin America has been interpreted as an attempt to counteract the weight that China is taking on in the region. But, for Díaz-Granados, there is no discussion. "The starting point is to understand that Latin America is not a region in dispute, it is a region that has to work with all the blocks and have a healthy and harmonious relationship with each of them. They cannot see us as a continent that simply has minerals, metals and hydrocarbons or gas, but rather it is a region with which we can work and must work to also ensure its more harmonious, more sustainable development," he maintains. "And you also have to visualize a block with which there are very deep cultural ties, which is Africa"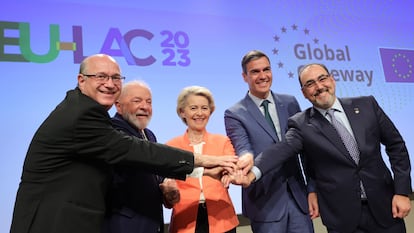 Ilan Goldfajn, IDB, Lula, Ursula von der Leyer, Pedro Sanchez, Sergio Diaz Granados and CAF. OLIVIER MATTHYS (EFE)
Díaz-Granados speaks with EL PAÍS by video call before the Santiago ministerial summit organized during the Spanish Presidency of the Council of the European Union and with the support of CAF, which together with other development banks will play a vital role in guaranteeing that the European investments go ahead.
Ask. In a polarized society, when we talk about projects like those of Global Gateway, what mechanisms can be implemented to guarantee that they remain over time, that a project does not change when a Government changes?
Answer. The rigor of the projects must be solid enough so that society itself appreciates them, incorporates them among its priorities and thus, no matter the political cycle, society as a whole wants to effectively see certain projects that are necessary. So, I believe that to the extent that we manage to preserve that dialogue with society, where we identify which projects are essential for survival, to reduce poverty or to prepare for climate change, those projects will have a very unique type of protection, very special: that they are a priority for society, regardless of who is in charge of the Government. And we banks have to be able to accompany these efforts so that the works do not suffer setbacks or setbacks.
Q. One of the things that was talked about a lot in Brussels was renewed investments, not replicating extractivist models. How is that going to be translated?
R. We must work on the idea that knowledge can and should be transferred and work on knowledge and innovation agendas in Latin America and the Caribbean, as European companies have done in China in the last 30 or 40 years. transferring technology and helping Chinese companies develop innovation. We expect the same to happen with Latin America, and I think that this is going to be something that the development banks are going to be constantly promoting over the next few years. We do not want technology to be sold to us, we want to manufacture technology, we want to share knowledge and we want knowledge to be generated from Latin America for the world as well. What we hope is to be able to do joint projects in advanced technology and not simply buy materials again, as we did in the 20th century.
Q. Latin America has a dilemma between the need to continue growing in a world that needs to slow down and reduce emissions. In the case of developed countries, it is perhaps more evident that they have the capacity to do so. But in Latin America, it is necessary to continue growing… Do Europeans understand that the starting point is different for the two regions?
A. In Brussels, the leaders expressed their concerns and their approaches and at the level of the summit of ministers this must also be reflected (…) It must be understood that the starting points of Europe and Latin America are different. If we can understand this heterogeneity, we can quickly agree on solutions. When we look at the maps that NASA has made on CO2 emissions and retentions, one observes the mass of CO2 in the north and the great lungs of Latin America retaining as much as possible. I think what needs to be done is to focus on reforestation. That brings us to debt-for-nature swap mechanisms. It leads us to another type of conversation, which is what should happen in Santiago de Compostela. And it is how we manage to understand that, if we all preserve the natural capital of Latin America, we will be able to more quickly close the carbon neutrality equation by the middle of the 21st century. But that cooperation is still very much in the stratosphere. There are very few projects and very little awareness that it is urgent in the case of Latin America and the Caribbean and Europe to seriously review the problem of deforestation.
The starting point of mitigation is much more demanding for Europe than for Latin America and the Caribbean. Our point comes more from adaptation than mitigation. Furthermore, we have always talked about working on the two variables at the same time: poverty and the environment, so that we can produce that change. We cannot reduce poverty by emitting more because we would go in the opposite direction to what the world needs to go today, so the model that we have to incubate right now is a model that allows economic growth, allows the generation of employment and opportunities and at the same time reduces emissions. The point at which we find ourselves today is the creation of new instruments, new channels that allow economic growth, increase productivity and reduce emissions and, at the same time, preserve natural capital and biodiversity for the purposes of safeguarding life in the planet. So that is precisely the conversation of Santiago de Compostela, it is how we imagine this world where we create the incentives, we create the instruments that allow orderly growth and that allow the sustainability of our natural capital.
Q: It is a very complicated balance. We are seeing this in the case of renewable energy projects that are generating social conflicts, as, for example, in La Guajira, or with the development of lithium in South America. How to ensure that this development leaves no one behind?
A: In the generation of all these opportunities we must incorporate. populations, especially when it comes to solutions that emanate from the territories where populations that have historically been excluded reside. They must be incorporated into the solution. There has to be that awareness in the preparation of the projects and I think that in that, both the banks and the development agencies have been insistent that we must incorporate that voice of the active participation of the communities to be able to advance in the projects, not simply ask their permission: really incorporate them into the management, into the construction of those projects, be they wind or photovoltaic or watershed protection, recovery of natural capital, or control of overflowing mining that has effectively damaged many watersheds and many rivers, especially in South America. To the extent that we incorporate this very clearly in the conversation, in the preparation, we guarantee that the projects are carried out but that they also have a component of redistribution and promotion of equal opportunities, which is essential today in a continent like Latin America and the Caribbean.
Q: Those differences in the starting point of Europe and Latin America that you were talking about have become clear in the negotiations of the EU-Mercosur agreement. In Brussels there was talk of an agreement by the end of the year. Do you think it's close now?
A: It makes perfect sense in the 21st century that we have this Mercosur-EU agreement. It seems unbelievable that we have been talking about this issue for almost three decades and that it has not come to fruition. No negotiation is perfect. There will always be something that someone will not like, but the important thing is to conceptualize that 100% of the arrangement is better than the absence of the arrangement. When we reach that sum, because this cannot be a matter of accounting entries, of who wins, who loses, but rather 100% agreement serves and contributes to a purpose that is to reduce poverty, to increase interaction, I believe that there we will have taken an important step. Furthermore, Europe would consolidate itself as the region most integrated with Latin America and the Caribbean, which helps Europe and Latin America see each other as regions that are complementary and that can build global solutions together.
To the extent we keep that in mind, it will be easier to reach agreement and seek agreement. I hope it arrives At CAF, we have expressed the importance of this agreement for the EU and for Latin America, not only for Mercosur and Europe, but for the entire region. We would have one of the largest trading areas in the world. It would make it possible to increase investment flows, but we would also do it at a time when the world requires a paradigm shift and a change in the way trade and investment are related to the world in order to safeguard the planet.
#Sergio #DíazGranados #president #CAF #Latin #America #region #dispute