Nacho Álvarez (Madrid, 46 years old) is convinced that in the next legislature social and territorial demands must gain maximum prominence and defends a Government with an "ambitious agenda." In a still hesitant context, pending Junts' yes, the Secretary of State for Social Rights and Sumar's main negotiator with the PSOE for a coalition agreement does not abandon caution regarding these conversations at any time. After an intense August, in this interview conducted on Friday at the EL PAÍS headquarters in Madrid, the economic spokesperson for Yolanda Díaz's party and at the same time the head of the area at Podemos responds about his new position and advocates working to reduce tensions between the parties of the new political space.
Ask. This week we publicly attended the meeting between the leader of Sumar and Puigdemont in Brussels. Doesn't it create an institutional problem for a sitting vice president to meet with a person on the run from justice?
Answer. I don't think so. We must get to the bottom of the matter: the conversations with Puigdemont are not just to save an investiture, or even just to save a legislature, but to face an enormous challenge that Spain still has pending, which is the territorial crisis. The next legislature our country has to face once and for all the territorial crisis and begin to lay the foundations to solve a problem that cannot be postponed any longer.
Q. And in these negotiations with Junts, what is Sumar's real role? Beyond gestures, are you negotiating content?
A. We are talking about everything and are convinced that in the next legislature the social and territorial agendas will advance hand in hand. We need a territorial pact that consolidates our country, a plurinational country, but this is not contradictory to advancing new social achievements.
P. Everything at this moment revolves around Junts' yes for that possible investiture of Sánchez. Will Sumar be able to impose an agenda of economic and social rights in a legislature that seems to be very marked by these territorial demands of the pro-independence forces?
What affects the most is what happens closest. So you don't miss anything, subscribe.
subscribe
A. We want a legislature that is useful, that allows progress in social rights and resolve the problems that families continue to have. That calls for an ambitious agenda. A Government that does not have an ambitious agenda will not be a useful Government for the people. Furthermore, this is the best way to expand our democracy.
It is necessary to address the reduction of working hours, solve the housing problem and improve conciliation instruments
Q. These last four years have been intense in the deployment of economic reforms. What measures have they put on the table now?
A. We should not settle for what we have. What is coming cannot be a idling legislature. Whenever we have gone a little further than what our government partner proposed, as happened with the interprofessional minimum wage, the labor reform or the gas cap, that ended up being positive for solving citizens' problems. It is necessary to address the reduction of working hours, solve the housing problem and improve conciliation instruments.
Q. There is also pending tax reform, which is a commitment with Brussels. Are you in favor of making taxes on energy companies, banks and large wealth companies permanent?
R. It is a crucial question. We consider that the extraordinary taxation of large fortunes and electrical and banking companies must be maintained. And we must consolidate a taxation of 15% of the minimum effective rate on accounting results, in the case of corporate tax.
Q. The purchase of 9.9% of Telefónica by the Saudis will have to go through the Council of Ministers. What should the Government do?
A. The key is not how it affects the company's directors or shareholders, but rather the national interests of Spain and society as a whole. It is crucial to protect the strategic interests of our country and the Government must make use of the current anti-takeover legislation to stop the operation.
Q. During the campaign you made an amendment to the housing law due to all the deficiencies it could have. Are you bringing any specific proposals in this area to the negotiations?
A. It was the President of the Government who said during the campaign that housing would be a priority in this legislature. And we completely agree. But now we must move from words to actions. The PSOE's own electoral program raises a suggestive idea: a public housing stock that increases the weight of protected housing to 20% of the total. You have to do it. And we have to continue developing the housing law to stop prices. The Government must make efforts in the next legislature to prevent the PP communities from declaring rebellion and not applying the law.
Q. Are you proposing a reform of the regional financing system in the negotiations?
A. Without a doubt, and it is a relevant question.
The Government must make use of the current anti-takeover legislation to stop the operation in Telefónica
Q. They are negotiating the Government agreement, but at the same time they are also working for Junts' yes. Can't it seem like they are giving their votes to the PSOE in exchange for nothing, without knowing what Sumar's role will be in the next Government?
R. Sumar is going to be decisive in the formation of the next coalition government, all of Spain knows it. And Sumar is committed to a coalition government with an ambitious program in the two vectors that must direct the next legislature: the expansion of social rights and a territorial agenda that resolves entrenched problems in our country through political means.
Q. Can Sumar demand the same positions that he had before in the Government having dropped in votes and seats?
A. We are not there yet. We are focused on the content that should guide the Government's roadmap. The first thing is to lay the rails where the train must run and only then will we talk about how many cars it should have or who should direct them.
Q. Would you see a reduction in ministries as positive? It was planted?
A. It is being studied, but allow me to be cautious with this issue that is under negotiation.
Q. Are you in favor of Irene Montero continuing as Minister of Equality, as the general secretary of Podemos has asked And she herself said that she would like it?
R. Irene Montero seems to me to be a great asset for the left in this country. But as she said, the negotiation is not at that point.
Podemos will find the way that allows it to continue being a political force that maintains a decisive influence
Q. With the emergence of Sumar, does Podemos make sense now?
A. Podemos has been a key party in the recent history of our country. Of course it still makes sense. I am convinced that Podemos will find the way that allows it to continue being a political force that maintains a decisive influence in the new political context.
Q. As a member of the Podemos leadership, what role do you think Podemos should have in Sumar?
A. Like the rest of the political organizations, it must play a role to convey its ideas, to promote its leadership and to continue being a driving force in this coalition.
Q. What relationship do you now have with the leadership of Podemos since you serve as Sumar's economic spokesperson?
A. I am still a member of the Podemos leadership. I don't see any contradiction.
Q. Do you share the analysis that the general secretary of Podemos made on July 24 when she criticized the loss of votes and seats and the strategy of invisibilization of Podemos and feminism?
A. I am not going to evaluate one statement or another. I believe that the process of forming a coalition as complex as Sumar generates daily debates that are inevitable and normal. Our task is to work so that in this coalition we lubricate more and better the relationships between the different organizations.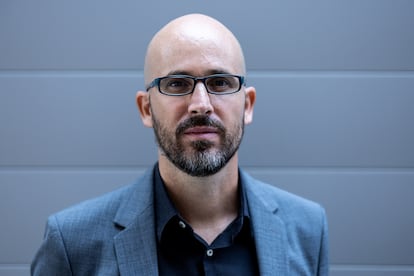 Nacho Álvarez, Secretary of State for Social Rights and Sumar negotiator with the PSOE, on Friday at the EL PAÍS headquarters in Madrid. Moeh Atitar
Q. What should your role be at this stage? Do you see yourself as a minister?
R. That conversation does not touch. My role is to ensure that there is a coalition agreement and that that agreement is ambitious. And that focuses 100% of my efforts.
Q. Last fall we were prepared for a crisis, but Spain has done better than its partners. Analysts are now warning again that curves are coming. How do you think the Spanish economy is going to take them?
A. We have been hearing for more than a year, particularly from the Spanish right, that we were heading towards a major crisis. Feijóo said it a little over a year ago and this has not happened, on the contrary. A high rate of growth and job creation has been maintained despite the rise in interest rates. Given that rates are going to remain high for many months, it is crucial that to maintain growth and job creation, investment remains solid and strong in our country. The continuity of the recovery plan guarantees that the economy continues to maintain a good growth rate.
Q. The guidance from Brussels has favored Spain in recent years with greater flexibility, the suspension of fiscal rules or the recovery fund. Can that window be closed if there is no good agreement on fiscal rules under the Spanish presidency?
A. Economic policy in times of pandemic has shown us that we had unfounded fears. Having suspended fiscal rules has not led to problems with the sustainability of public finances, but has instead guaranteed a faster recovery. The mutualization of debt to promote a European fiscal package has meant that instead of a lost decade, in just a year and a half we have recovered pre-pandemic employment levels. Returning to the status quo prior to the pandemic would be a huge mistake. The new fiscal rules must contemplate the flexibility that allows the development of investments necessary to confront climate change, promote R&D, and investments in education.
Subscribe to continue reading
Read without limits

#Nacho #Álvarez #Government #ambitious #agenda #people