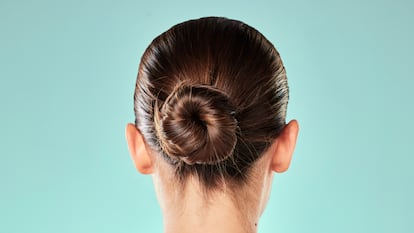 This is what a 'clean look' bun looks like from behind. GETTY IMAGES.
Although the term clean look became popular to define a type of minimalist and very natural makeup, over time it has been expanded to also include hairstyles that avoid excesses and opt for an austere and "clean" aesthetic.
This is the case of the tight bun attached to the head that collects the hair at the back (either in the low, middle or high part) and generates a sophisticated and polished effect. It is a very comfortable hairstyle, which can be done at home in a few minutes, and which is very flattering both for everyday wear and for wearing on special occasions.
How to do a clean look hairstyle
In order for it to be well collected and smooth, in addition to getting the right tools and products, a series of steps must be followed:
First of all, it is recommended to untangle and comb the hair very well. Some even recommend smoothing it before making the bun. Afterwards, fixing gel or styling wax is applied to the upper half of the head. Once the chosen product has been correctly spread, the hair should be combed back and collected with a thin rubber band. The root area must be completely smooth, so it is recommended to use a special creping comb. The parting can be marked in the center or on one side and, once tied up, you can apply more fixing gel mixed with water. To make the bun, you can wrap the hair in the ponytail around itself and attach it to the rest of the hair with bobby pins. .
Products to achieve a perfect clean look bun
Hair brush for crepe with mixed bristles, Beter
It is a brush with an elongated design that, thanks to its numerous, firm and thick bristles, covers a large amount of hair and leaves it in place. With it you can achieve greater precision in the hairstyle so that no hair moves from its place and is as straight as possible. This particular brush is made from 50% boar quills and 50% nylon.
This 'clean look' comb can be purchased on Amazon. BETER.
Rubber bands with metal hooks
With these rubber bands you can collect your hair in a ponytail without leaving hair that is thicker than others. Thanks to the metal hooks at the ends of the elastic, the hair is held without imperfections appearing. They are suitable for all types of hair and are sold in a pack of 10 units.
These types of elastics make the task of making a 'clean look' ponytail much easier. AMAZON.
Transparent hair clips and nets for buns
Made of a very light and durable nylon material, these elastic hairnets are very useful for holding buns without leaving a trace, as they are very well hidden in the hair. In addition, they are accompanied by U-shaped hairpins that fix the hair without putting pressure on the head.
A set of hairnets and hairpins that go very well for 'clean look' buns. SULARPEK.
Fixing gel, L'Oreal Paris Studio
A suitable product so that the hairstyle lasts all day without getting damaged and that has received very good ratings from Amazon users. It does not stiffen the hair or leave residue, and can be applied very easily to wet or dry hair.
An extra-strong hold so that the 'clean look' remains intact for longer. THE REAL.
*All purchase prices included in this article are current as of September 10, 2023.
(Remember that if you are an Amazon Prime user, all purchases have free shipping. Amazon offers a free, no-obligation trial period for 30 days.)
You can follow EL PAÍS ESCAPARATE on Facebook and Instagram, or subscribe to our Newsletter here.

#Clean #glued #bun #step #step