Essayist Susan Sontag writes that photography speaks for itself and says: "This is what human beings dare to do." More than 18 months after the start of Russia's invasion of Ukraine, more and more images are coming to light documenting the barbarity of the conflict. In a single year, more than 12,000 local and foreign reporters were accredited to cover the war, according to a Reporters Without Borders tally published in February. One of them is Luis de Vega (Huelva, 52 years old), journalist and photographer for EL PAÍS, who presented this Thursday his photography book Ukraine, resisting horror, co-edited by the Anastasio de Gracia Foundation and the Rey Juan Carlos University (URJC). ).
"Many of the images that are published (of the war in Ukraine) do not last more than three seconds on a reader's mobile phone. We wanted people to know the context of a photo and stop to look at it, at least 10 seconds. With that I am satisfied," says De Vega from the Círculo de Bellas Artes in Madrid, where he presented the book accompanied by professional colleagues, students, Ukrainian activists and the interested public.
The volume shows around a hundred images that stage a war that for the moment leaves more than 9,000 civilians dead, according to a UN count published in July, in addition to half a million soldiers from both sides, according to a count by The New York Times produced last month. Among the images in the book are unpublished portraits and others published in the pages of EL PAÍS and exhibited in the exhibition Ukraine, the civil war, curated by the university.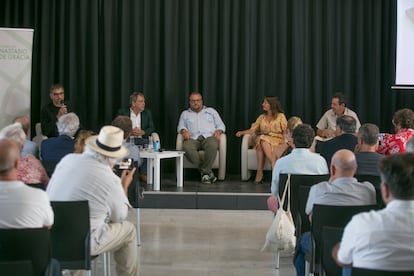 Presentation of the book "Ukraine resist horror", by Luis de VegaSanti Burgos
For De Vega —who won the Madrid Press Association award for best journalist of the year in 2022—, the book is also a reminder that the true victims of war are citizens: "It doesn't matter if they are in the border with Poland, they are still in a country at war." The photojournalist issued a warning to those in attendance: "War can come to Spain at any moment. "In 20 years we could be the ones asking Zelensky for tanks."
Among the images collected, there is one made in Bucha, a city northwest of kyiv, made after the withdrawal of Russian troops at the end of March. Larisa, a 72-year-old woman, was photographed as she recounted "the terrible battle" that she had witnessed in front of her house. "Everything was on fire. She appeared a hand there, another near the basement. There were legs torn off. It was terrifying ", the woman told De Vega in April. Ukrainian authorities described the massacre of more than 400 people as a genocide carried out by Putin's army.
Join EL PAÍS to follow all the news and read without limits.
Subscribe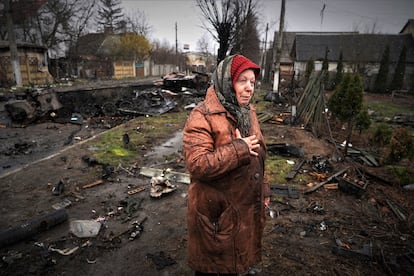 Larisa, 72, weeps at the door of her house on Bucha Station avenue, turned into hell in which a column of Russian tanks and vehicles on their way to Kiev was bombed. The remains of the soldiers reached the interior of her home. PHOTO: LUIS DE VEGALuis de Vega
Mónica Ceberio, deputy director of EL PAÍS, recounted during the book presentation that when De Vega landed in Kiev on February 23, 2022 —one day before Putin's announcement of the start of his "special military operation" in Ukraine—, The order was given for the journalist to stay in his hotel. "The next morning, there was a written account and several photographs of an attack nearby," she said. To add below: "However, (De Vega) is a very prudent person, who always tries to get close to people and reflect pain."
The role of journalists in conflict zones was another central theme of the event. "As a journalist, it's not nice to cover a war, contrary to what many people think," De Vega said, adding: "When you pack your suitcase, you feel a certain professional responsibility. No cover is worth anyone's life." As of May, 11 reporters have been killed in the conflict.
Mariano Hoya Callosa, president of the Anastasio de Gracia Foundation; Miguel Sánchez-Moñita, professor at the URJC; and Uría Fernández, director of the Foundation's Department of Culture and Documentation Center. Among the attendees was Serhii Solovei, first secretary of the Ukrainian embassy in Spain, who thanked the journalist for his photos, since they are a "reflection of the invasion": "His work makes us not forget what is happening in Ukraine" .
At the end of the event, during the signing of copies, an attendee asked De Vega: "What have you written here? I do not understand what it says". "I hope I don't have to do a second part…", responded the journalist.
Follow all the international information on Facebook and Twitteror in our weekly newsletter.

#Luis #Vega #special #envoy #Ukraine #pleasant #cover #war #cover #worth #anyones #life